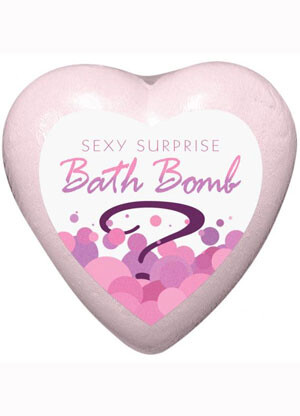 I really came into the bath bomb with the wrong mindset. I figured that this was just another cheap smelling batch of pop rocks to toss into my tub. I was impressed with how hard the product was formed. There were no deformities or loose powder in the packaging. The Strawberry Champagne scent was the embodiment of the color pink all the while turning the bathwater the same color.
In the middle of bath bomb lays a hidden, one-speed, waterproof bullet. You must free the vibrator from a few layers of protective wrapping before you have to open the battery compartment and remove the blocking strip. Bravo for including the batteries, this little bullet was ready to go. I'm glad that I gave this product a try. I was joyfully surprised.
Product Description:
This heart shaped bath bomb dissolves slowly in water to seductively reveal a hidden vibrating toy. This arousing bath bomb is perfect for couples to further explore their sexual desires or for her pleasure alone. Package includes 1 pink strawberry champagne scented bath bomb and bullet vibe.