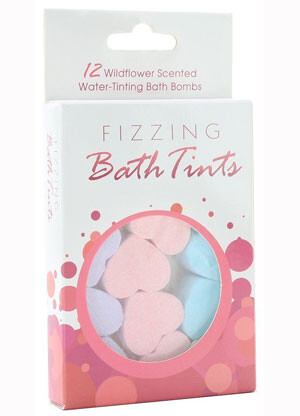 These 12 wildflower-scented mini-fizzies are the perfect travel companion without having to pack one of those large, round fizzy bath balls. Cute and heart shaped, simply toss a couple into a bathtub to create a colorful and delightfully scented spa treatment. The convenient packaging will also make them wonderful gifts for everyone attending baby or bridal showers so make sure you stock lots of them in your store.
Product Description:
Enjoy wildflower scented bath bombs with your partner. The fizzing bombs tint bath water instantly giving off romantic vibes without staining the tub! Use 1 – 3 bath bombs per use depending on the desired intensity. Bath bomb colors included are pink, blue, and purple, and come in packs of 12.