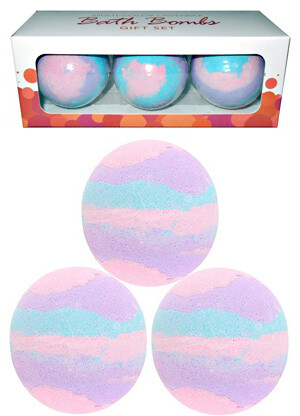 Bath time is one of my most favorite times of any day. I love to take baths whenever I get a chance. Anything I can do to make them more relaxing I will do. When I got my hands on these bath bombs I was in heaven. They are infused with the calming scent of lavender to relax you and make all your worries go away. Each bomb is multicolor and dissolves in calming hues of pink, purple and blue and leaves a light luxurious foam. I am going to need a bucket of these next to my bath so I can pop one in whenever.
Product Description:
Immerse yourself in a relaxing soak with these lavender scented bath bombs. The multi-colored bombs come in sets of 3 and dissolve in calming hues of purple, pink, and blue. They also produce a luxuriously light foam. They are perfect for stocking stuffers during the holiday season or for a romantic Valentine's Day date night.