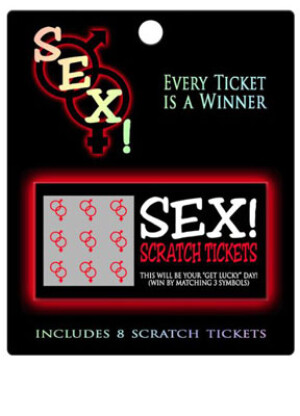 The Lucky Sex Scratch Tickets from Kheper Games is a great and fun way of letting your partner know that they are going to get some, guaranteed! I decided to drop a few of these into my wife's birthday card as a little added bonus for her special day. When she opened the birthday card and the magical tickets dropped to her lap she thought they where common lotto scratchers. Later that night as she read the front of the scratcher and looked up at me, I handed her a coin. A little scratch here and a little scratch there and the night started off with a lucky bang.
Product Description:
Win big with Lucky Sex Scratch Tickets. Every ticket is a winner. Scratch the ticket to reveal a sexy position or foreplay activity for the night. Each ticket has a different winning reward and 8 tickets are included. In English, Spanish, French and German.