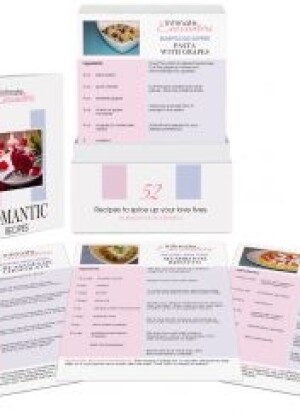 Product Description:
Romantic Recipes is a product that includes a year of 52 recipe cards ideal for couples hoping to spice up their love lives with romantic dinners together. It is a part of Kheper Games, Inc.'s Intimate Encounter line that helps couples to keep dating throughout their relationships.
As couples age together, build families together and become comfortable together, it is easy for them to get stuck in a romantic rut. It becomes harder to for them to make time together and after many years of having fun together, coming up with something new to do can be very challenging. Intimate Encounters tackles this problem with a suite of dating products including: 100 Date Nights, Romantic Recipes and the Intimate Rewards game. The packaging and content are softer and more inviting that other adult oriented products and make for great wedding, Christmas and Valentine's gifts. Retailers will love the line as well, as it is soft enough to put in the front of the stores and makes for an attractive and romantic display.
Romantic Recipes fills a much needed niche in the market in that it brings together many easy-to-make recipes that are sharable, visually stunning and aromatically romantic. All sized appropriately and presented for display for a couple to share. Many recipes also include foods believed to be aphrodisiacs; such as strawberries, chilies, rosemary and chocolate.