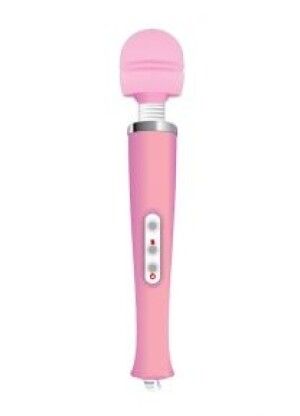 A new wand in the land of wands! This purple muscle massager has a simple-to-use, flat button to turn on and another one just above to click through the eight delightful speeds and pulses. This is actually a large wand vibrator/massager that combines the best aspects of a multi-speed clitoral or internal vibrator with the benefit of being a large muscle massager too. The Wonder Wand is the epitome of a green toy because it charges up via a USB cord that can plug into your computer or into the handy, included wall charger (which you can use to charge up any other USB device you have!). The power is strong enough for muscle massaging satisfaction and the versatility of the multispeeds make it a go-to toy for getting off too.

Market Appeal

Make sure you cross market the bejeezus out of this! Put it in the wands section, clitoral section, health section, kink section (these are yummy to use rope bondage to secure it to your subbie's juicy bits to drive them wild), and other "hard to reach" places. Have a tester by your register so people can feel it themselves and keep plenty in stock because you'll need to.
Product Description:
The Bodispa Wonderwand personal massager features an ultra powerful motor with an electronic selector that allows you to choose from 10 vibrating frequencies. The flexible neck provides more rigorous vibrations. The silicone head is durable and easy to clean. This model plugs into the wall and runs off house current.