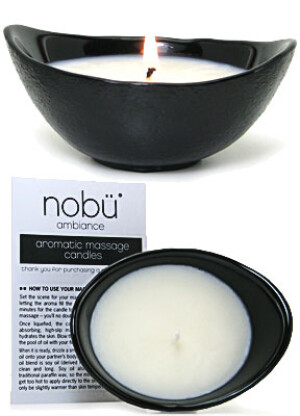 The wax has an extremely low melting point. The instructions in the box suggest lighting the candle 30 minutes prior to use, but we found this was more time than needed, unless using the product for aromatherapy purposes. The wax melts into oil, which when poured onto the skin, feels warm without feeling too hot. It doesn't return to the wax, but stays an oil that can be used easily for massaging. The ceramic bowl has a stylish shape, which is not only pretty but also functional. The candle's shape allows for pouring out the oil with little mess. A detail that many other play candles are lacking and that we appreciated greatly.

Market Appeal

The Nobu Exotic Massage Candle by Bodispa is one of the nicest looking massage candles you can find. The candle comes in a discrete package. It doesn't look like it is designed for sensual play at all. However, the product description on the box speaks very highly of this candle's ability to get you in the mood.
Manufacturer Description:
An exotic 6.2 fl oz. candle, in a textured black ceramic bowl (oval shape for easy pour), made with essential oils of the highest standards.
Its sexy shape and aroma are designed to enhance the romantic mood and seduce your partner. These massage candles are made out of a blend of natural oils and refined soy wax ! As they burn, the wax melts into a delicious pool of perfectly warmed massage oil, ready to be dripped onto your lover's skin and massaged in with long delicious strokes, thus making his/her skin soft & silky !
The warmth of the oil, the exotic scents and the flickering candlelight are the perfect combination of sensory pleasure, creating a rich and memorable experience with very little effort or expense !

Copyright © 2023 Adnet Media. All Rights Reserved. XBIZ is a trademark of Adnet Media.
Reproduction in whole or in part in any form or medium without express written permission is prohibited.