BERLIN — The coffee machines worked overtime at the Catalonia Berlin Mitte hotel during the packed-to-capacity XBIZ Berlin Breakfast Networking Buffet on Day 2, Tuesday, Sept. 11, as attendees yawned and stretched after such a deeply satisfying opening day.
Espressos, cappuccinos, lattes and a few "Irish" caffeinated concoctions frothed and sputtered into ceramic cups, their pleasant aromas melding with the sizzling pop of glittering morsels.
Among the feasting faces were several new arrivals that had missed out on the thrilling opening day. They eagerly caught up with the cocksure veterans in animated conversations, lest they be left behind by the freshly forged social bonds and cliques hammered into solidarity from the week's earlier activities.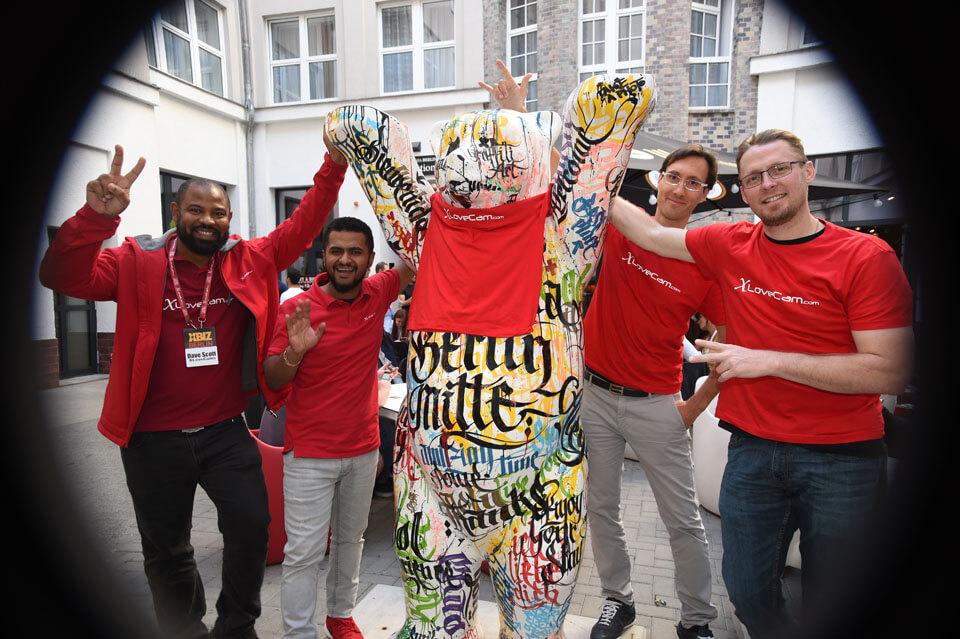 A chorus of light-hearted banter and business deals resounded soon thereafter across the outer plaza, as movers and shakers held court beneath umbrellas and on finely upholstered sofas. Whispers aplenty centered on the first-ever XBIZ Europa Awards slated that night at the Meistersaal concert hall.
Eyes agleam, nominees wondered if they would be among those enshrined in the annals of history, seizing trophies on stage for all to behold. Never had so grand an awards ceremony, by so global a multimedia organization, honored the crème de la crème like this, for adult's biggest night in Europe.
But before the big bash, there was wisdom to be harvested from luminaries and scholars, from billing, camming and production pros. Kicking off these educational sessions was a panel on Billing Europe: A Localized Approach in Konferenz I from 11-11:50 a.m., with the likes of Stephen Winyard of AV Secure, Ameen Soleimani of Spankchain, Teresa Van Eps of Segpay, Ruth Blair of Paxum, Frank Gannon of Epoch, Rob Bast of CCBill and Chris Rodger of Payze.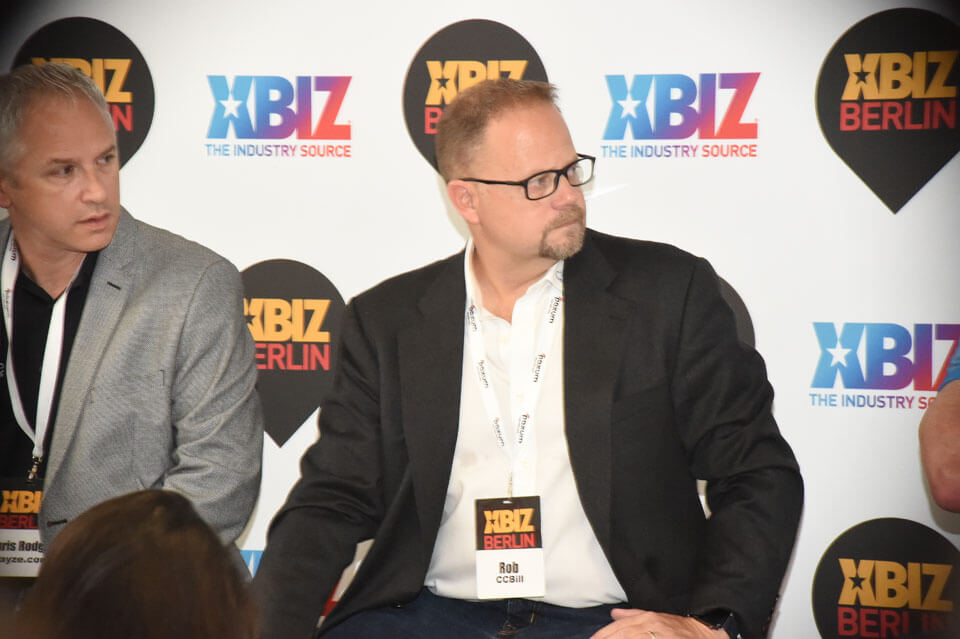 Then, from 12-12:50 p.m. came the Talent Track: Cam Models of the Year panel in Konferenz II with Ella Silver, Quincy, Megan Kroft, Eva Devine and Joey Kim, while Winyard dazzled in Konferenz I with his AVSecure: Age Verification Update discussion.
Silver, who had returned triumphant from the XBIZ Miami fan-voted XBIZ Cam Awards as Best Cam Model in Europe, said, "Everyone has their own strategy for camming, but for me, I work off of my personality. It's less sexual for me. I make more money being funny, being present online and doing stupid things like dressing up as a hot dog. Creating a community is key and MyFreeCams is very much community-based. Also, be on at the exact same time every single day, to get that fan base established, just like how your favorite T.V. shows are on at a certain time."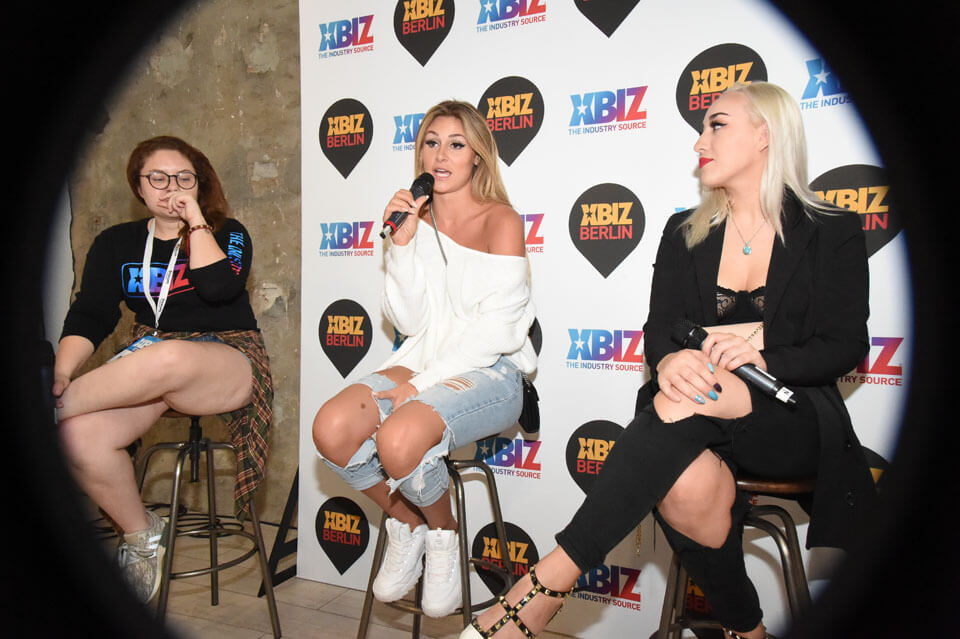 As for Quincy, who was nominated for the same award Silver scored this summer and now shared a nomination for the XBIZ Europa Awards with her in the category of Cam Model of the Year — Female (Independent), she agreed, "My approach to camming is very similar to Ella. I'm just myself and get my tits out, keeping them engaged. I think the only thing my fans all have in common with each other, is their love for me, so they really do come from all walks of life. I also keep really close contact with Snapchat, so they feel really close talking with me and seeing everything I'm up to.
"At the beginning of my cam modeling career, I went from 9 p.m. to 5 or 6 in the morning, and I also had no social life," she continued. "It was cam, sleep, eat and repeat. After a while, my brain was just burning and I was like, I can't have a social life with this schedule! So now, I go from 6 p.m. to midnight. It was hard in the beginning because I lost clients that were American and I don't earn as much as I used to, but I'm enjoying life more."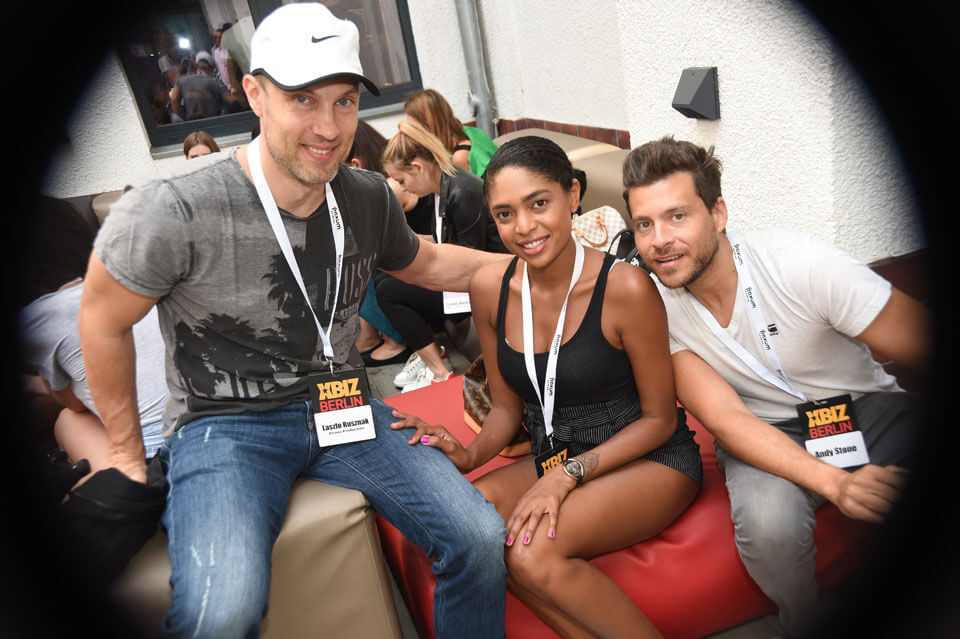 And Kroft, who would later win the 2018 XBIZ Europa Award for Cam Model of the Year — Female (Studio) given her stellar career with Studio 20, shared, "I think it's much better to work in a studio, because you have a team behind you who's helping you in case you need it. I think LiveJasmin is made for me, with its attitude and glam style. And I don't think I'm gonna change it."
Her fellow Studio 20 colleague, Devine, also enjoys camming with the extra backup. Given how competitive it is to get noticed on a cam network, though, she says models must get creative, no matter how much support a studio provides.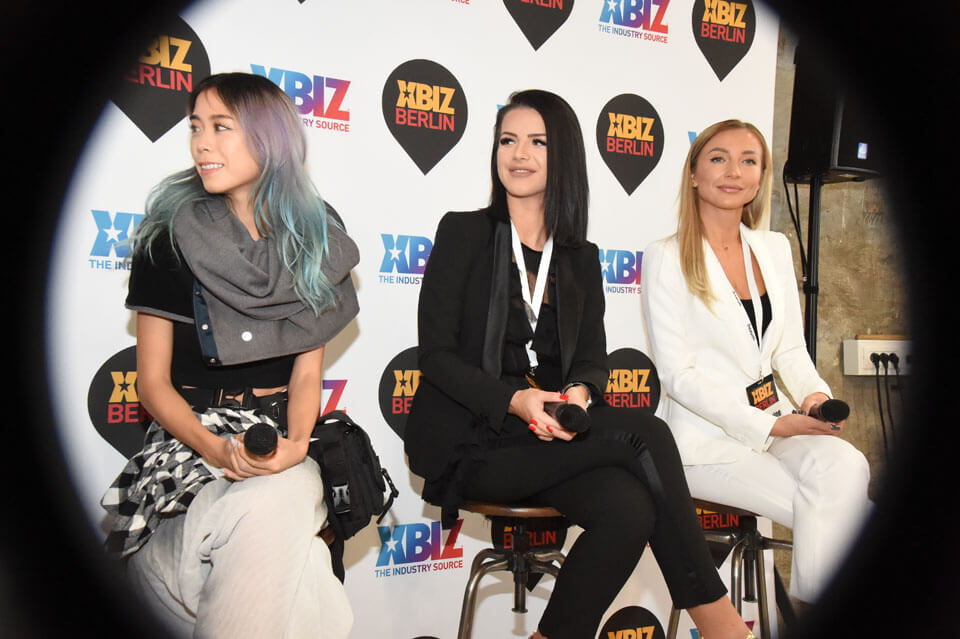 "I used to do ballet in the beginning, so a lot of members … we became friends," she said. "And they come to my room not only for sexual favors, but to talk about their life problems. They're very happy when I dance for them. Of course, every girl is supposed to do a teasing dance in the private show. But I think my niche is for people interested in a creative girl that is very sexual, but also sensual, friendly and kind, open to all kinds of fetishes."
Like Devine, Kim enjoys thinking outside the box to earn loyal customers, performing underwater shows. Intimacy, however, remains the bottom line draw for cam audiences. "I used to think it was just all about getting naked and dancing," she said. "But I realized in the eight years I've been streaming, that I actually began as a non-nude model, and a lot of my members have known me since the beginning. So in terms of retention, it's really important to create relationships that are beyond sexual to actually create a connection. All of us have a desire to feel significant."
Next on the menu for panels from 1-1:50 p.m. was Talent Track: Maintaining a Healthy Work/Life Balance, with such personalities as Tiffany Tatum, Texas Patti, Lutro, Cassie Del Isla and Dorian Del Isla, alongside Cams: Making Money From Interactive Entertainment, which featured Jan Brockman of CAM4, Kimi Evans of Flirt4Free, Danny Batsrauy of ImLive, Dave Scott of XLoveCams and Chris Rodger of Payze.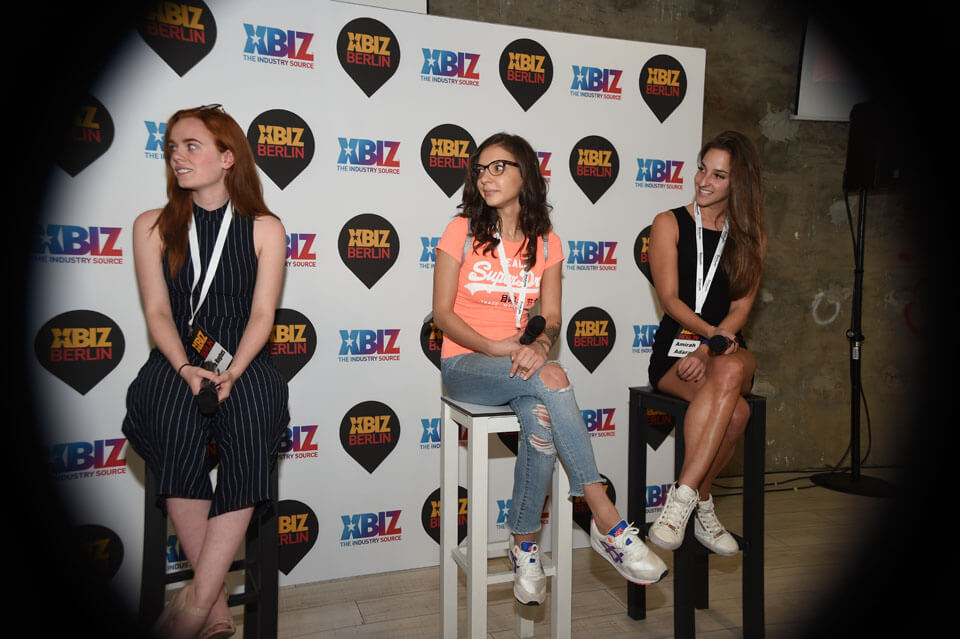 Then, it was time to merge Konferenz I and II for the first of the mega panels, Performers of the Year, which brought together the stardom of Amirah Adara (who later won Female Performer of the Year at the XBIZ Europa Awards), Misha Cross (who landed Best Actress that night for her work in "Rawhide"), Valentina Nappi (who was 2017 XBIZ Foreign Female Performer of the Year and was awarded a special International Crossover Star of the Year trophy at the XBIZ Europa Awards) and other nominees like Alina Henessy, Ella Hughes and Angel Wicky.
After regaling the room with tales of their early careers and ascension through the ranks of the patchwork Euro porn landscape, they dived into social media tactics, the benefits of having an agency vs. self-booking shoots, STI testing practices, pursuing multiple revenue streams beyond studio movies, what their personal brands entailed, the difference between the Euro and U.S. biz, as well as their ambitions for the future.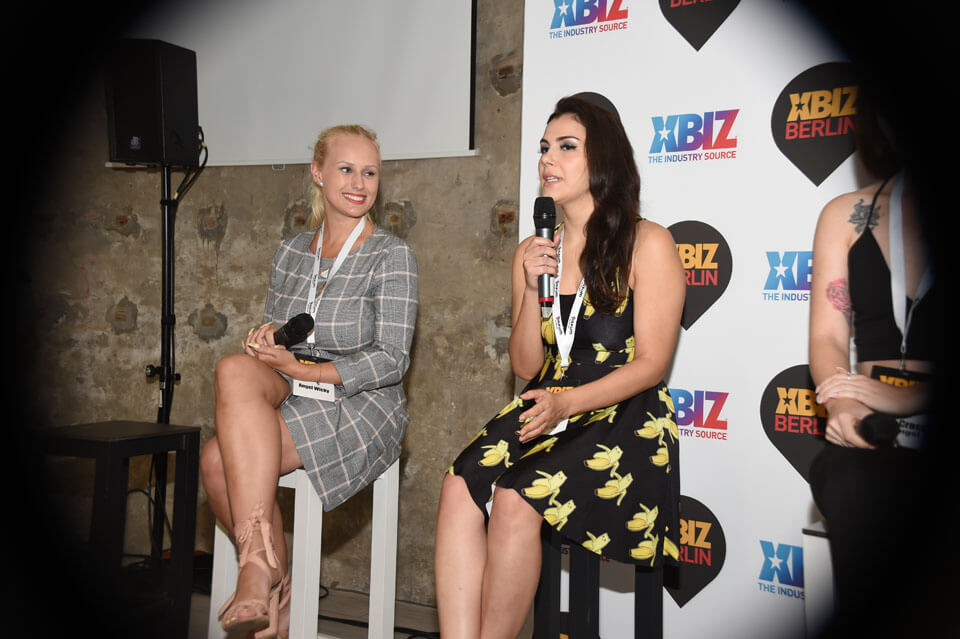 Then, it was time for the Visionary Keynote, with Gregory Dorcel, CEO of Marc Dorcel and son of the company founder. Every chair soon became filled by talent and execs enthusiastically awaiting the sagely advice from so noteworthy a figure.
As technicians set up the projector screens for Dorcel's presentation, XBIZ founder and publisher Alec Helmy introduced the keynote speaker.
"I just want to say a few words about Marc Dorcel," he began. "I've been in the biz for about 22 years now, and for as long as I can remember, Marc Dorcel has been nothing but a class act in terms of production value and attention to detail.
"It's a brand that everyone in the European market strives to ascend to, and it transcends movies into pleasure products," Helmy added. "And now, it is my pleasure to welcome Gregory Dorcel!"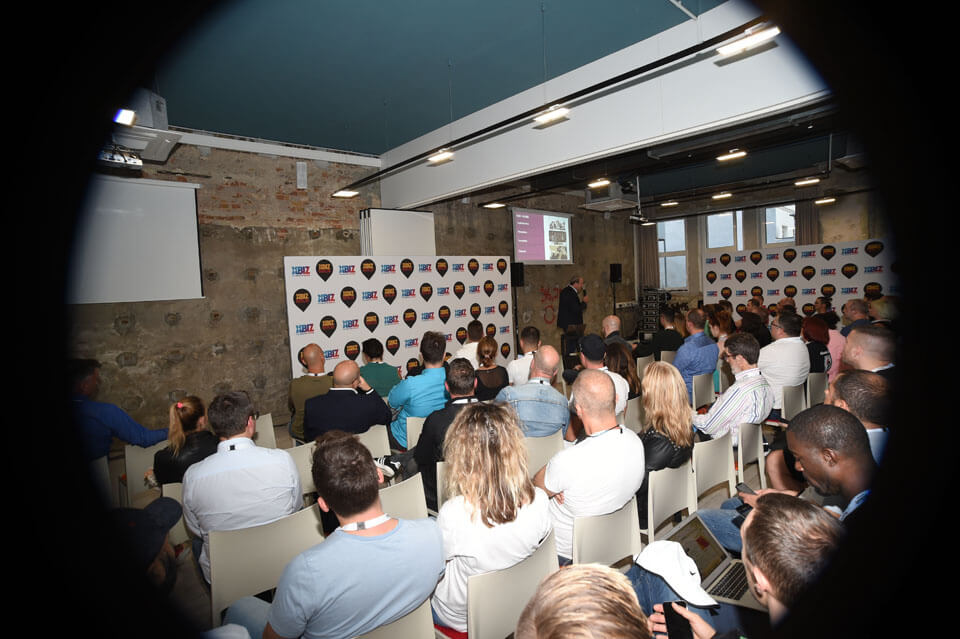 The audience applauded and Dorcel, his demeanor and professional attire as refined and sharply styled as his brand, stepped forward to begin his speech. With a click, he triggered the first of several slides that would appear on the screens, highlighting marketing strategies and successful viral campaigns with a blend of YouTube videos, vibrant graphics and informative statistics.
"Our company is one of Europe's leaders in terms of production and distribution of content," he said, his voice commanding respect and attention. "We are not the biggest one in the market, but we are one of the oldest. In fact, we're not interested in being one of the biggest, but we do want to remain competitive in the market. So, why does a company such as Marc Dorcel exist for 40 years and continue to be part of the game? I will give you an overview."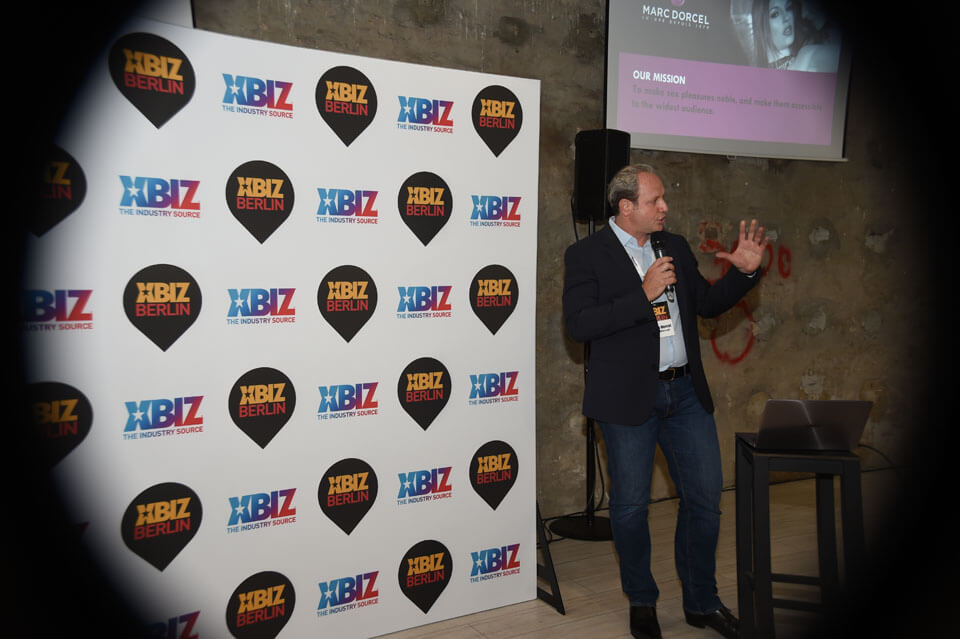 Dorcel celebrated how the brand had earned 176 awards, was available in 13 languages, appeared on five TV channels, reached 56 countries, digitally encompassed more than 30 VOD platforms and produced more than 1,200 movies.
He also underscored the importance of pleasure products to the company, sharing that its mission is to "make sex pleasures noble, and make them accessible to the widest audience."
Then, in a humorous graphic titled "Our Activities: Global Media Strategy," several sperm wriggled towards a central circle with the word "Activities," in it. Each sperm was labeled with one aspect of the brand's broad reach: shops, e-shops, magazines, DVDs, social media, paysites, production, VOD, TV, licensing and mobile.
Given the ubiquity of the company's products, Dorcel noted, "You can stop people in the street of course, in France, and someone will know Marc Dorcel. That is because we have been innovating since 1979 with VHS, launching the first CD-ROM in '95, DVD in '98 and VOD in 2001. A few years ago, we even had good buzz with the virtual reality technology."
And much of the Dorcel recognition comes from mainstream media outlets, in part due to publicity campaigns like the #HandsOff (or #SansLesMains in French) challenge where viewers could enjoy Marc Dorcel content freely, so long as they didn't remove their fingers from the keyboard, and another where users had to change their Facebook name to "Marc" and confess their porn habits openly. With a flick of his wrist, Dorcel played video montages of news coverage for these stunts, each of which resulted in huge quantities of traffic hitting the site and lots of sign-ups.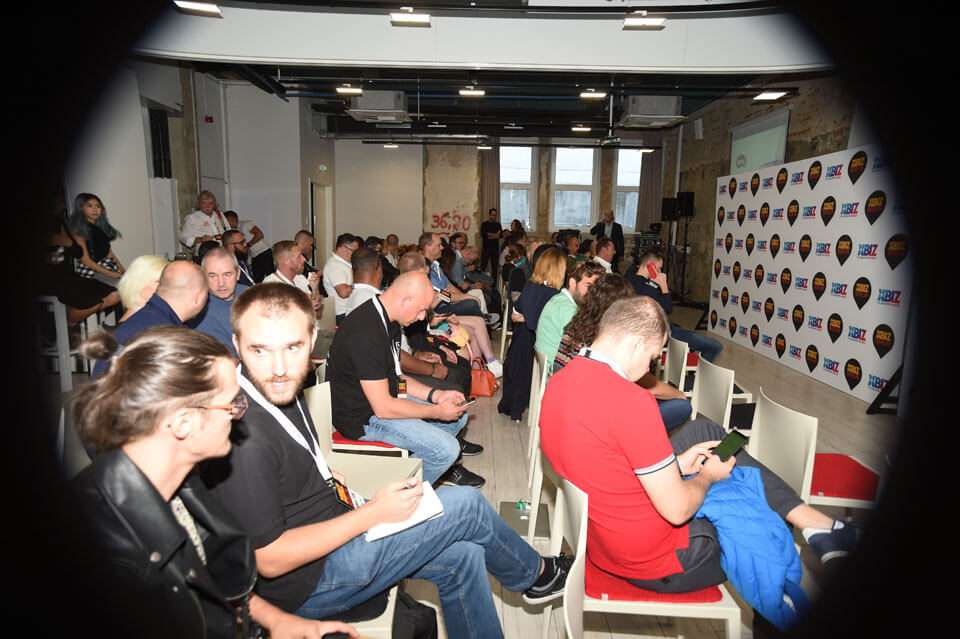 Pacing back and forth with measured purpose, Dorcel gestured at another slide, which centered on the company's values: "Sophistication," "Stimulation," "Innovation" and "Pleasure." He stated, "We believe in a qualitative and spicy vision of sex, the ability to always innovate in the creation and distribution of all products and crafting luxurious erotic contents for all audiences.
"We focus the most on content, technology and communication to make strong changes," Dorcel said. "In terms of content, we do so by producing high-quality movies with class. In terms of technology, we don't innovate for the sake of it — we only do it when it brings high value and improves the user experience. Like for VR, we are thinking there is a big market in the future, because the added value for the consumer is wonderful."
Ultimately, what is most important for Dorcel is to "control our production and distribution, and today that's true for any industry." He also vowed to "always focus on quality and building a strong brand, by offering an experience different from the rest."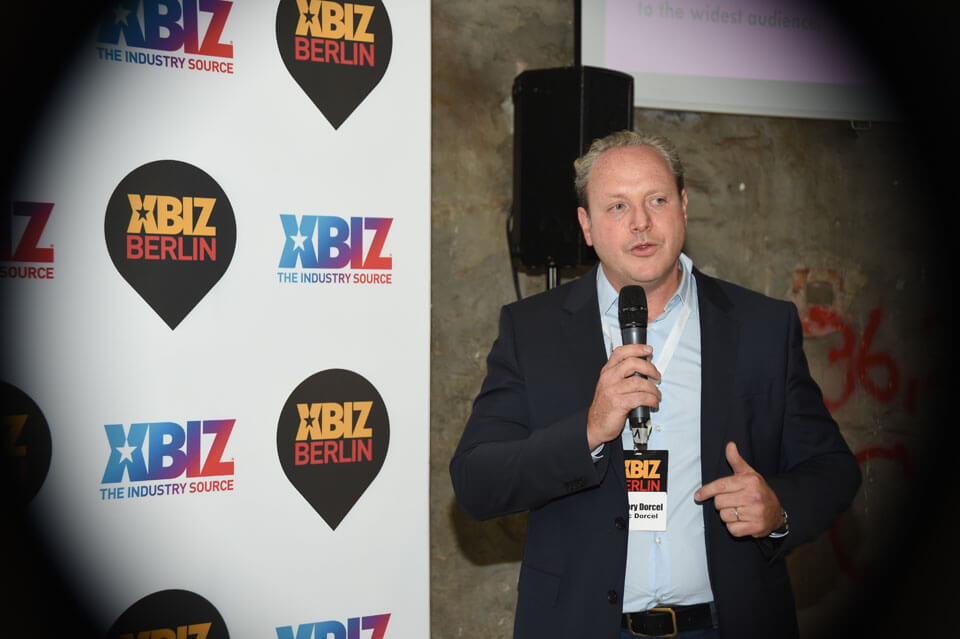 "We try to focus always on the customer and it's difficult when you see the massive consumption of free porn, but the people who watch it, at the end … you must ask, how many could end up being a customer?" he mused. "A few of them. That's why we say, 'be global, be a lifestyle!'"
Taking questions from the audience, Dorcel was asked if the company had any plans to pursue camming. "We are not involved in live cams and we don't want to be involved," he stated. "We do not know how to manage the talent in a live cam system. So far, we have limited our business to not include it."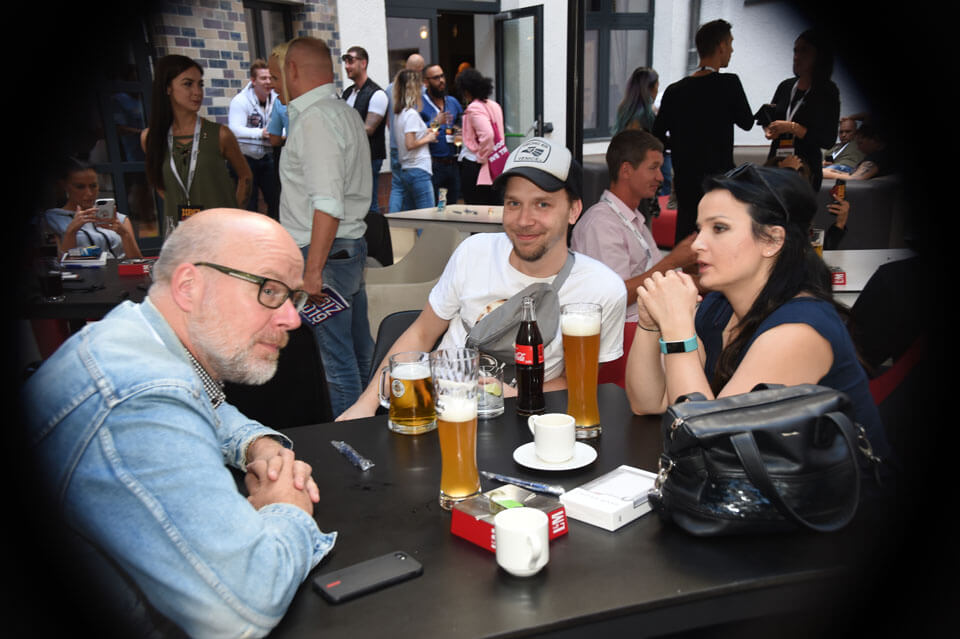 Another person asked how he would summarize the difference between American and European products.
"It's much more efficient to be in the U.S. than in the European markets," he admitted. "Because, we have to manage with so many different networks and local differences in the E.U. That's why we push to innovate. I would love to have a market of millions talking the same language, but we don't. The second thing is, marketing is much different in Europe because of cultural differences."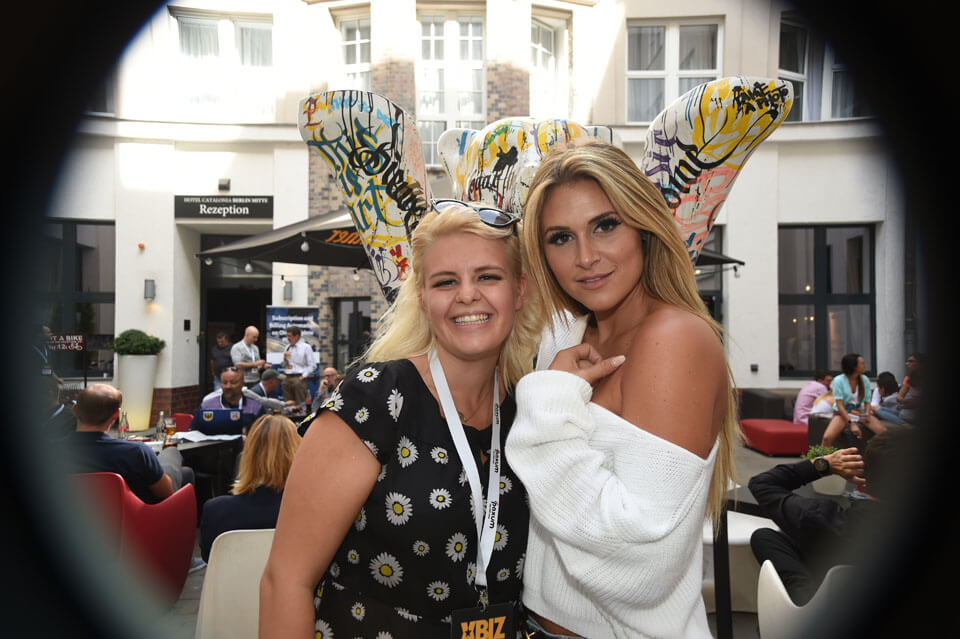 Enlightened and energized like never before, attendees flowed back into the main hotel area for the Pre-Awards Happy Hour, downing cocktails, shots and overflowing beer mugs before heading to their rooms to get all dolled up and dressed to the nines.
And as they descended once more, decked out in sexy elegance, the drinks poured forth in earnest to get a nice healthy buzz going before the first-ever XBIZ Europa Awards.
Heading to the street in all their glittering fabulousness, a caravan of star-studded splendor began its sojourn to the Meistersaal for a historic night.
Stay tuned to XBIZ.com for coverage of the historic XBIZ Europa Awards, and check out more photos from XBIZ Berlin here.