BERLIN — In the beating heart of Europe, amidst the gorgeously gritty cityscape of Germany's industrial capital, XBIZ transformed the boldly modern Catalonia Berlin Mitte hotel into a bustling starlit hub of major European power players.
With a sexier-than-ever "P3" focus on paysites, producers and performers, XBIZ Berlin commanded the B2B tradeshow circuit Sept. 9-12 as the hottest ticket on the continent, packing the outdoor central courtyard with as many bodacious babes as business badasses. Scores of foxy femmes hailed from the JulModels agency, mingling with numerous indie gals, newcomers and famed pros.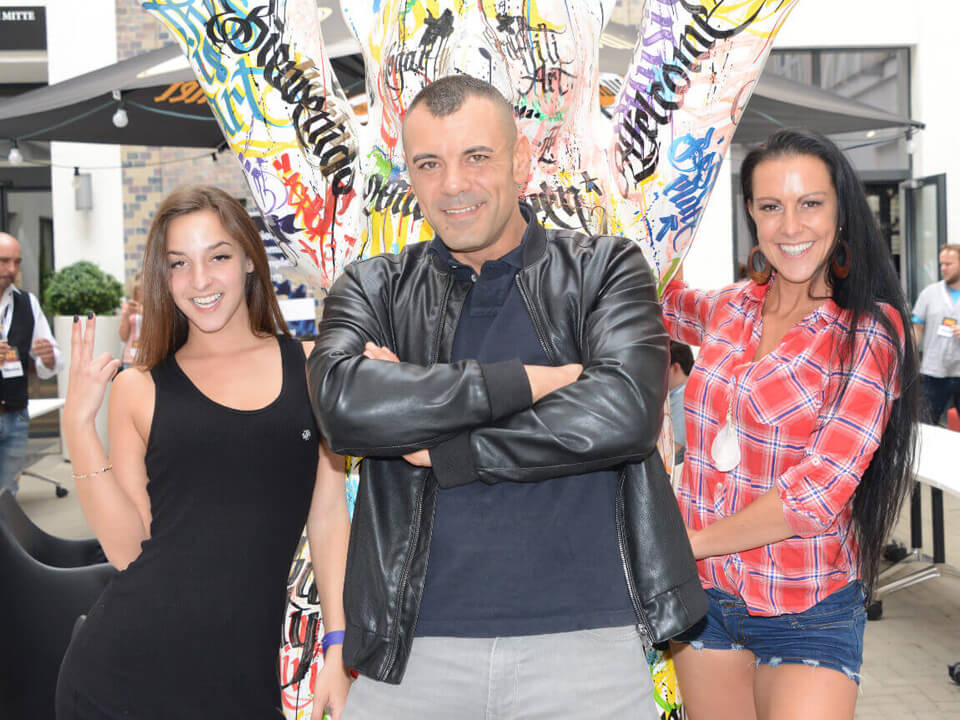 In fact, much to the delight of attendees, the only "sausage fest" at this show was the actual Sausage Fest beer and bratwurst social mixer at the end of Day 1 on Sept. 10. It quickly became clear that, like the summery seduction served up by XBIZ Miami, this elite gathering of Europe's best and brightest was a must-see annual pilgrimage.
Even before the first full day of panels and networking kicked off, attendees started arriving in gregarious packs the previous evening on Sunday, Sept. 9. Wreathing their necks in registration badges that swung from lanyards stitched with the Paxum logo, web/tech aficionados and scintillating starlets buzzed with excitement, especially as the Bavarian Beer Blast unleashed foamy mugs of toast-worthy brews.
Raising their glasses in hearty exchanges throughout the "Willkommen" Mixer that followed soon thereafter, bewitching talent hobnobbed alongside videographers and webmaster maestros well into the night, with several posses breaking off to go clubbing in the all-night fare that Berlin so generously offers.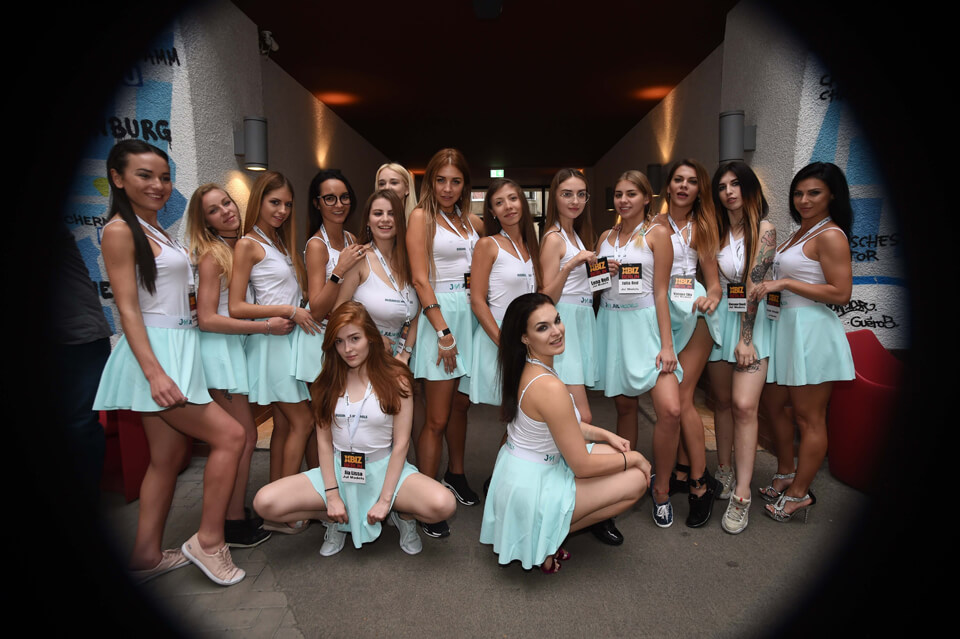 From the outset of XBIZ Berlin 2018, feverish anticipation abounded for the first-ever XBIZ Europa Awards —hosted by legendary Rocco Siffredi — which would cap the whirlwind event with a climactic red carpet affair. The ceremony commanded many a conversation, as a topic of great intrigue.
And once the sun pierced the clear blue skies on the morrow, heralding pleasantly cool weather and a rich day of boundless opportunities, the registration line truly hummed with electricity. The concrete pillars, edgy graffiti and chic furnishings of the Catalonia Berlin Mitte reflected the eclectic mix of XBIZ Berlin participants, who ranged from dressy corporate exec types to biker outlaw-looking creatives.
Delicious scents wafted in from the complimentary Breakfast Networking Buffet from 9-10 a.m., before the Speed Networking sizzled in the Konferenz area from 10:30 a.m. to 12 p.m. It was in these Konferenz I and II rooms that panels transpired throughout XBIZ Berlin, with both rooms joined together seamlessly for larger and later sessions, before splitting off again.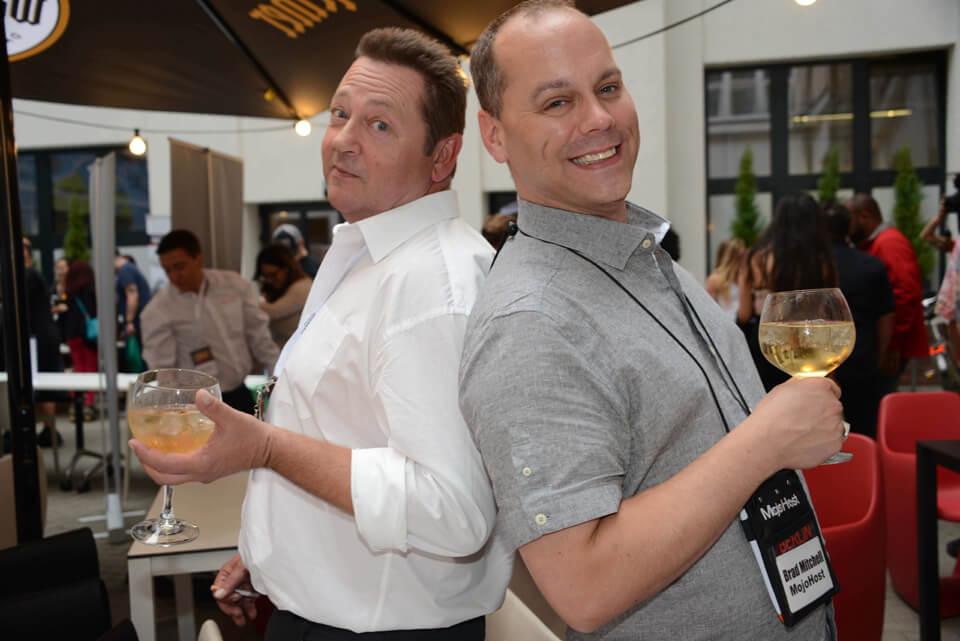 Once the rapid-fire exchange of contact info and introductions concluded the Speed Networking, a Luncheon Buffet offered respite ahead of the panels, which included a Talent Track that spanned Social Media Today, Revenue Streams & Solutions and Top Tips for Global Branding in Konferenz II from 1-3:50 p.m.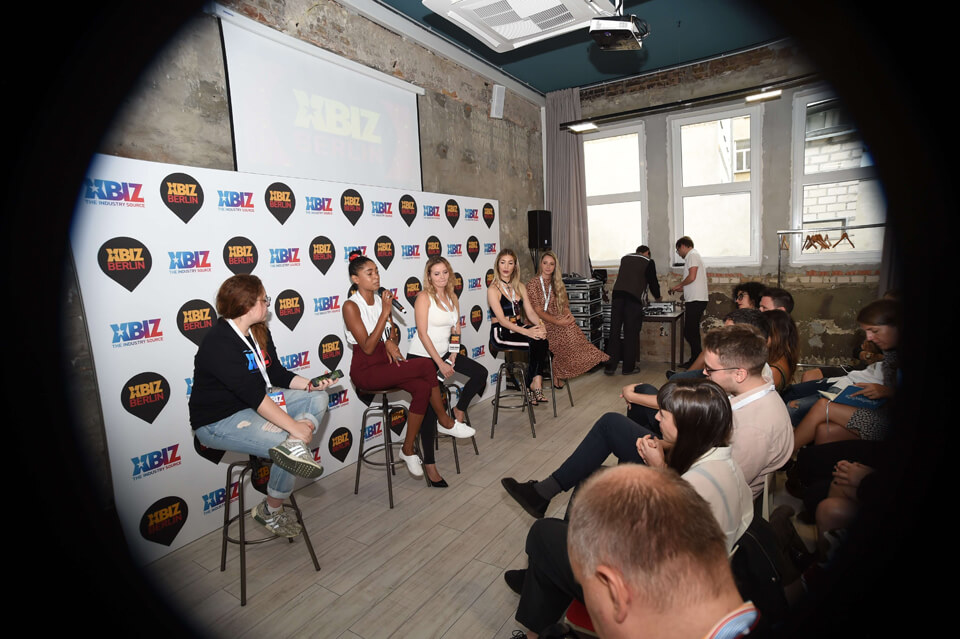 Meanwhile, running parallel in Konferenz I were panels on Hot Content: Cashin' in on Current Trends, Paysites 2018: The Euro Equation and Adult Production Today, with luminaries like Karll Cloutier of Bang.com, David Menich of Menich Productions, Tristan Seagal of TristanSeagal.com, Denorah Hernandez of BaDoink, Laurel Hertz of ARL Cash, Cel of Heavy on Hotties, Trash Meister of Trash Meister Productions, Porno Dan Leal of Immoral Productions and Austin Fiascone of Mr. Skin.
No matter the focus on content, paysites or adult production, in Europe or abroad, several common themes emerged: chiefly, that English-speaking Euro performers had an edge in getting booked no matter the sexiness of their colleagues, that all-natural amateur content (be it from clips or themed shoots) was as popular as high-end glamcore and that partnerships with tube sites or big purveyors like Bang.com were key.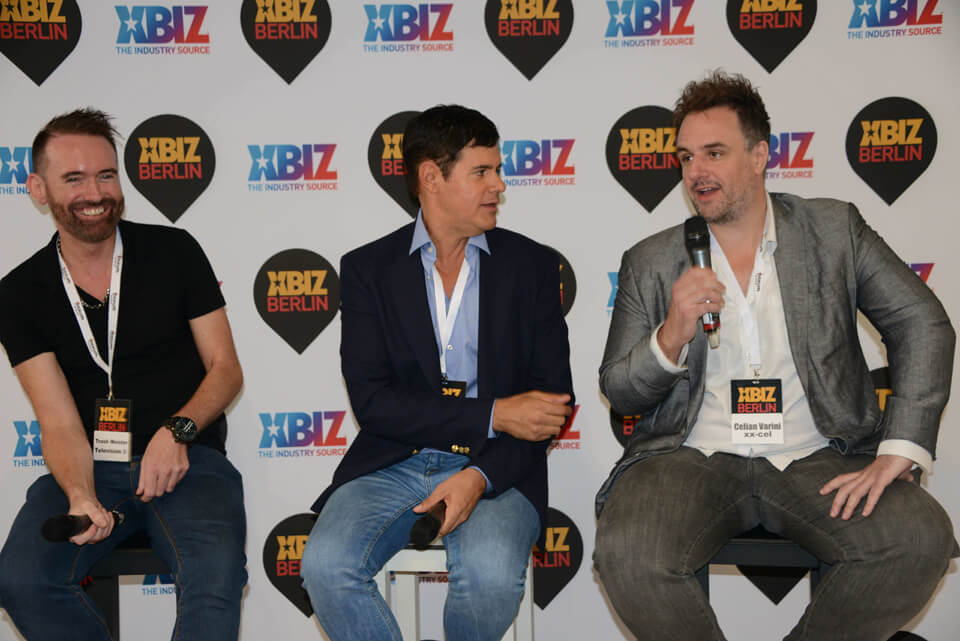 One of the top shooters contracted by studios such as Babes.com and Playboy Plus is Menich, a Budapest-based producer/director who has shot since 2005. He noted one of the main trends is a return "to nature, with natural girls and natural lighting." Menich believes this "is a great thing, because I really like this type of content and also it will create a good example for other parts of the industry as well."
As for BaDoink's Hernandez, she believes VR is a trend that will continue growing, despite "its ups and downs, related to software and hardware releases," as VR porn popularity spikes or plummets in tandem with tech launches.
"At the moment, it has plateaued," she admitted, but anticipates renewed interest as the holidays come around. The biggest challenge, Hernandez observed, often centers on the technical aspects of production for VR, though such constraints also present opportunities for experimentation. And when it comes to meeting the demands of VR consumers, she said, "Some members enjoy watching the male touching the girl and some don't, because they want to imagine how they would touch the girl, and think 'I wouldn't touch her that way.'" A bit of both is ideal, she expressed.
Hertz, meanwhile, whose ARL Cash affiliate program markets niche studios, underscored that PascalsSubSluts.com is a big moneymaker. "It's a rough, dominant kind of site, with submissive girls," she said, noting that women search for rough porn as well. "What I'm seeing a lot is, you go on the tube sites such as PornHub and YouPorn, and you have a lot of girls commenting about their interest in that content. It's been transferring to the paysites as well — not that they're signing up themselves, but they're showing their husband or boyfriend, who then signs up. IR is big too, as is MILF."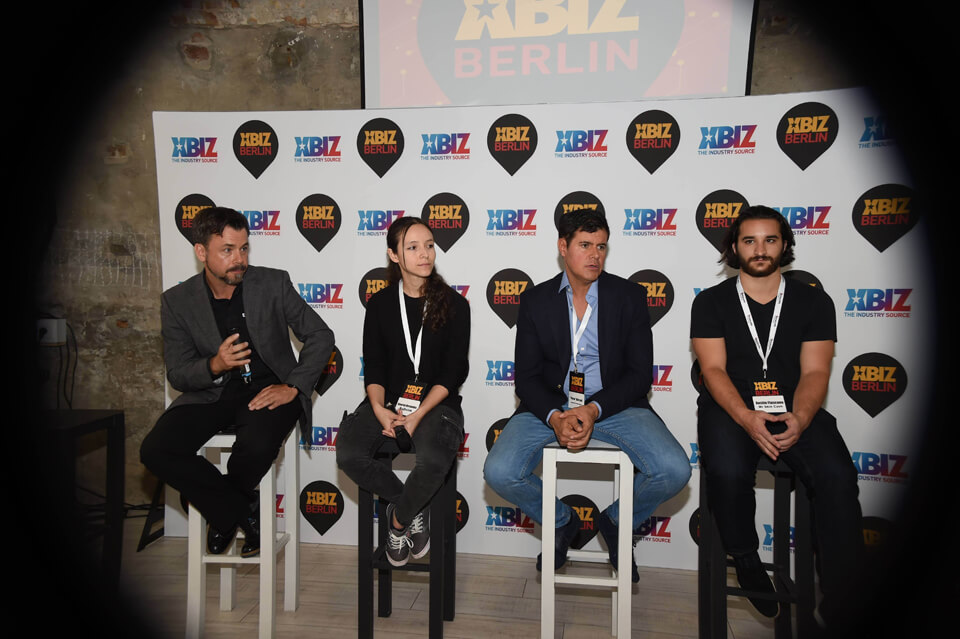 As for producer Seagal, he remarked on the demand for amateur and pro footage, first examining the booming clips and star-centric market. "All of the models have their own websites, FanCentros, Twitters and Snapchats," he said. "I think it's really good, because it's empowering the models. As directors, on the one hand it presents challenges, but as producers for clients, it doesn't change what they're asking for. If we're working for PornPros, we know exactly the kind of content we're shooting for whatever website they want. In general, though, what people want to see is, on one side, very natural stuff run by models … on the other hand, really high-end quality porn."
Mr. Skin emissary Fiascone, who reminded audience members that his site was more about content curation than creation given its mainstream focus, praised the power of non-adult buzz for getting the word out about paysites — particularly radio shows.
"We've been on Howard Stern more times than I can count," he confessed, matter-of-factly. Content preferences, though, seem similar to traditional porn consumption, veering towards teen and MILF. "People especially love when a Disney type of celebrity turns 18, and starts doing more risqué stuff," he said, "and everyone loves a hot cougar with big tits. That never gets old, no pun intended."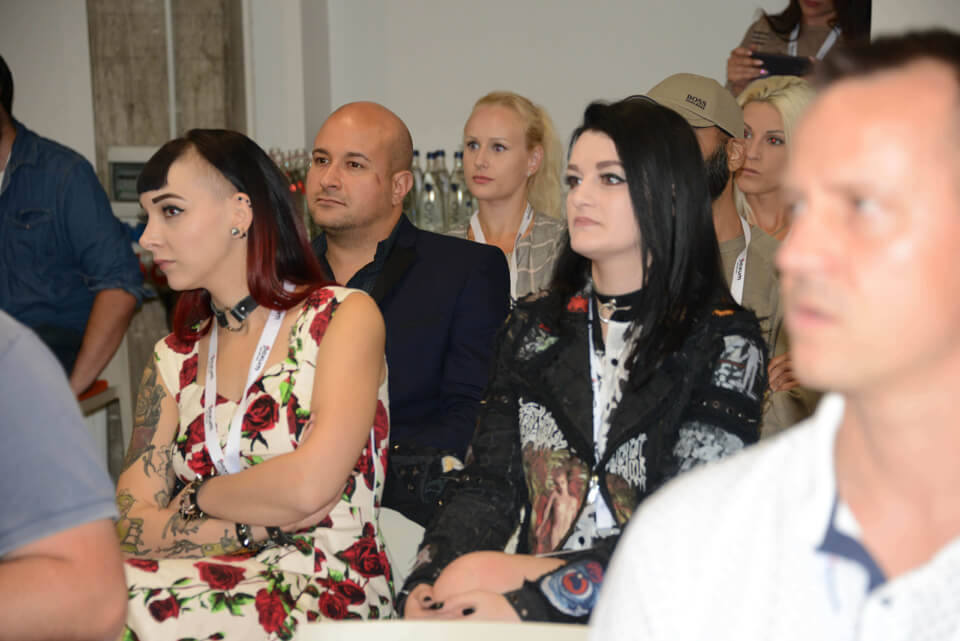 As the discussion turned to future trends, the value of augmented reality and user-controlled representations of talent caused a bit of a stir. From the audience, performer Janice Griffith commented, "How does that interact with the autonomy of performers, and not consenting to how their images are used, if their CGI or avatars are doing acts they can't actually do?"
Hernandez sympathized, stating, "It's a really good question. There's an ethical boundary we need to think about going forward, especially in light of the deepfake type of stuff that's going around. It's easy with Snapchat filters putting one face on another, and that's something we should consider carefully as humans."
From trends and paysites, to adult production, Leal of ImmoralLive.com (which later won Hardcore Site of the Year at the inaugural XBIZ Europa Awards) discussed the difficulties of language barriers given how spread out the Euro scene is.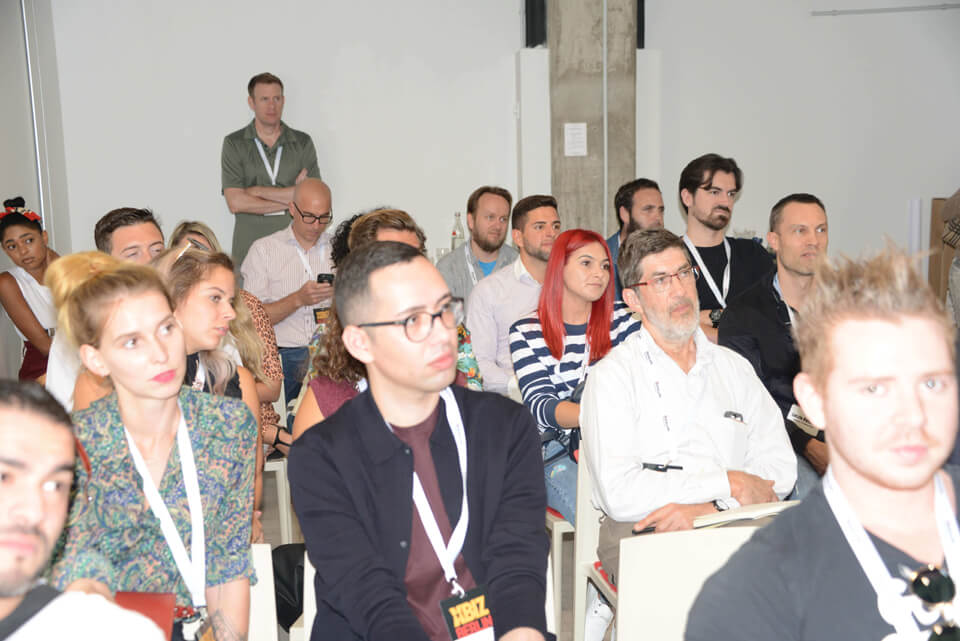 "I can improvise to overcome language, by having a dream sequence or voiceover," he said, "but you are pigeon-holed unfortunately as a performer without English skills. You wouldn't get a chance as a programmer without knowing programming. And a model has to understand they have to have certain skillsets. The majority of consumers that consume porn need English."
Leal also said there are pay gaps between Europe and the U.S., revealing, "BG girls start at 700, going up to an average of 1,200 or higher in the States, with GG going from 300, to 500 or 700, maybe even 900. In Europe, BG is like 400, maybe even 200 euros in Spain or Russia."
The head honcho of Trash Meister Productions agreed, illuminating how this pay gap led many performers to seek work overseas, where ID cards and the like can be tricky. He also shed light on the impact that language barriers have when it comes to STI testing. "I did a shoot once, where the girl turned up with a test that said she was positive for chlamydia," he said. "She'd taken the time to print it out and everything, but she couldn't read a word from what it said."
As for Cel from Heavy on Hotties, he focuses on talent that meets his niche production requirements. "I shoot a lot of big breasts, pregnant girls and lactating," he said, echoing the desire for English-speaking talent. "If the girl wants to be a superstar and the basis of the business is the English language, you really have to step up your game, you have to learn it."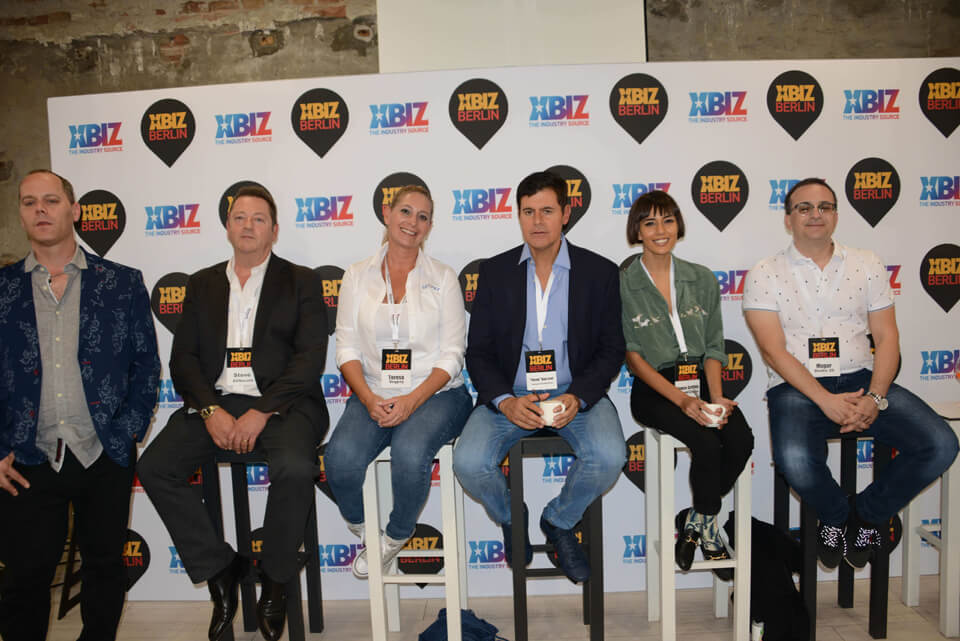 When it came time for the State of the Industry panel, Konferenz I and II were fused, and the call rang out for attendees to begin heading inside. Moderated by the MojoHost host with the most, Brad Mitchell, who had treated late-night party animals the previous evening to free drinks, the panel consisted of experts from several sectors: Steve Winyard of AVSecure, Teresa Van Eps of Segpay, Porno Dan Leal, Janice Griffith, Mugur Frunzetti of Studio 20 and Ruth Blair of Paxum.
Mitchell first addressed age verification laws and regulations, which Winyard explained were essential to understand clearly and follow.
"If you fail to comply it's pretty serious," Winyard cautioned. "They can write ancillary service providers, and if you fail to put age verification properly in place, MasterCard and Visa can suspend your global operations. If that doesn't help, they'll get the internet service provider to switch your site off. I can't imagine it's going to do you any favors when you try to get relisted."
One of the ways companies can navigate such roadblocks, is enlisting the aid of internet payment service providers (IPSPs) like Segpay.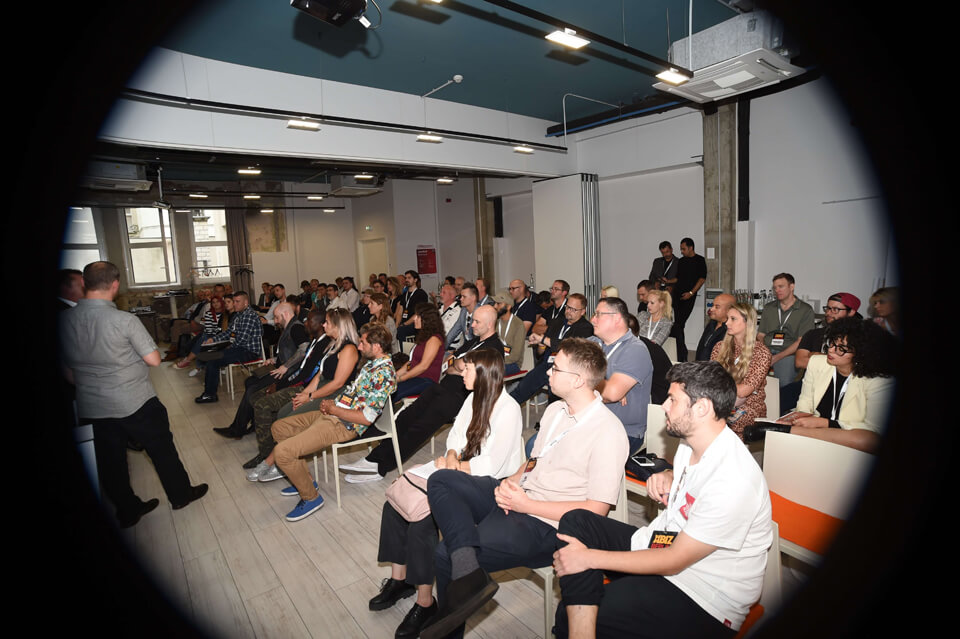 "What we're willing to do, is take on the risk for people coming on board," Van Eps said. "If you have the proper documents and business setup, we'll give you the opportunity to put the site out there. If you have six months of processing history, dating sites have a good chance, escorting I can't promise."
Beyond billing and legal issues, Leal has seen a major shift industry-wide in "the way content is presented to the consumer," underlining a big change in the ascendancy of "clip sites, with the porn buyer purchasing more and more pay-per-scene content as opposed to traditional subscription-based services." To meet similarly booming demand for live fare, Leal describes his business model as "a hybrid of live camming and recorded content." He explained, "When I go live, I offer pre-recorded comedy and an intro, then I mesh that with my live show which is streamed on the internet."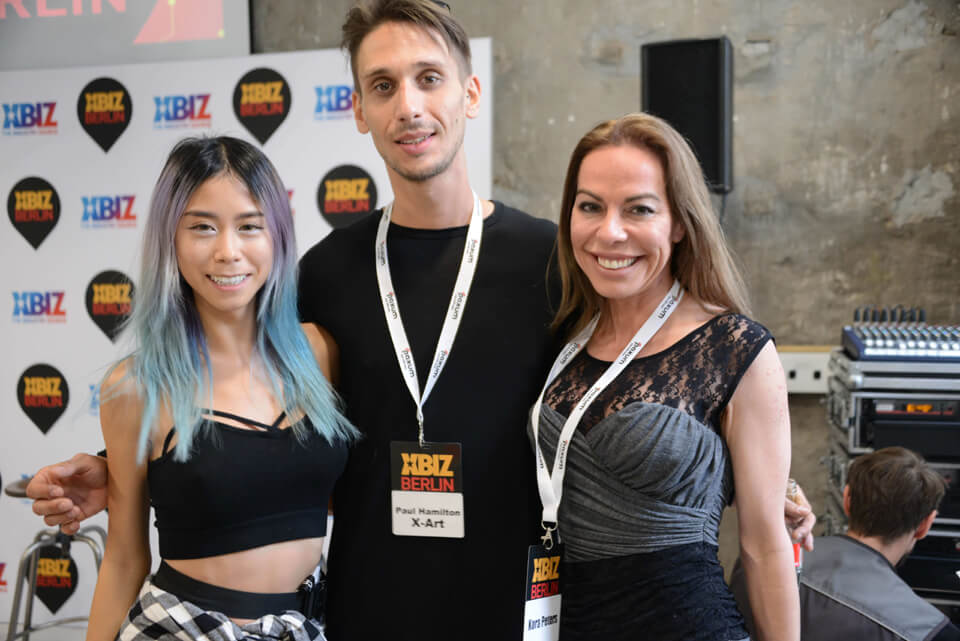 The number of scenes being shot has decreased overall, too, as he observed, "When I first began shooting in L.A., there were 200 scenes a day, then 50 a day when I left to Budapest. Now 30, when I'm talking to people in the States."
Griffith sees similar patterns and noted, "One-on-one interaction is huge now, it makes people feel unique and some are seeking this intimacy between themselves and the person they're jerking off to. Some people don't even jerk off, they just want to talk to you, get your attention for one second. They also want to see what you're doing in a real-time via platforms like SnapChat.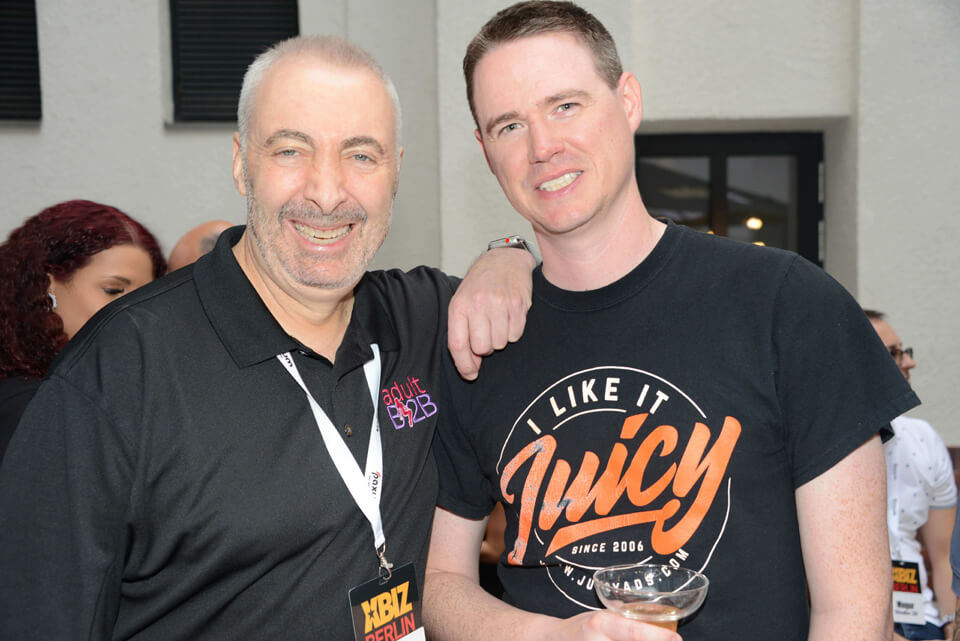 "I've been shooting five years, so I got in right as clip sites started getting really big," she continued. "At first, I was shooting for big studios all the time, and I still do, but now I make so much more money from shooting my own content and I get royalties from doing that. Realistically, porn is one of the few industries where talent is paid one time, for content sold over and over. I also work with SpankChain, because people want to give me money and I have trouble accepting money from traditional sources, which SpankChain is addressing through crypto."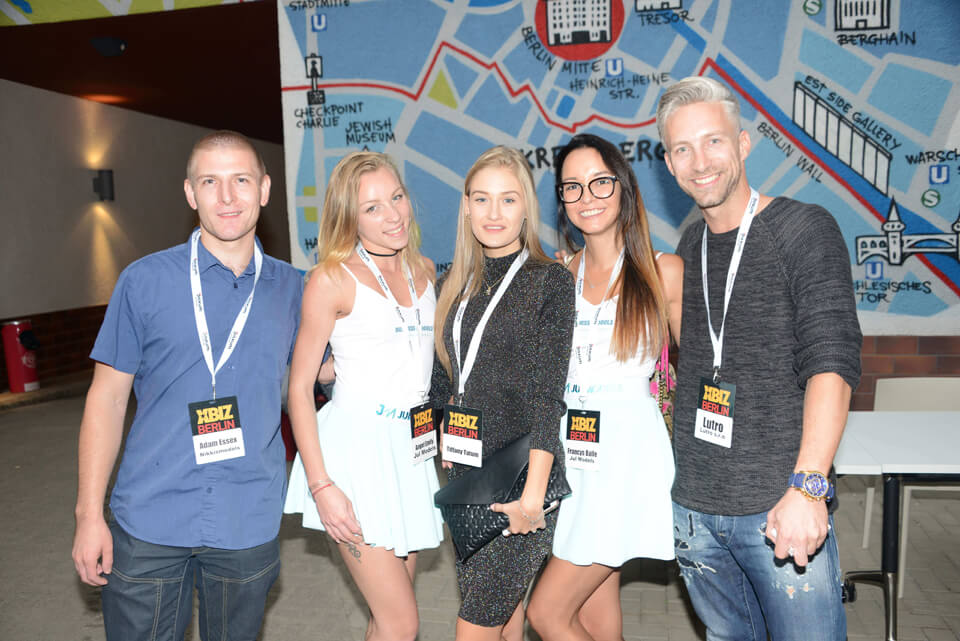 She also recommended that performers choose a unique name, checking to make sure it is not already being used, and to not assume that certain content will be unappealing to an audience.
"Someone will give you money, for just about anything, even picking your nose," she half-joked, prompting Winyard to say, "My favorite is breaking wind in a rubber glove." The audience laughed.
Expanding on the rise of intimacy-based adult entertainment, Frunzetti stated, "What we discovered is if a member is going to spend $2,000 a month with the cam model of their choice, and that model decides they will record things the member will buy, mostly exclusive content, he'll spend another $2,000, he won't decrease his spending. He'll buy all the extra stuff.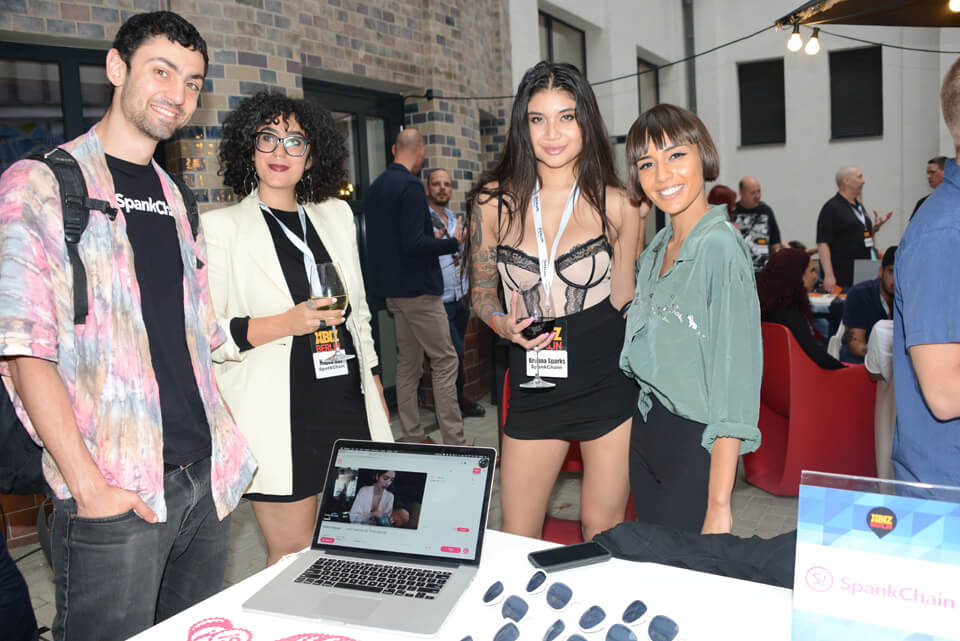 "That's because the live cam industry is growing so fast, to the point where I'd say it doubled in 2018," he appraised. "You have new players in the market, new sites, and still, the known players are growing just as fast, so we're in a very good position. Many people still don't know camming exists. Depending on the country, if you do a survey, you'll get one in five people knowing what it is. So there is a lot of untapped potential." He then shared that Studio 20 is looking into augmented reality.
For Blair, given the popularity of adult content and recent troubles with Choice Bank, demand is strong for Paxum cards. "We've been dealing with additional people and great demand," she said. "Which is good, but our providers haven't been able to keep up with the demand. Banks are proving to be challenging and moving U.S. dollars is proving to be challenging in general. Europe is fine, it's easy, but U.S. dollars — I don't know if it's because of the current government, or what, but adult is targeted from what I've seen in the compliance questions."
As the panels concluded for the day, the Mix & Meet Happy Hour attracted a crowd of revelers who came together for complimentary cocktails and companies hawking their wares, displaying products from AV to crypto with awesome swag at the ready.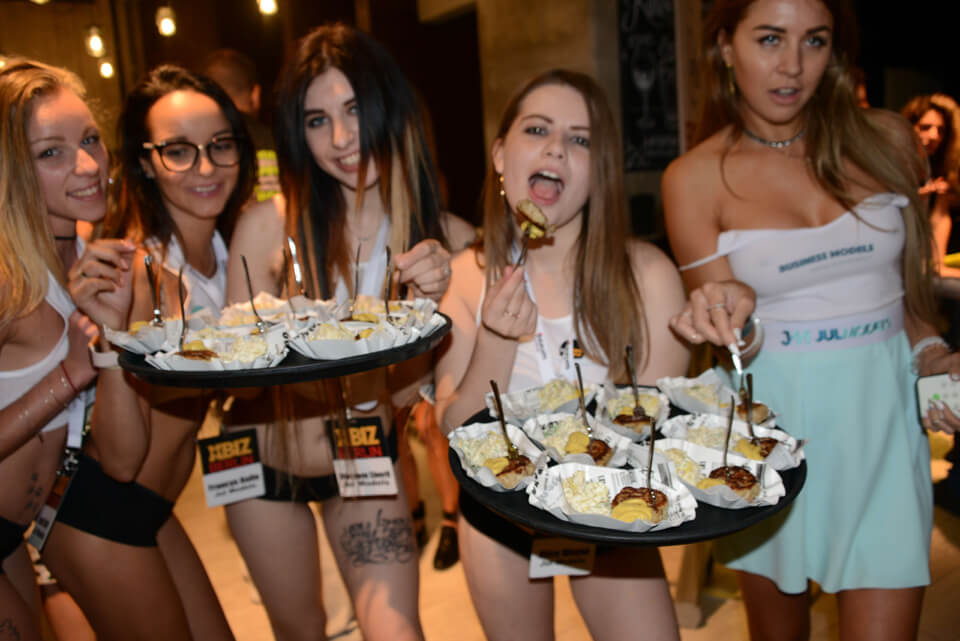 Wheeling and dealing aplenty were punctuated by guffaws and shouts, creating the ambience of a wild bazaar. Glasses clinked, groups posed for pics and numbers were saved on flickering phone screens, while the sun made its gradual descent towards the western horizon.
Soon, it was time for the Sausage Fest Social, with bratwurst and meaty links of every size piling high on plates, as sexy beer babes distributed appetizers to hungry guests. Despite the tongue-in-cheek name of the event, half the grand lobby of the hotel, the restaurant area and the courtyard were filled with ladies — comprised of talent and businesswomen alike (often, one and the same). As for the sausages, well, they certainly inspired plenty of naughty photos, as the girthy delicacies were stuffed halfway into smiling mouths or deepthroated by the truly skilled.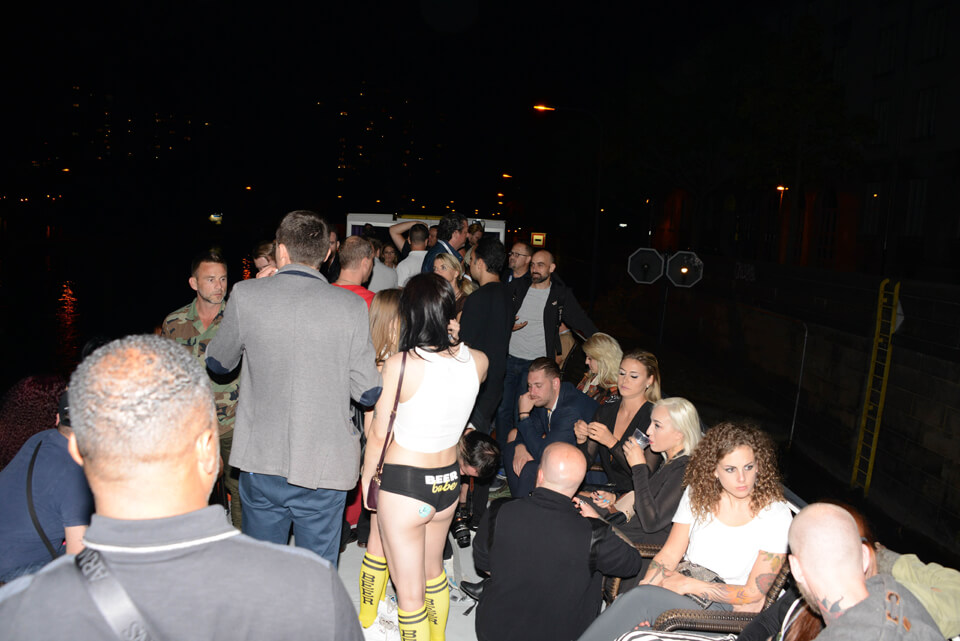 Then, a great migration of well-fed and buzzed attendees flowed out of the hotel and into the streets of Berlin, as they headed to the XBIZ Berlin Boat Bash on a pleasure barge no less industrial and gritty than the surrounding city.
Piling onto the vessel, which had rows of tables downstairs near a ceaselessly crowded bar, and an upper deck where guests enjoyed ducking dramatically whenever the ship passed under a bridge, everyone jostled and partook in merrymaking mischief.
At one point, scantily clad sailor ladies put on a show, stripping their adorable uniforms off and devouring each other fiercely, much to the whooping and hollering of onlookers.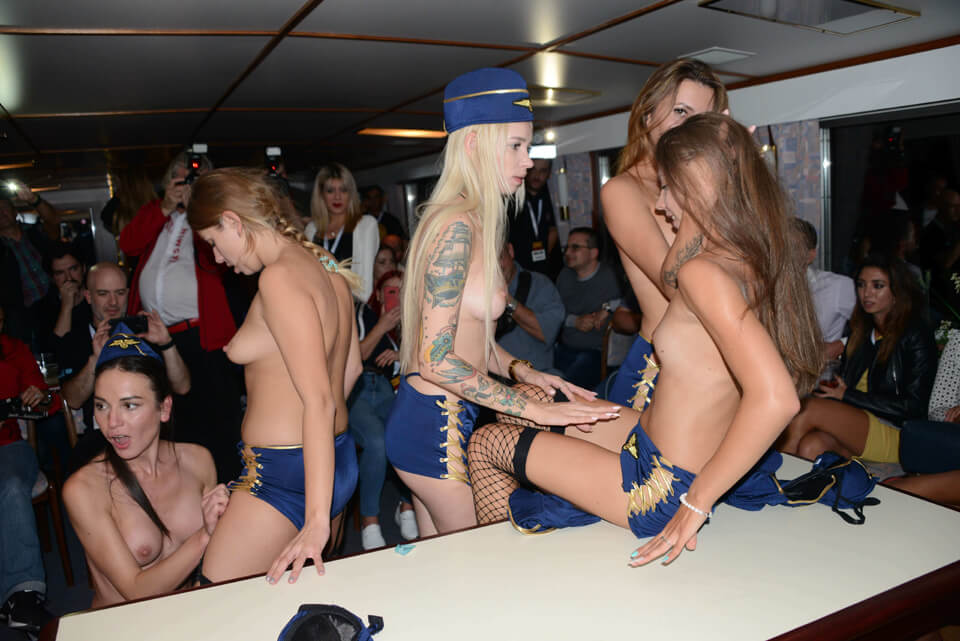 After passing by scores of architectural marvels on the shoreline and neon-lit plazas, the ship eventually returned to the dock from whence it came, but … the festivities were far from over … because secretly, that evening, envelopes had begun finding their way into the hands of individuals lucky enough to score an invitation to a hole-in-the-wall fetish club, which was hidden speakeasy-style behind a seemingly plain exterior.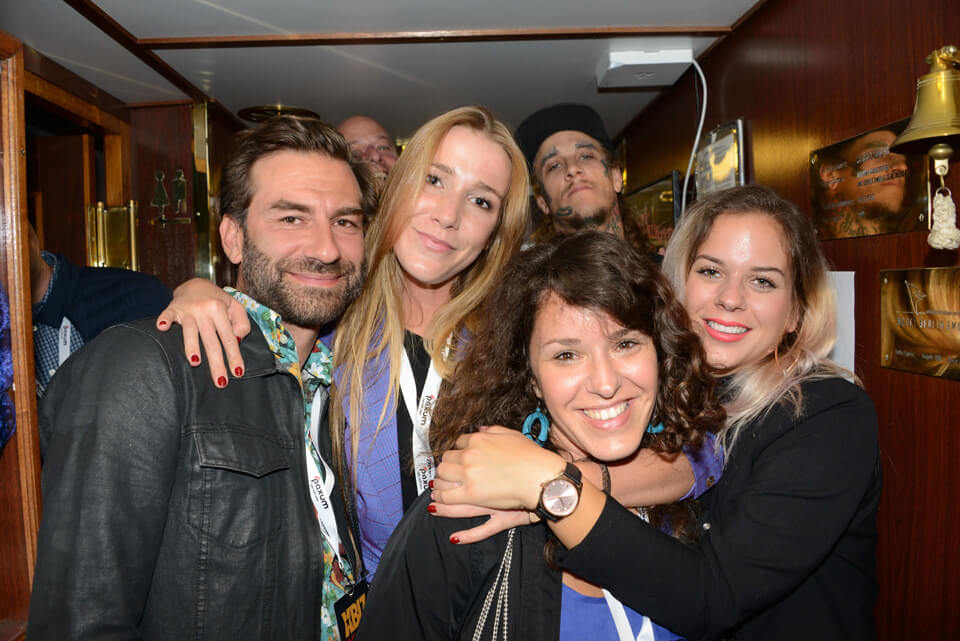 In this wanton wonderland strolled many an XBIZ Berlin partier, and within, a menagerie of naked nymphos and lovemaking alcoves awaited, filling the halls and stairways with steamy mist. Late into the morning hours went the endless debauchery, until at last the droves returned to the Catalonia Berlin Mitte, with the sun already beginning its rise from the darkness.
Stay tuned to XBIZ.com, for Day 2 coverage of XBIZ Berlin and the first-ever XBIZ Europa Awards. For more photos, click here.