MIAMI — Seductive majesty glittered from every diamond-bright gown and burned with richly dark power from each dashing suit, as the sexiest cam models, clip artists and industry luminaries converged on the opulent Fontainebleau Hotel … descending into a delicious underworld of kingpins and queenly succubi, at the extraordinary LIV venue … for the 2018 XBIZ Cam Awards, presented by MyFreeCams.
In that lustful cathedral, stairways snaked gracefully from the highest stage, where the grandest of awards would soon transpire. Liquor poured freely from decanters, served by the delicate hands of scantily clad beauties as often as the rough-and-ready paws of burly bruisers, filling glasses with liquid happiness.
For this was a night that set out to rise even higher than last year's inaugural XBIZ Cam Awards, which made quite the statement at the legendary Versace Mansion. Yet so massive was the list of VIPs and top-tier talent, that even a manse of that stature would scarcely be able to contain the sheer size of so raucous a crowd.
Outside, the red-carpet rush of bustling celebrants posed for dozens of flashing cameras. Velvet ropes guided them to the scarlet pathway, where lights exploded all around like immortalizing fireworks, capturing them in many fashionable angles.
From the kinky black leathers that Emma Choice donned, to Lena Spanks' ultra-chic gossamer garb, to Brad Mitchell's latest riot of designer colors undulating with silken magnificence, each and every strutting badass made the adult entertainment paparazzi rabidly click and distant passersby gawk with awe.
Soon, LIV roared with the echoing chorus of angelic voices and devilish cackling, a heavenly host of camming and clips, with plenty of adult stars to boot.
And then, the booming reverberation of bass exploded from the speakers, as the lights dimmed, calling the congregation to order.
And there, ascending stairs from opposite ends to the main stage, were the scintillating co-hosts, 2017 XBIZ Best Cam Model Vera Sky and 2017 XBIZ Best Cosplay Cam Model (and 2018 XBIZ Web Star of the Year) Catjira, clad in silvery and golden elegance.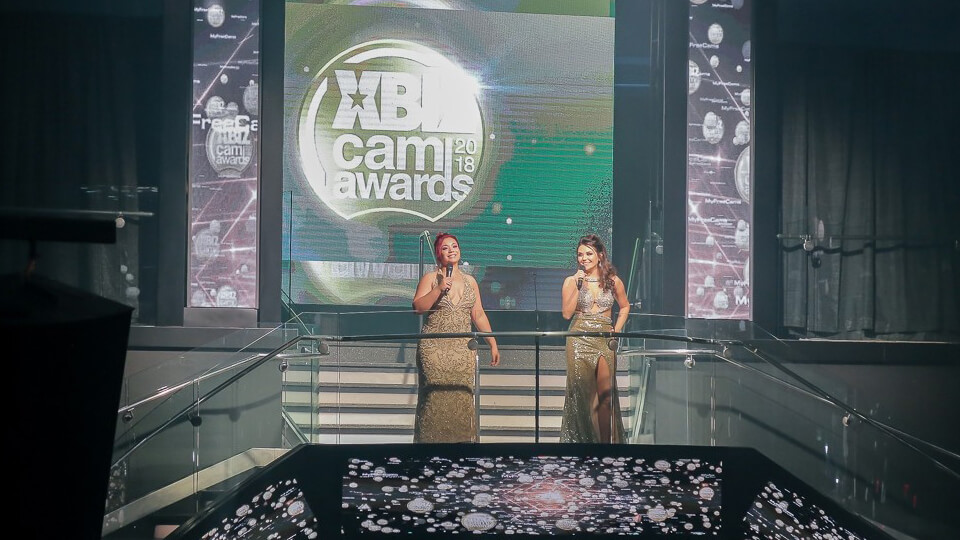 "How's everyone doing tonight?!" howled the captivating cosplay enchantress. The crowd went wild. "I'm Catjira!"
"And I'm Vera Sky!" chimed in the reigning cam model queen, before together they exclaimed, "And welcome to the 2018 XBIZ Cam Awards, presented by MyFreeCams!"
Thunderous enthusiasm broke loose, as the energy levels built to a fever pitch, in a noisome outburst of excitement that surely shook the hotel.
Lights raced along the iconic LIV dome in a super-chandelier of frenzied luminosity, shapeshifting with neon chameleon glory throughout the evening, unfurling a kaleidoscope of vibrant hues. The MyFreeCams logo flowed through those electronic tendrils feverishly, bloodborne digitally with as much fiery radiance as the enormous screen behind the co-hosts.
"Alright guys, I cannot believe this is already here," Sky said. "I feel like I've been tweeting about this, literally, all year."
"You have been tweeting about it all year long!" Catjira replied.
"Hashtag XBIZ Cam Awards, y'all!" proudly proclaimed Sky. "It is such an honor to be up here hosting with my lovely co-host Catjira. Last year was my first-ever XBIZ Miami and it feels like just yesterday, I was on the other side of the stage, shaking in my heels and waiting for the winners to be announced."
"I was doing the same," Catjira confessed, "but also trying not to die from the Miami heat! Good thing this year's venue has air conditioning, haha." Laughter ensued from the multitudes.
Then, Sky related, "Did you guys know that last year was the first-ever XBIZ Cam Awards? Did you know our community raked in over one million votes?! That is incredible!"
Leaning forward with fire in her eyes, Catjira shared, "But this year, there were over two million votes! Amazing. Oh my god, because believe me, I know it's not easy. Give yourselves a round of applause!"
Once the tide of whooping and cheering died down, Sky said, "Alright folks … let's get this show started, and good luck to all the nominees!
For each category, a bewitching montage of sexy nominees danced across the main screen, making clear just how competitive each category was. For every trophy, the stunning XBIZ Cam Awards Trophy Girls, Noah Bensi and Macy Kennedy, were on hand to present the ultimate symbol of prestige.
First up, was Best Cosplay Cam Model, the very same category that catapulted Catjira to camming stardom last year.
And the winner? MyFreeCams' very own Felicia Vox!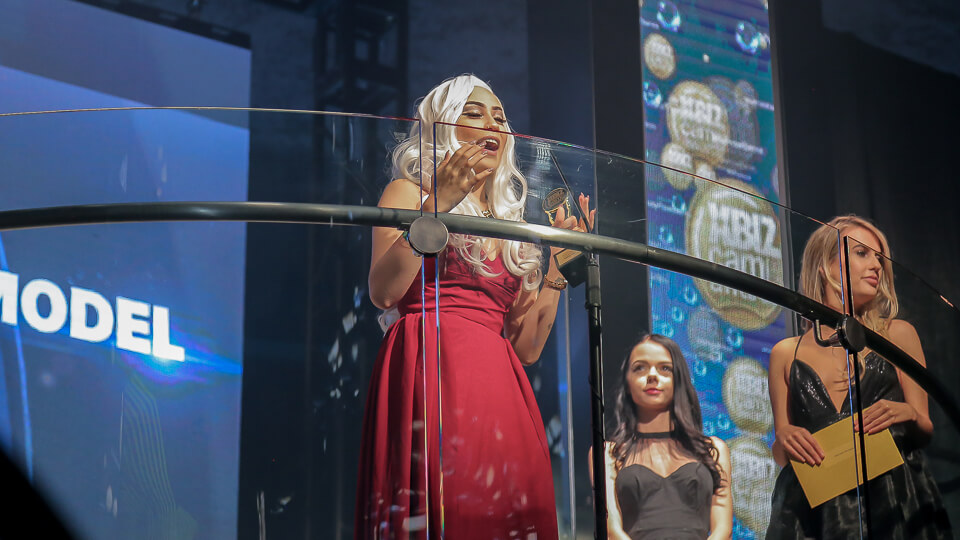 The beloved cosplayer, whose winged renditions of Overwatch's healer Mercy produced countless nerdgasms, not to mention a bevy of other geekdom beauties ranging from the Assassin's Creed games to Catwoman, tossed her platinum blonde hair to the side as she climbed to the stage.
"I know this is going to sound so cliché, but thank you to everyone," she began. "Honestly, I would not have been able to do it without the support of each of you. Not just my fans and other supporters, but fellow models, and my boyfriend sitting down there.
"A little over a year ago, I was about to quit the sex industry entirely and I know a lot of you and other people have seen a video I posted about it," Vox recalled. "And I decided to persevere. I can't believe I'm here right now! Thank you. And thank you to XBIZ and everyone who helped me out, you made this amazing. Thank you so much to everyone."
Then, it was time to crack the whip and bind a kinky winner, for Best Fetish Cam Model. The sultry Allie Eve Knox, best known for her sexual exploits on MyFreeCams and iWantClips — for whom she shared timeless wisdom on the clips panel that day — stood tall as she strode forth to the dais.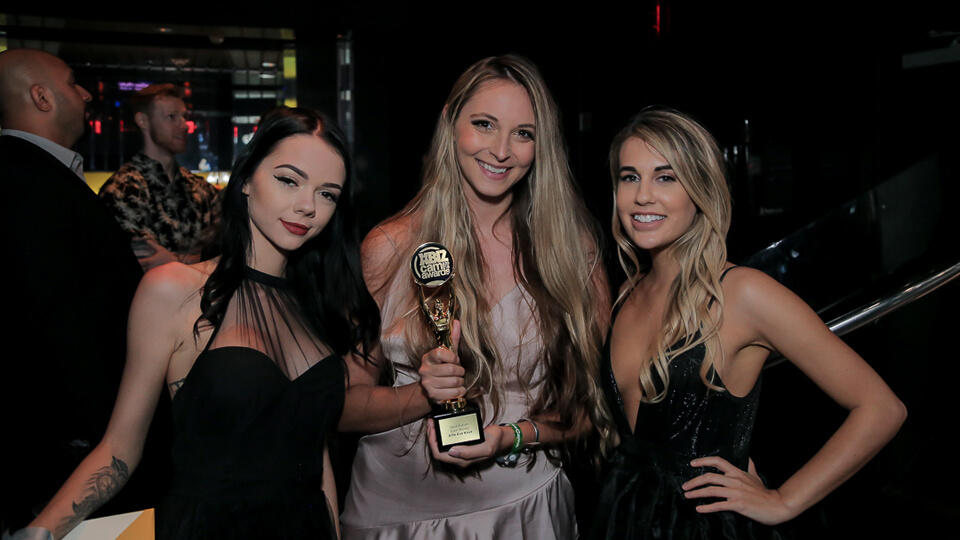 "Thank you XBIZ," Knox said. "And, thank you to all the rich men that send me all that money!" At this, the audience laughed uproariously. "Thank you also to all my friends that are here tonight. This is really cool, thank you!"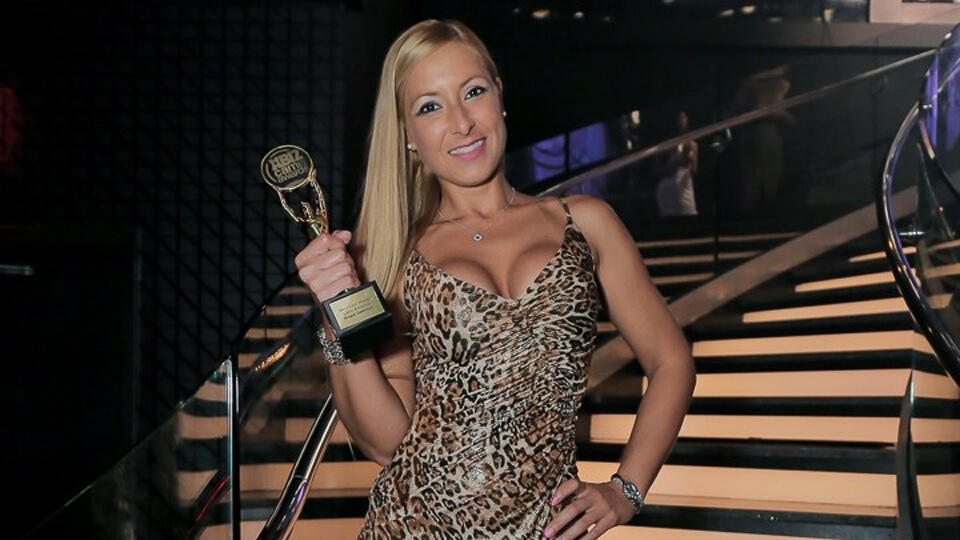 Best Cam Model for Latin America went to Angel Deemon, who was also one of the delectable XBIZ White Party Angels on the opening day of XBIZ Miami. She sashayed her way to accept the trophy, kissing it as she thanked Flirt4Free and fans with equal ardor.
Then, Best Cam Model in Europe was presented to Ella Silver, a stunning MyFreeCams warrior princess as impressive as Wonder Woman.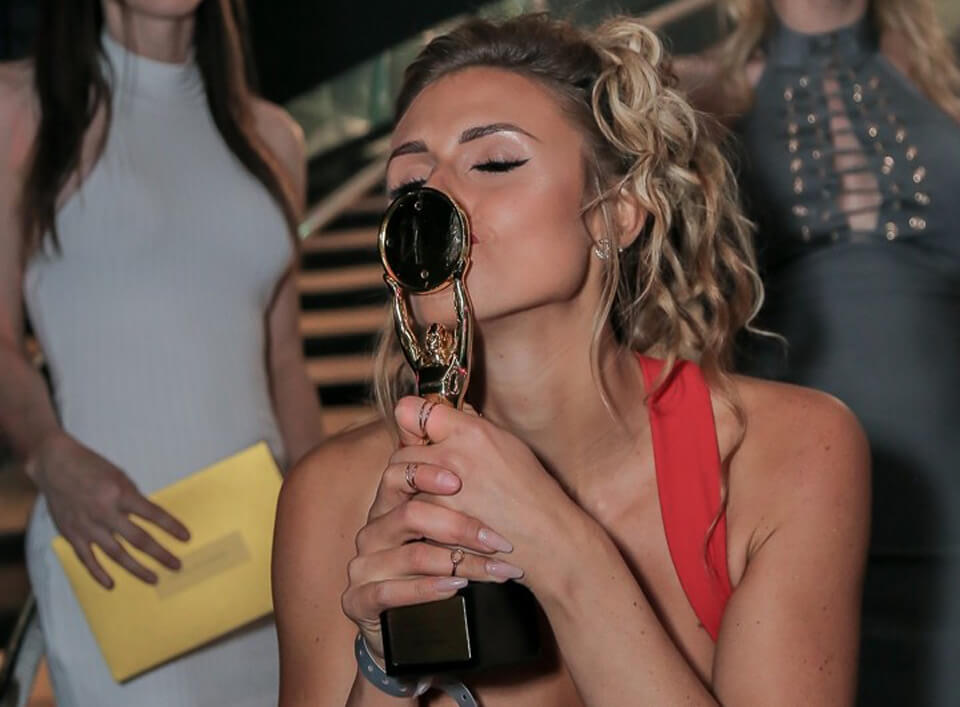 Taylor HouseWifeSwag brought the house down with her wifey swag, amidst a tearful speech that moved the audience profoundly with its emotional purity.
"Thank you to all my supporters, to everyone who voted for me on Twitter," she said. "Thank you to my husband for being so incredible, thank you to ManyVids and to MyFreeCams and to all of my fellow models, I love you guys, thank you for your support … thank you guys so much."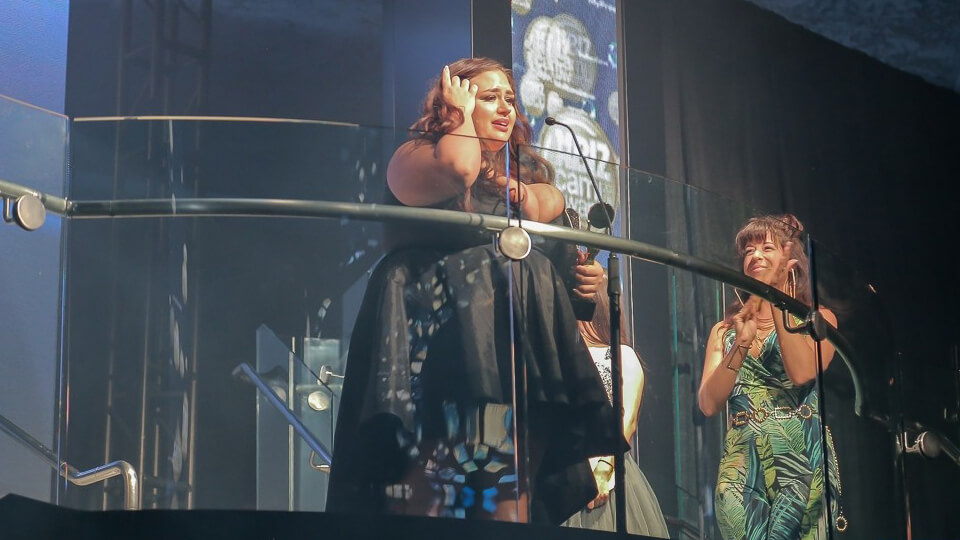 Then, the charming and folksy Melissa Dawson, a tatted MILF that would surely be the fantasy of any man, was announced as Best MILF Cam Model.
"Thank you to Streamate and obviously my fans that voted for me to get up here," she enthused. "And my four beautiful children that made me a MILF!"
Here, she choked up, prompting many in the audience to clasp their chests with raw joy. "And my husband, I love you baby, thank you for always supporting me. Thank you!"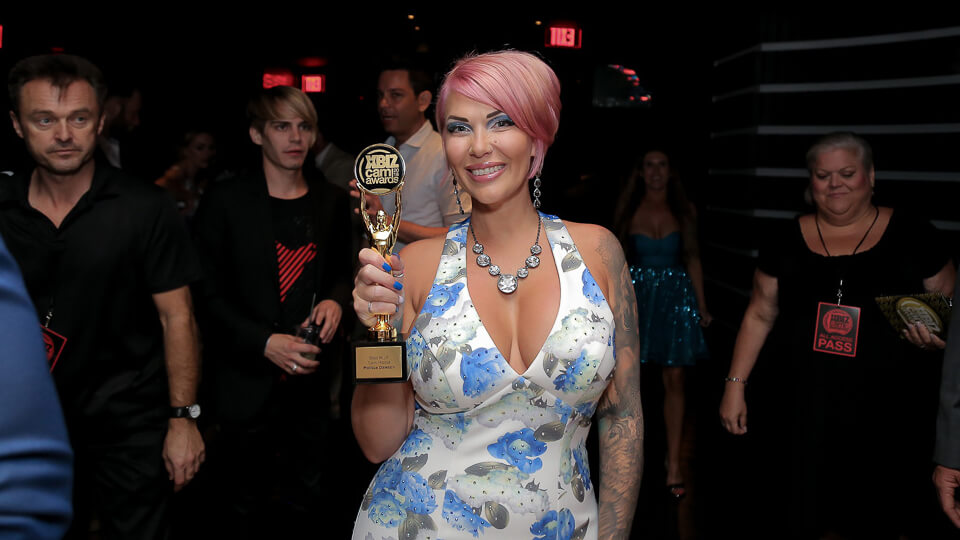 And who better to rock the evening as Best Clip Artist Duo, than the very same pairing who gave Chingy a run for his money as his opening act the day before?
TruStori3z!
The slender Bunz Bunny bounced up the staircase, with her deep-voiced beau, Tru Hefner, playing to the crowd.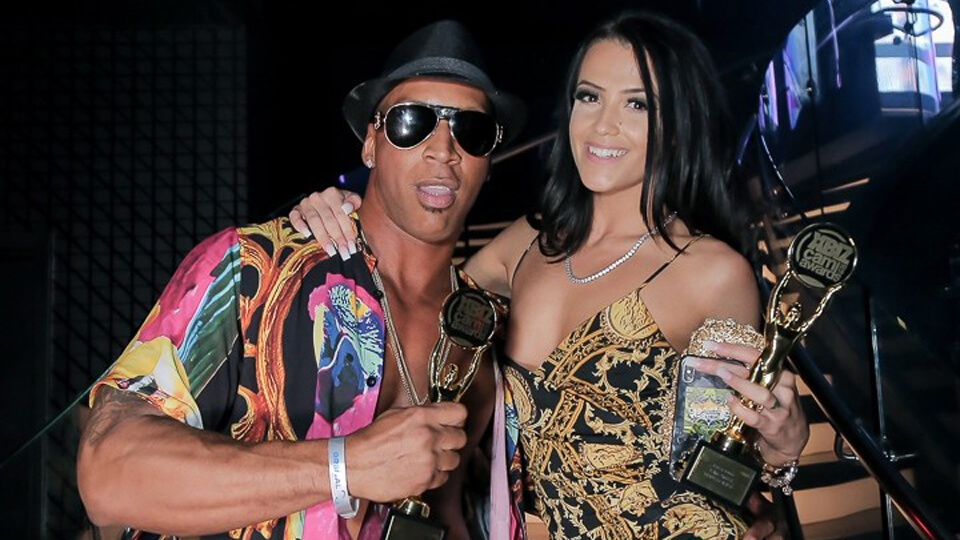 "TruStori3z!" he called out triumphantly, the subwoofers struggling not to explode with his bass voice.
"Thank you XBIZ for everything," Bunny gushed. "I can't believe this is happening!"
Hefner lifted his muscled arms high and shouted, "We love you, thank you all. XBIZ Miami, what up?!"
Best Trans Clip Artist went to MrsKellyPierce, who was unable to make it. Instead, XBIZ's own Melissa Santana accepted on her behalf, to major applause.
A hush fell over the crowd, as Chaturbate maven Ramona Flour took the microphone, to present the first Special Honoree trophy of the night — the Community Empowerment Award, to her company COO Shirley Lara.
"Authentic power … true power … comes from when your energy and your personality serves your soul, when who you are and what you are in this world is used for the betterment of a community," she said, with spiritual reverence. "I really appreciate Shirley Lara, for all of her hard work. I challenge you all to think about your soul and what your purpose is in this world."
Whoops and cries erupted, while Lara came forth to accept.
"Guys, I really did not see this coming, if I'm being really honest," she said. "Thank you so much, Ramona. I'd like to point out this is room is driven by entrepreneurship, and you are all entrepreneurs. I love you all. I love everyone here."
She then turned to her loyal lieutenant and expressed, "Ramona, you are amazing. You're like my right-hand woman … and man. Thank you so much to the community and to all of you for keeping everything together."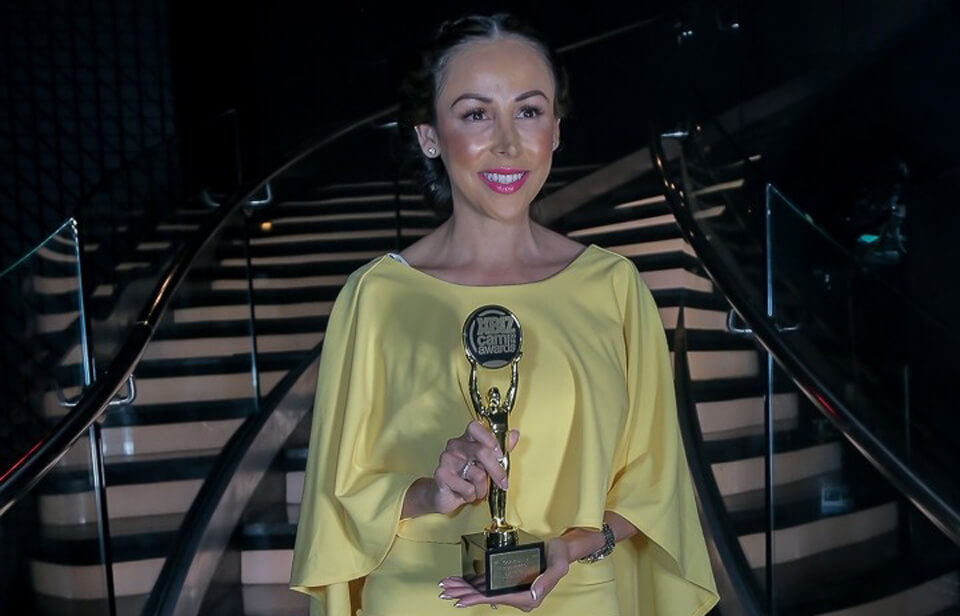 The lights dimmed soon thereafter, silhouetting a curvaceous troupe of female dancers.
They swayed their hips, twerked, showed everyone the bountiful goods jiggling in their tightly stretched outfits and put on a fiery burlesque routine over the course of several catchy songs.
It was an enjoyable intermission, judging by the excitement possessing the audience throughout the performance.
No less captivating, was the return of Catjira and Vera Sky, to get their co-hosting on.
"You know, Vera, I think my side of the audience is more excited than yours … who on my side agrees?" challenged Catjira.
Her half of the audience caused a real ruckus.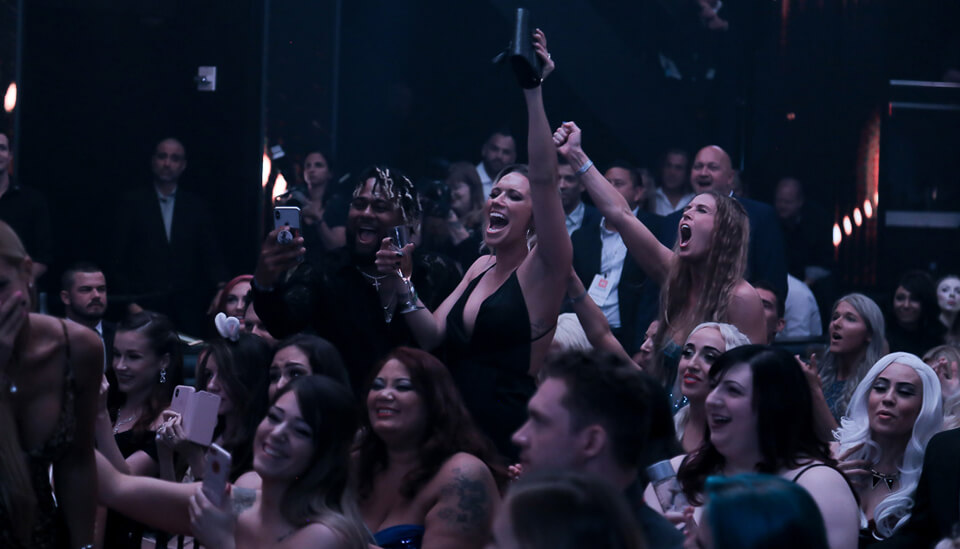 "No, no, no, no!" countered Sky. "I think my side of the audience is more excited than yours!"
The return fire was equally bombastic.
"Okay, okay!" relented Catjira. "Let's just agree that we're all really excited to be here."
None seemed to disagree.
"We should totally get back to the show," they said in unison, "but first, let's take a selfie everyone!"
The Chainsmokers "#SELFIE" song boomed from the speakers, as the co-hosts snapped a crowd selfie.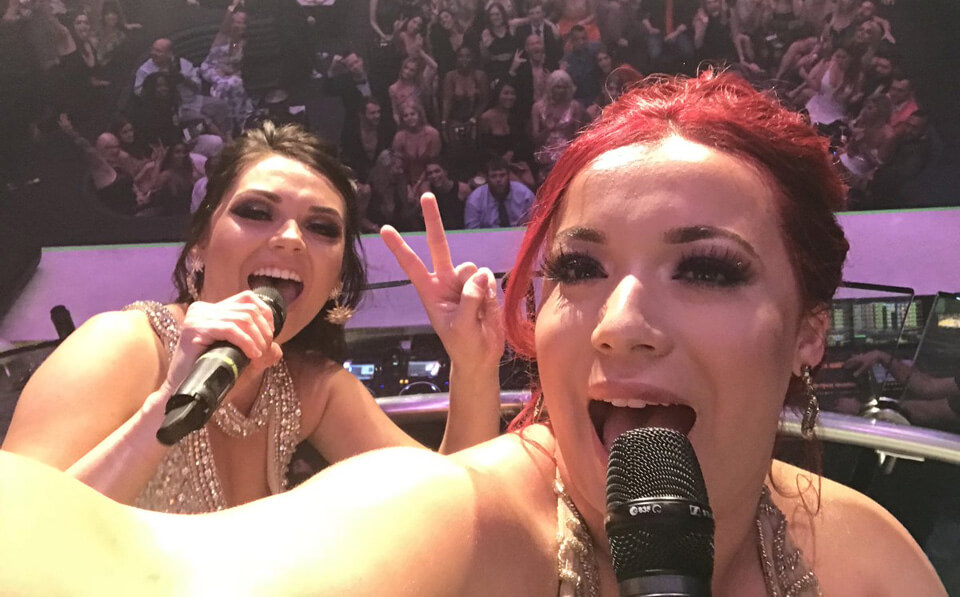 "Posting this on the XBIZ Twitter," declared Catjira, "and when I do, I want everyone to retweet it!"
And with that, the co-hosts made way for the next set of award categories.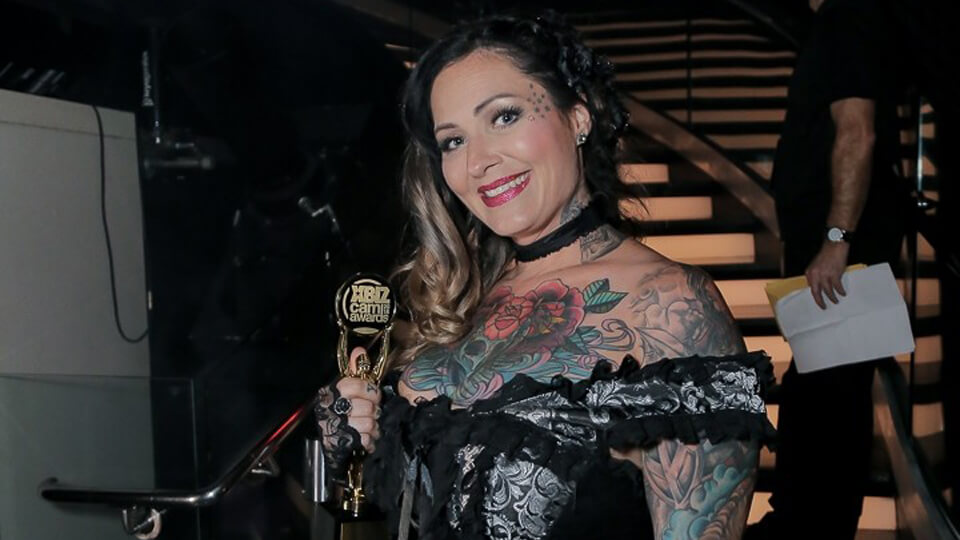 Tattoos took center stage, for Best Inked Cam Model, which went to Catherine Tayler.
Grasping the golden trophy in her hands, she said, "This is the most beautiful thing I've ever seen. We did this. We did this!"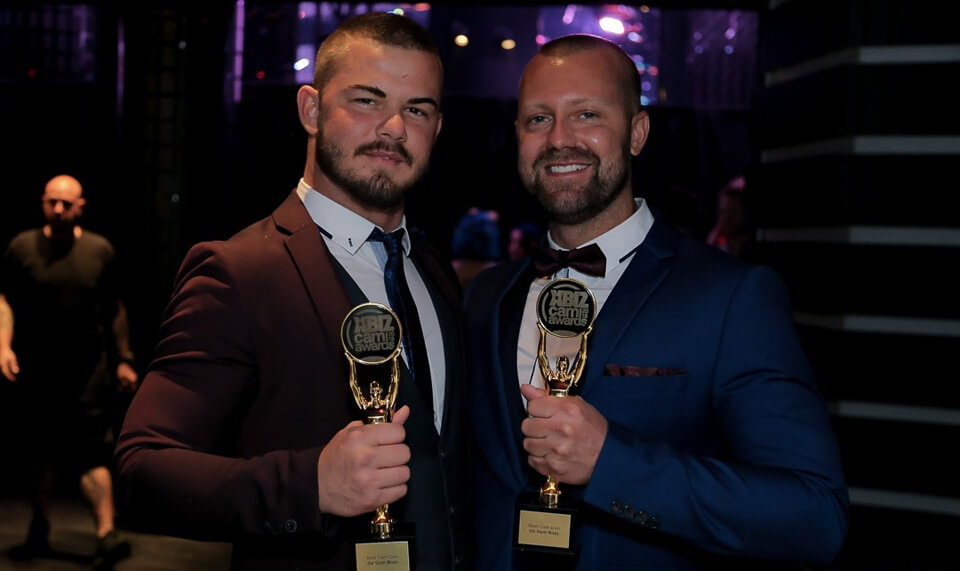 Best Cam Duo went to Matt & Steve (Oz_Gym_Boys), an Aussie pairing fully decked out in perfectly tailored suits. They thanked their fans profusely, and the audience lapped it all up.
Next, Best Cam Model Site was awarded to Melody Kush, the down-to-earth bootylicious Chaturbate star who was not only a pivotal XBIZ Miami ambassador throughout the show — leading the charge in a flurry of panels and activities like the Cam Model Olympics — but also recently featured as the Cam Star of the Month in XBIZ Cam World's June issue.
Her winning site, MelKush.com, certainly gets viewers higher than a dab.
"Thank you to everyone who has helped me flourish in my career," Kush said. "Thank you XBIZ. Thank you Chaturbate. Thank you ModelCentro. Thank you to all my fans who voted for me. Thank you to all you guys who voted for me, thank you all so very much!"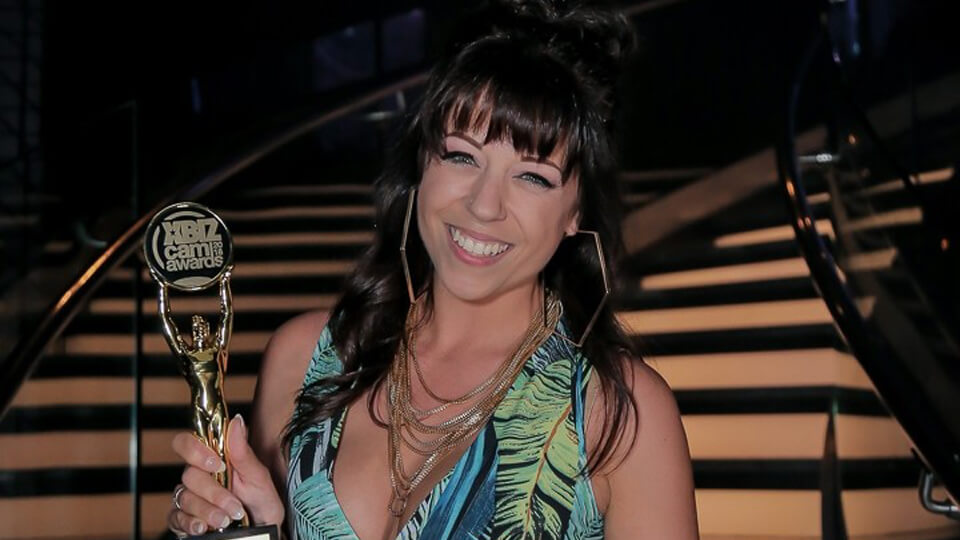 Best Gay Cam Site went to Chaturbate.com, accepted by Lara for the second year in a row, and she said, "Thanks guys! I always see you guys represent at the show. This is to all the fellas … let's all go after the show and do a shot together!" Merry agreement resounded.
Larkin Love won Best Female Clip Artist, but since she was unable to attend, Johnny Goodluck accepted on her behalf.
Then, came Best Male Clip Artist, which went to boy-next-door Johnny Stone of Chaturbate. "I didn't prepare a speech," he admitted, "but, fuck yeah! I'd like to give a shoutout to all the fans. Everybody, all my friends and fans, you're all fantastic, seriously."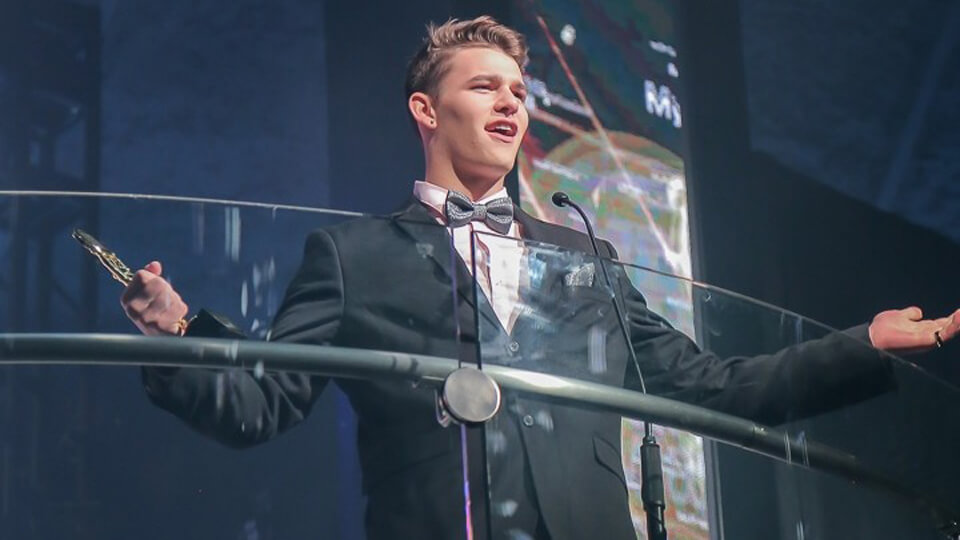 Following that was Best European Cam Site, which went to the oft-crowned Jasmin.com.
Bespectacled company ambassador Gabor Gaspar, flanked by a bevy of babes, graciously accepted.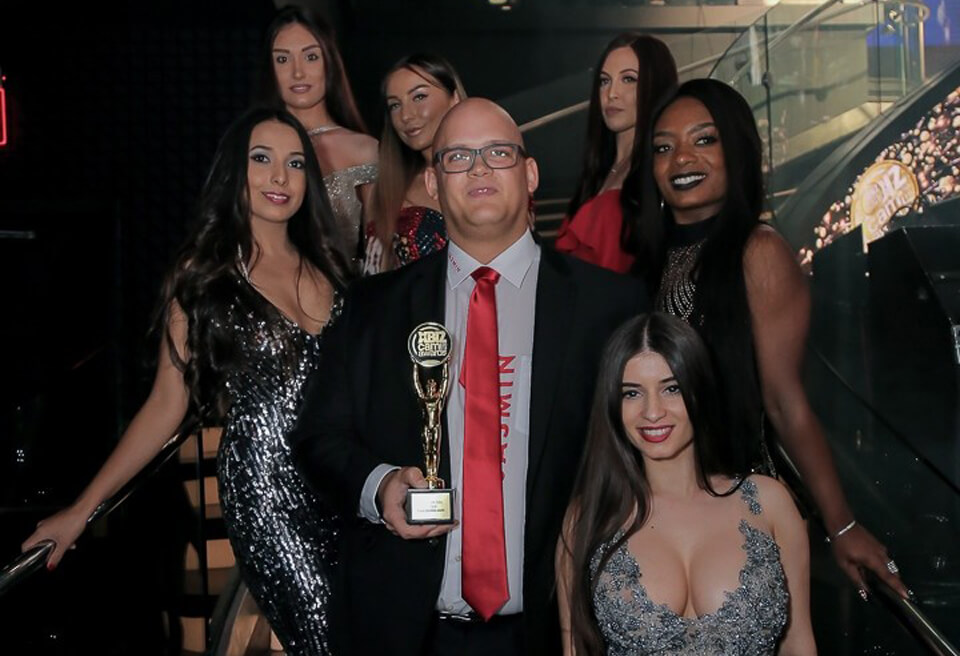 "Good evening Miami, how you doing?!" he asked, and the masses hailed him with lively spirits. "I'd like to keep this very simple. We'd like to thank everyone who has helped this company. Hundreds of people work in the office on this amazing product every day, but I want to thank all the tech people and all the developers.
"Then again, we can work on this product all the time, but if we don't have the models, if we don't have you, we don't have a company!" Gaspar said, to major acclaim.
Best North American Cam Site was then awarded to decorated XBIZ Award winner MyFreeCams.com, whose collection of top cam models flocked to the stage, raising their hands skyward.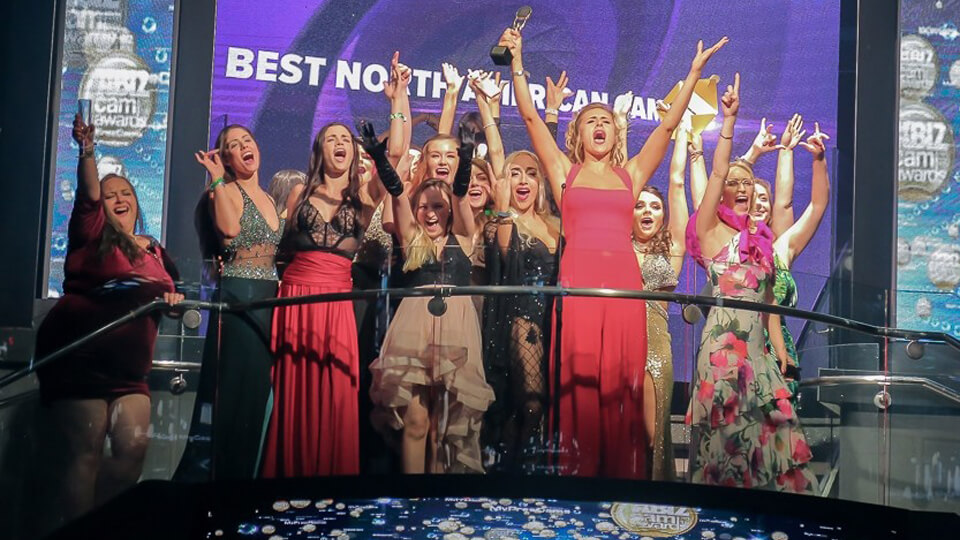 After the pandemonium settled, it was time for the evening's second Special Honoree, presented by Free Speech Coalition executive director Eric Paul Leue.
The mustachioed and impeccably dressed Leue said, "I was so honored to be asked by XBIZ to present this award. I first met the recipient of this award in the beginning of 2016 and she was one of the most outspoken women I'd ever known. At a time when social media tries to silence our community, this person has consistently raised their voice with passion, compassion, energy and integrity.
"She has spoken out about everything from sexual harassment to mental health," he said. "The past few years, we've seen the rise in power of performers seizing the means to produce their own movies, exercising their control of their content. But this performer has also seized the media narrative, with words, videos and tweets. I am so honored and proud to not only work alongside this incredible person, but to present the Community Advocate Award, to Ginger Banks!"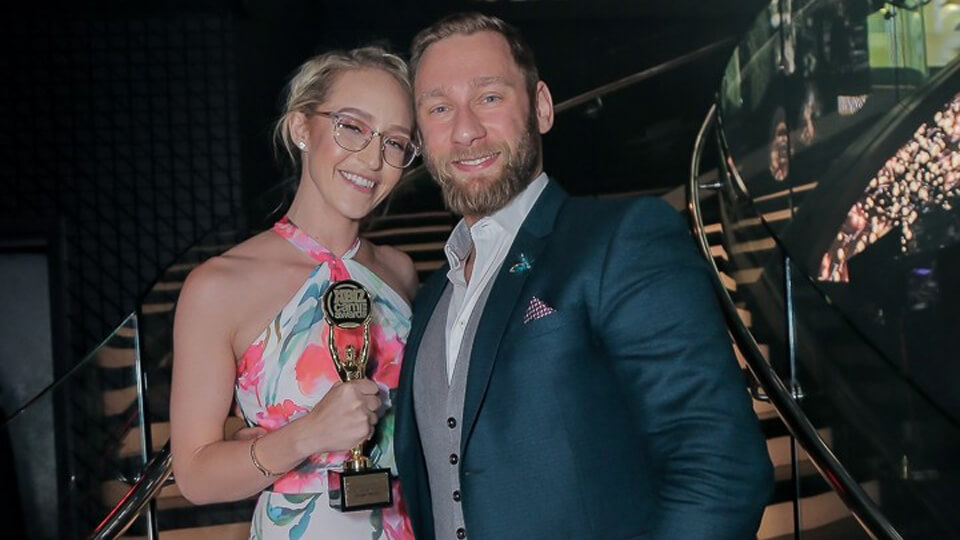 The bubbly blonde, who is absolutely a force of nature, and whose Evil Angel debut premiered at XBIZ Miami in an exclusive screening — bounded up the steps.
"Everything I do, everything I say, is to make every sex worker more comfortable in their own skin, because we get so much shit for what we do," she stated. "Doesn't matter if you remove us as a payment processor or remove us from social media, we are here to stay! You're all fucking badasses." Good vibes sizzled throughout the nightclub, as the entire audience stood enraptured.
"We make people happy, at the end of the day, and I love all of you," Banks concluded. "I love you so much. And thank you XBIZ, I had no idea this was going to happen! Be yourselves, love yourselves and once you do that, you're going to start making even better porn."
Following her empowering speech, was the Best Trans Cam Model award, which went to Thippy69. "This is my first time in America, so thank you," she said. "Thank you to all my fans, I love you. Thank you very much."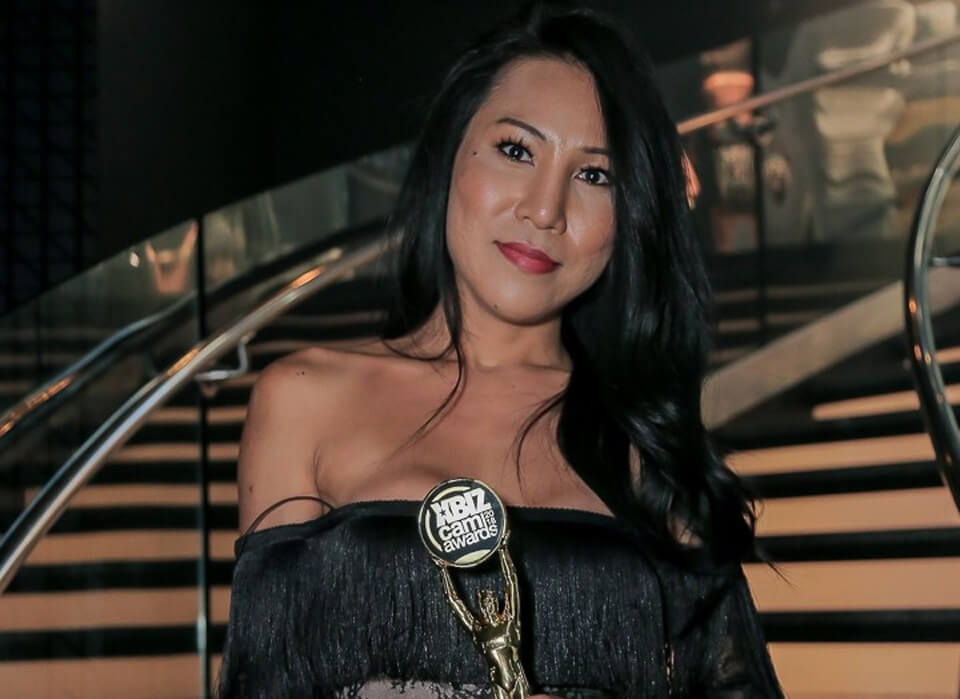 And for the penultimate trophy, Ricky Rodeo was announced as Best Male Cam Model.
"What the fuck?!" he said, hilariously. "First off, I want to thank Macy, my girlfriend, because two years after starting in this business, I'm here winning male cam model of the year! Dude, everyone in this category so deserves this award, it's not for me, it's for all of you. Thank you to XBIZ. Thank you to everyone who voted, and we're going to turn the fuck up tonight!"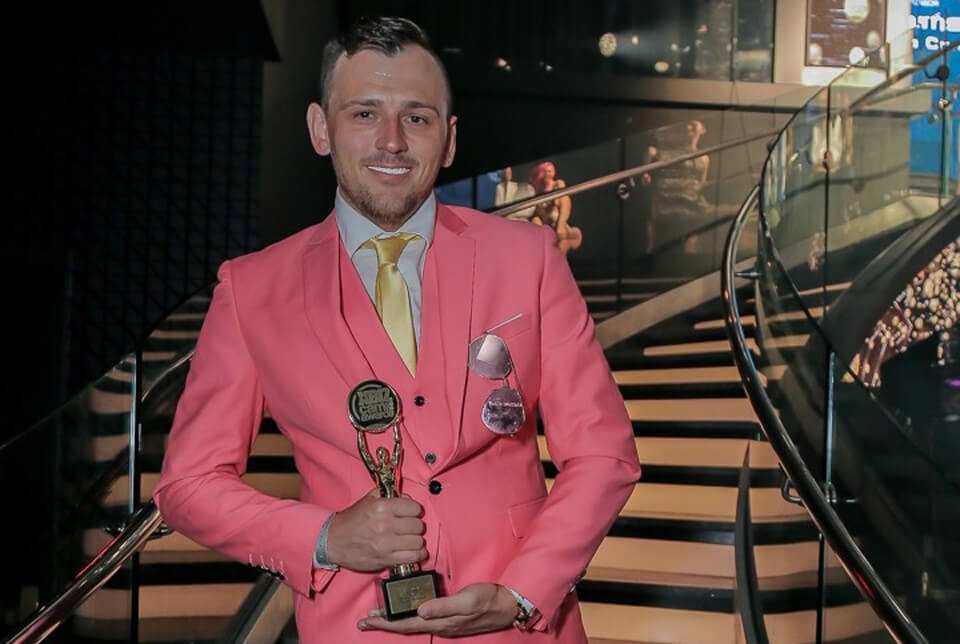 Last, but most certainly not least, Chronic Love was crowned Best North American Cam Model.
"I'm not going to lie, I wasn't expecting this," the breathtaking brunette said. "I'm so, so very grateful I want to say thank you to XBIZ, to MyFreeCams, to Chaturbate. Oh my gosh! My fiancé, thank you so much for helping me and always having my back, I love you. Thank you everyone!"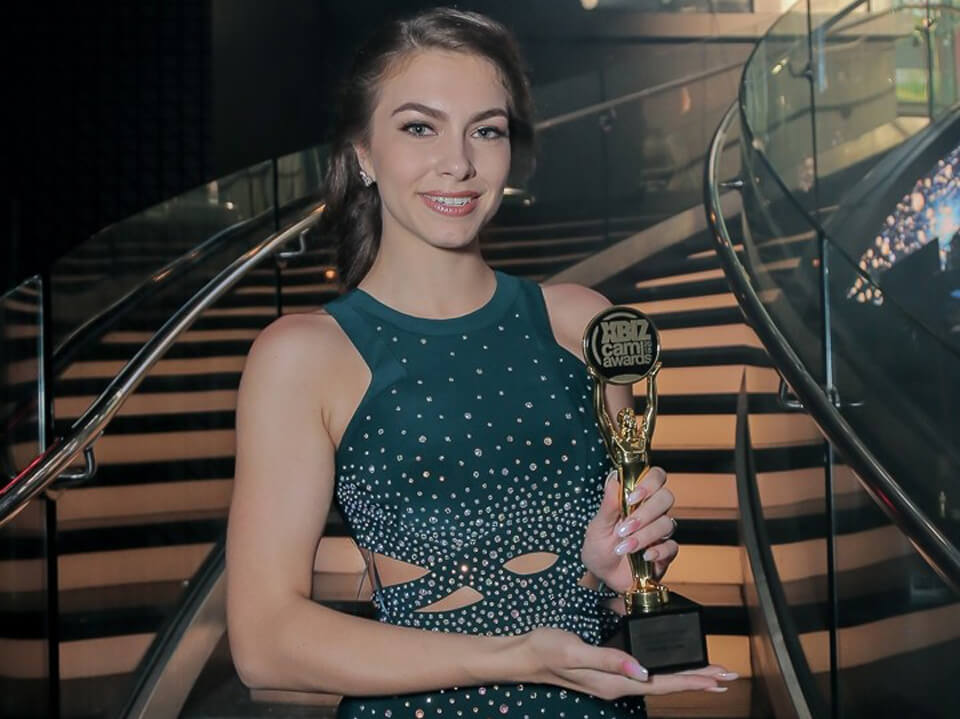 As attendees congratulated each other and began to stir, Catjira and Vera Sky returned for one more hurrah, offering heartfelt speeches to the assembly.
"You guys, I just really want to say to all the cam models here, thank you for coming" Catjira said. "It's like one giant adult summer camp. I really want to take a moment to say thank you for XBIZ, I've been doing this for a little bit, and I've been involved a little bit, but nobody does it like XBIZ does!
"They really outdo themselves and nobody realizes the amount of work amateur cam models and clip artists do every year," she continued. "We don't have producers, or costumes made for us, or anyone who does it for us. So, I just want to thank XBIZ for recognizing us."
Sky concurred, applauding. "Alright guys, I did not think that four years ago, when I started camming for the first time, that I'd end up doing this," she said. "You guys are like my family. I was actually upstairs in my hotel room back at the Mondrian earlier, and I heard all these cries and screams of happy people and I looked down from my balcony, and I just saw everyone having such a good time.
"And it's so important to have this close-knit relationship, a place where we can go and be ourselves," she underscored. "We're really a big family. XBIZ, you have changed my life, given me the opportunity to travel the world, meet new people. Thank you for changing our lives. I want to congratulate all the winners and nominees, you are amazing, the sheer passion from you guys, you should be so proud of yourselves. Thank you to every single person that came out today."
Together, they promised, "See you next year!"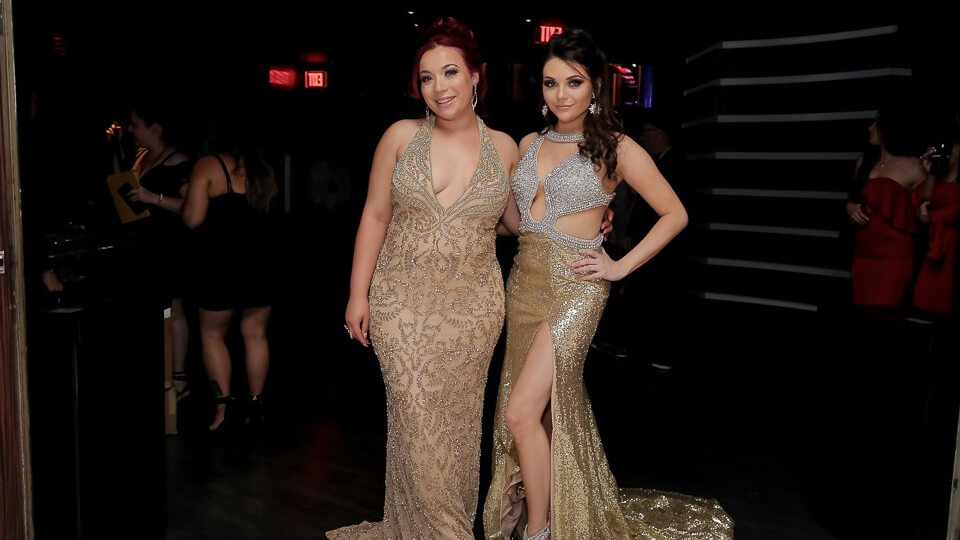 Adrift in ecstasy and the contact high of a closely bound community, brought together by XBIZ Miami and the XBIZ Cam Awards, this was an evening of climactic wonders.
Summery escapades forged meaningful memories that week, hitting the highest crescendo ever that evening, as a multitude of lively social media stars and power players came together (in more ways than one) for business, pleasure and long-term friendships.
LIV welcomed back the partying legions shortly after the ceremony ended, as the doors reopened to admit some of the finest human beings this planet has to offer. It was exquisite. It was dreamlike. It was lit.