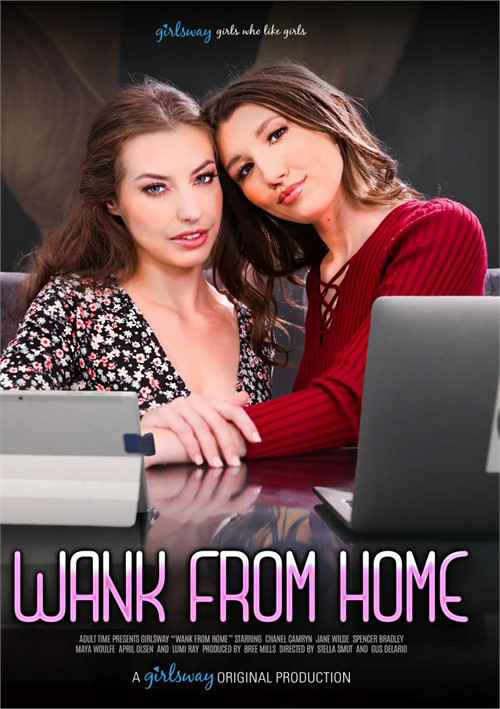 "Wank From Home" features scenes from the lesbian offshoot Gamma studio Girlsway.
Jane Wilde, Chanel Camryn ("Bed and Breakups"):
Chanel Camryn arrives at her bed and breakfast in a world of hurt. Originally, the trip was supposed to be a couple's retreat with her and her girlfriend, but an unexpected breakup has left Camryn to take the trip alone in an attempt to clear her head. Luckily for her, her host Jane Wilde is sympathetic to her plight, having gone through something similar a few short years ago. The trip turns into a romantic fling that culminates in a passionate coupling. I love watching Jane have sex. She is so tuned into her partner in every scene, and she just gives in to the pleasure coursing through her body. It's an absolute joy to behold. Meanwhile, Chanel is irresistibly sultry in her own right, and it doesn't get much better than watching her squirm with delight under Jane's hungry mouth. The 69 is worth every minute, and the spooning tandem masturbation is a perfectly delectable ending.
Maya Woulfe, Spencer Bradley ("Wank From Home"):
Maya Woulfe and Spencer Bradley are both slam-busy with clients, and they both need a break. In a sexy moment of impulsivity, the horny lovers decide to have a competition to determine who's the better lover. This is a fun scene with a fun premise that follows a popular fantasy of fucking at work without anyone knowing. The tandem fingering while both ladies try to handle online clients is straight out of the 1990s, but it works. When they venture over to the couch to find out who eats pussy better, the intensity goes up by 10. Maya practically engulfs Spencer's pussy, alternating between sucking her entire box and flicking her clit mercilessly. When Spencer returns the favor, it's in the form of bites and sloppy kisses that bring Maya to her knees. The stunning visual of watching Spencer finger Maya's wet pussy while simultaneously rubbing her clit against the backdrop of some very suggestive calla lilies is a great way to end the torrid tryst. This is a home run for director Stella Smut.
April Olsen, Lumi Ray ("Naturally Stacked: Reduce, Reuse, Recycle"):
The final offering on this release comes from director Gus Delario and stars two of my favorite stars. April Olsen has hired personal trainer Lumi Ray to help her get back into shape, and while April is very focused on working out, Lumi finds herself completely mesmerized by April's rack. Unfortunately, April hates her boobs and wishes they were smaller, much to Lumi's chagrin. Lumi offers to show April just how beneficial and fun big boobs can be, and before long, the ladies are engaged in a completely different kind of workout! Watching April bury her face in Lumi's ass is fantastic, watching Lumi finger April (check out her thumb-on-the-clit technique too) is fantastic, and watching April eat Lumi's pussy from her knees while Lumi stands over her is fantastic. Basically, everything here is fantastic.
Synopsis:
Chanel Camryn arrives alone at a bed and breakfast. The owner, Jane Wilde, is a little surprised because she was expecting a couple to arrive. Chanel explains that she recently got dumped by her longtime partner, but decided to go on the vacation by herself instead of canceling it because she needed to get away from it all. Jane is sympathetic, and offers to do her best to help cheer up Chanel! Spencer Bradley and Maya Woulfe, a couple who work from home, have recently been deadlocked in a debate over which of them is the better lover. They decide to settle this debate once and for all with an endurance test: they will pleasure each other simultaneously and whoever holds out the longest before climaxing will be the winner! They want to settle this IMMEDIATELY, but they each have imminent video calls with clients... That's not enough to deter them, though! April Olsen had recently noticed that her next-door neighbors were throwing out a barely-used exercise bike. April decides to give it a new home, but when April gets the bike set up in her house, she realizes that she doesn't have a CLUE about how to use it. With that being the case, she decides to hire Lumi Ray, a personal trainer, to help her get back in the workout saddle!
Copyright © 2023 Adnet Media. All Rights Reserved. XBIZ is a trademark of Adnet Media.
Reproduction in whole or in part in any form or medium without express written permission is prohibited.