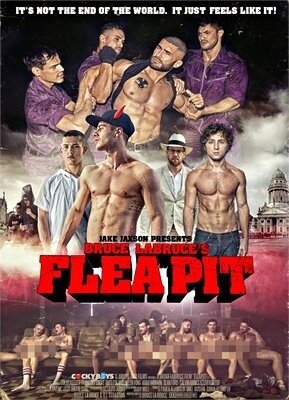 Prolific indie auteur Bruce LaBruce ("Hustler White," "Raspberry Reich") returns to all-male erotica with "Flea Pit," a 2018 XBIZ Europas Award winner for Best Gay Film. Featuring his "L.A. Zombie" leading man Francois Sagat, LaBruce produced this quartet of erotic short films with CockyBoys and it is suffused with his inimitable anarchic spirit. Well worth checking out if you're hungry for a streak of subversiveness and, well, cockiness with your gay porn.
Two of the short films in this collection — "Diablo in Madrid" and "Uber Menschen" — were filmed on location in Madrid, while the other two were shot in Berlin. "Purple Army Faction" is closest in spirit to LaBruce's oeuvre, as it involves so-called heterosexual "deviants" being hunted down and recruited into the homosexual lifestyle, while "Flea Pit" is a straightforward orgy set inside the rundown theatre that gives the film its name.
"Purple Army Faction" is fantastically hot sex, and funny as fuck. The subtitles, attempts at subliminal messaging and slogans ("Go Gay or Go Home!") are a scream. Although the Purple Army Faction members identify Sagat as heterosexual, the Gallic stud's hidden talents for man-on-man fucking are quickly brought to the surface. Winwin, as the group's alpha-leader, has his way with Sagat first. Both men are musclebound and thickly hung and they fuck with furious passion; Sagat likes a topman who can keep up with him and urge him on and Winwin's thick cumshot is well earned. Handsome Dato Foland, another well-muscled slab of beef, also contributes a gusher of a climax that seems to impress Sagat. Karter has never been better; he gets fucked against the Berlin Wall (yes, really) and then later sucks cock as if it's the only thing keeping him alive. Sagat has to prove himself to the group by banging Karter. He's smooth and confident as Karter writhes beneath him and Sagat coats the young stud's back with semen.
Meanwhile, "Flea Pit" is a throwback to porn's early days in its style and setting as an orgy erupts among the audience members inside a rundown theatre. Many of the cast reappears, alongside a few additional participants (including a woman). They exchange teasing, furtive glances; the slow-building anticipation is palpable as the audience members inch closer and closer to touching each other, then take out their cocks (and other body parts) and stroke, then begin to kiss, and more. A group of the men, led by Karter and Winwin, fuck in front of the screen as the movie continually plays and then jerk off, one-by-one. Some of the audience members have sex; some do not (including filmmaker RJ Sebastian, known to CockyBoys fans as a creative force behind the scenes, and a real dreamboat). The lighting, editing and other tech elements work together to build and maintain erotic suspense.
Sean Ford and Allen King anchor "Diablo in Madrid," while Colby Keller, the current XBIZ Award-winning Gay Performer of the Year, connects with Calvin Banks in "Uber Menschen" (Keller also briefly appears in "Diablo in Madrid" as the same character).
King is a rising star, compact and wholesomely handsome with buckets of sexual mojo, while Ford is lean and fashion-model beautiful and more low-key as a performer. King struts his way around a cemetery — "Guaranteed to offend!" promises the DVD insert — tempting mourners into acts of public sex, until Ford manifests to challenge him. They struggle but King dominates and powers their passionate, sweaty fuck session with a sexy, mischievous wink to the camera.
Banks, slim and adorable with a sizable cock and dark blond ringlets, is a terrific match for hunky, bearded Keller, a skilled actor who brings seemingly genuine passion and hunger to his sexual performances. Fully half of the running time of their scene together is taken up with a tour of Madrid in an Uber as the men develop a connection. Keller has the acting chops to make it work. They make love at night, in public, illuminated by the headlights of Banks' car. It's a passionate, cum-soaked bout of lovemaking by two terrific performers.
Synopsis:
Prepare to be fuckwashed! This four-part anthology film from legendary gay auteur Bruce LaBruce portrays his "take no prisoners" approach to filmmaking. He is constantly pushing past the boundaries imposed on gay culture and queer cinema, and these shorts are no different. Guaranteed to offend!