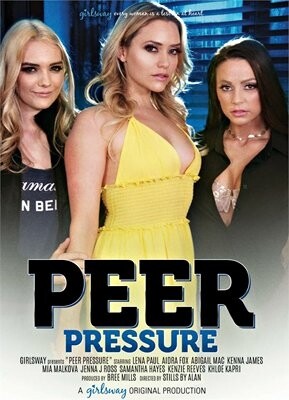 Girl/girl stories featuring very fuckworthy babes, including large-chested Lena Paul, big-assed Mia Malkova, and hot-bodied Aidra Fox, amongst other delish snapper-hungry minxes.
Lena Paul rescues Aidra Fox, playing her porn-star self, from a bad bike accident in the remote hills, takes Fox to her home, and, as a fan of Aidra's, ultimately coaxing her into having gash-to-gash sex, which is pretty heated. I like the contrast between the two ladies' bodies: Lena having a luscious, large-breasted figure and Aidra having a wiry, small-titted spinner of a bod. And they go well together! Both floozies eat pussy with careless abandon, meaning with lotsa rude, nasty (yeah!) sucking sounds. Lena's a fairly voracious cunt-ster, and — even when Aidra's returning the flavor, say, in the missionary position — I simply adore seeing Lena's marvelously sloppy, floppy (both good things!) tits just hanging there. Umphhh!
After Abigail Mac gets hip to a faked kidnapping scheme — cunt-cocted between the very cute (both of 'em!) Mia Malkova, playing Mac's "trophy wife" and Kenna James — we're treated to a sizzling threesome between the foxy freaks, in an arousing homage to the 1998 cult flick "The Big Lebowski." Mac plays, as usual, a terrific major bitch whom you love to see fuck or get fucked. Doesn't matter which. And I especially like how Mac takes cunt-trol of these two deceitful twats, really making 'em pay for their crime against whore-manity. It's so horny hearing/watching Mac orchestrate all the volcanic vadge-to-vadge(-to-vadge!) action. Highlights include Mac worshiping Malkova's anus as Mia has her choice ass bent over, sticking way, way up in the air; Mac and Malkova voraciously, simultaneously sucking on each other's tits; Mac simultaneously finger-fucking Kenna and Mia; and Malkova sitting her protuberant posterior on Mac's ravenous face. Hot stuff!
Lastly, blonde babe Khloe Kapri and brown-haired sweetie/spinner Samantha Hayes are getting intimate in one room, while brunette slut Jenna J. Ross (with the cute gap between her two front teeth) and sexy blonde Kenzie Reeves are getting down and dirty in another room, until the four flakes join forces — and fluids! ... and orifices! — in the same bedroom, which must have had one helluva marvelous scent by the time this sizzling quartet was finished; and, natch, it's great watching 'em all writhe and suck and lick and stick together in one giant ball of cunt-dom. I like how, at one point, Jenna cunt-rols Khloe, making the latter suck her twat dry. But when the four ladies are rolling around on the same mattress, va-va-va-voom! It's pussy heaven. Highlights include Jenna and Samantha hornily watching Kenzie dominate Khloe; the girls engaging in separate, varied sets of 69; Kenzie worshipping Khloe's (gapin') craphole — and vice versa; as well as Khloe sucking on Sam's shithole, as Sam slops up Jenna's honey mustard. Whew! Whadda firestorm o' twats!
From Girlsway Films, "Peer Pressure" is a fun girl-girl title, with just enough plot to make things interesting, and plenty of pretty/sexy lipstick lesbians, all of whom obviously enjoy eating fish. And plenty of it!
Synopsis:
Aidra Fox hurt herself while biking in the mountains, somehow losing control of her bike. Lena Paul spotted her from a distance and helps Aidra by taking her home to treat her. Kenna James and Mia Malkova are at home scheming. The girls have come up with the perfect plan to make some serious coin from their sugar mama Abigail Mac. Samantha Hayes and Khloe Kapri are sitting on a bed wondering what to do with the rest of their afternoon. Khloe responds that perhaps they could have a little fun with some sensory deprivation. Meanwhile, Jenna J Ross asks Kenzie Reeves when her parents are coming back, Kenzie replies that they'll have the whole weekend to do whatever they want to each other and Kenzie comes up with a naughty, naughty idea.