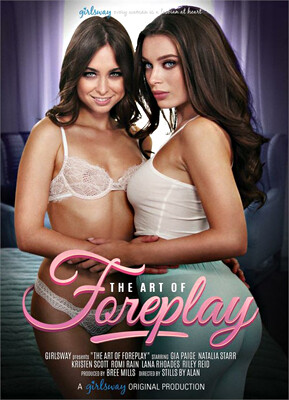 Three terrific twosomes make this Bree Mills-produced slurp-fest a treat. Natalia Starr goes online to look for a good kisser and the only response that turns her on comes from Gia Paige, who says she's an "expert" and offers to show her why. It takes them a while to get to the actual kiss and Gia wants to take it further, licking on Natalia's labes.
Student Kristen Scott needs notes from a missed class and teacher Romi Rain brings them to her, her big tits popping out of her tight blouse. She's determined to seduce the younger woman, and though Kris feels it's not appropriate, she is mighty turned on. Romi eats her pussy like a woman possessed while Kris tires to sound normal to a friend on the phone. It's a great example of how to turn on an initially lukewarm seductee. Romi leaves Kristen weak, wasted — and satisfied.
Riley Reid is feeling so good that she decides to get a massage — from Lana Rhoades, no less. Gorgeous Lana is slow and seductive and Riley responds erotically to her strokes. She takes the lead and gets Lana turned on, then generates heat with her pussy bumping. The scene is more pretty than passionate — but when the partners are this hot, who's complaining?
Synopsis:
Natalia Starr has never been kissed and when Gia sees her post online looking for a teacher to show her how, she knows she's the likely candidate for the job. Kristen Scott waits for her teacher Romi Rain to arrive to help her out with her paper, but when Miss Rain finds out that Kirsten likes girls, she tells her that in order to pass she's going to have to adhere to her teaching methods and rules. When Riley Reid books a massage before her long flight, Lana Rhoades proposes giving her erotic zones a rub down sure to help anyone relieve any sort of tension.