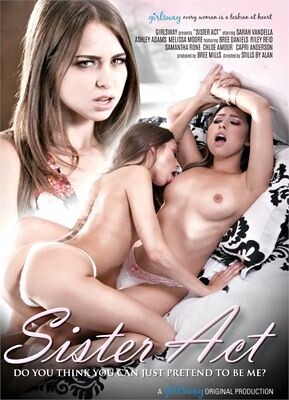 This episodic girl-girler plays on the real-life resemblance of Riley Reid and Melissa Moore. Melissa, pretending to be stepsister Riley, makes out with her girlfriend, Capri Anderson. Capri says she will never confuse Riley with Melissa — but she does. Melissa locks Riley in the bathroom and makes love with Capri, which really pisses off Riley.
Riley plots her revenge. Melissa thinks she going to make out with Capri again but Riley materializes instead. She's going to punish her with sex. Riley stands over her and makes Melissa eat her out. The stepsisters really go at it. Riley goes back to girlfriend Capri.
In the first episode we get Bree Daniels, whose long-lost stepsister, Chloe Amour, turns up on her doorstep. Seems she ran away four years earlier, at age 14. Now, she's a hooker — and a lesbian. They make love, a bit mechanically at first, then with increasing heat.
In the third vignette, journalist Sarah Vandella discovers that "America's singing sister sweethearts" — Ashley Adams and Samantha Rhone — are lesbians. She interviews them for Rolling Boulder magazine. Sarah has a video of the two girls fucking — they aren't really sisters — and blackmails them into having sex with her. The "sisters" both squirt a lot in a good threeway scene. Sarah is excellent as the shark-like writer. In the final episode Bree and Chloe get together again for another hot workout.
Synopsis:
When Bree Daniels hires a female escort, her estranged stepsister Chloe Amour shows up at her front door. Melissa Moore seduces Capri Anderson by pretending to be her girlfriend Riley Reid. Music journalist Sarah Vandella threatens to expose teen pop stars Ashley Adams and Samantha Ron are secretly lesbian lovers. In the throngs of lesbian passion, Bree Daniels promises to save her long-lost stepsister Chloe Amour from life as a call girl.