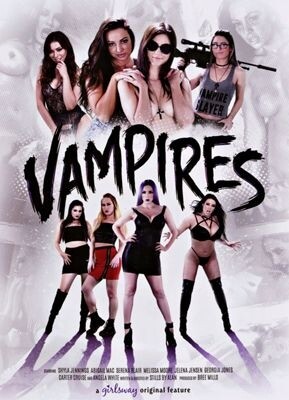 Stills by Alan knows how to tell a damn good story, especially when it comes to the damned. Enter "Vampires," a captivating mix of classic vampiric horror with some modern-day comedy. The blood-sucking — well, they suck energy in this movie! — girls in this flick do an awesome job at being sinister and sexy all at once. Shyla Jennings, especially, is the perfect mashup of cute and badass, playing an "innocent" blind girl caught in the crossfire.
In this title, Abigail Mac (a personal fave) plays Lucy. She and her stepsister Ana, played by Shyla ('nother personal fave), have moved back to their dead father's ranch near Santa Clarita. Bored with the suburban lifestyle, Abigail joins Tinder and meets up with Melissa Moore, who just happens to be a vampire. Melissa and her coven of super-sexy energy-suckin' monsters actually use social media to lure unsuspecting girls to their mansion. Jelena Jensen plays the coven leader, and she fits the role fantastically.
Without giving the whole story away, Melissa and Abigail's characters hit it off (both their sisters are blind), which makes it hard for Melissa to offer up Abigail to her vampire amigas for dinner. To save Abigail, Melissa takes her place and says she will die instead. In the process, however, Abigail has been turned into a vampire. Melissa sends her running back home, telling her to keep her sister safe! The rest of the tale is very compelling, and really keeps you on the edge of your seat. I'd get this one ASAP.
Okay, now back to the sex ... The first two sex scenes happen simultaneously. While Abigail, Carter Cruise and Georgia Jones, both playing Melissa's fellow coven sisters, get raunchy on a sleek white couch, Jelena takes Melissa down to her "lair." Jelena and Melissa have amazing chemistry; they play off each other well, devouring one another's energy. The special effects are smooth, too. Purple-ish dust clouds sift between both girls, indicating the energy is being passed to one another. Once enough energy has been exchanged, both ladies make their way upstairs, where the other three are fucking furiously. The fivesome eventually form a train, indulge in a little fisting and scissor a lot, a lot, a lot!
The next scene stars Abigail and Shyla, engaging in some post-vampire-turning coitus. The scene starts off aggressively, with Abigail getting used to being a vampire — she's insanely hungry for energy, and baby sister Shyla is the perfect snack! It's no surprise this scene is my fave in the bunch, but Abi and Shyla work seamlessly together. They rub up against one another, and move in unison. Once Abigail's character has "eaten" enough energy from Shyla, she comes back to her senses and the scene turns soft. Abigail kisses Shyla sweetly, eats her pussy delicately and they even hold hands while Abigail finger fucks her. This romp ends with some sweet, sweet cuddling and kissing.
Getting back to the story a little bit, "Vampires" introduces Serena Blair as a conspiracy theorist/survivalist who has been watching the vamp-house for years. She wants to know why Abigail is the only lady to ever make it out alive, so they can come up with a plan to end the coven's reign of terror on Santa Clarita forever. To prove herself, Serena offers herself up to Abigail to feed, and the trio engage in very sensual lovemaking. Surrounded by crosses on the wall, Serena explains how they're going to get rid of the vamps, all while sucking on Abigail's clit. Shyla feels her way around both girls' bodies like an expert, taking turns eating them out. Each girl gets a chance at some face sitting, and of course there's lots of finger-poking! It's a super sexy threesome.
Next scene brings in Aussie Angela White (who, I also love, love, love!) as a vampire, back from the dead and sent to kill Abigail and Shyla. She feeds off coven leader Jelena first. The duo fuck up against a wall and share easy chemistry. They really feel like lovers/friends coming together after years apart. And come together they do! Soon enough, Abigail joins the sex session after being caught trying to sneak into the vamp-mansion. Angela uses her mind power, and tig ol' bitties, to force Abigail to stay. When she does, all three get their hands on one another and share energy. Each girl gets a body-ripping orgasm, followed up by some in-story action fighting.
Lastly, Shyla and Jelena wrap up the feature with an explosive rendezvous. Despite being "blind," Shyla sure knows how to make a girl orgasm. Jelena thinks she's in command, but lil' Shyla is the dominating force here. She paws at Jelena's breast, tickles her clit with her tongue and then mounts her for some scissoring. From the camerawork, to the special effects and the background (the girls are having sex in a barn-like area), this scene feels really "supernatural." It's the perfect finale for an amazing story-driven feature.
Stills by Alan really poured his heart into this flick, and you can tell. The special effects were top-notch, the costume design was exceptionally fitting (the girls rocked some awesome purple contacts) and the acting was next level. If you're a fan of porn and vampires … here you go!
Synopsis:
Vampires, a bone-chilling tale of revenge and the triumph of cunning and youth over energy-sucking evil. Lucy (Abigail Mac) innocently describes the surroundings of their new home to her blind step-sister Ella (Shyla Jennings). Invited to the coven by her newest friend Willow (Melissa Moore), Lucy finds herself in a hotbed of lesbian vampires fucking her and negotiating on whether they'll turn her. Things obviously escalate when Lucy wakes at home without a reflection, and Ella doesn't know what to do. But Lucy fucks her stepsister and Ella's cross finally exposes the truth about Lucy. They vow to make things right again, and plot to take over the coven. Their sisterly love compels them, but will a whole pack of energy-sucking lesbian vampires be fooled so easily? A Girlsway Feature.