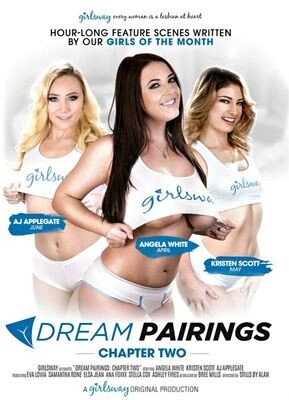 Chapter two of Girlsway's "Dream Pairings" is a super smash hit filled with delectable dialogue, savory storyline and pretty fucking great performances from nine gorgeous gals. Stills by Alan consistently plays hardball when it comes to lesbian porn, and this release is no exception. I love the personal connection each performer has to their story — as all scenes are written and cast by Girlsway Girl of the Month (GOTM) winners — making each scene emotionally riveting and super, super special.
To start, Angela White, April's GOTM, plays Eva Lovia's loving and doting girlfriend. However, it seems like Angela may have forgotten Eva's birthday! That is, until we discover Angela's actually planned a whole sexy afternoon getaway, filled with whipped cream, strawberry sauce and lotsa cake. No, seriously, Eva literally sits her perfectly round ass on a cake and Angela licks it right from her bootyhole. (To make things even sweeter, the cake is perfectly molded into a heart shape. Aww!)
Then, to make the celebration even better, Angela wheels in cutesy blonde babe Samantha Rone to join the duo for some post-birthday sex. Eva proves herself to be a masterful snatch slurper, because Sammy gushes all over Eva, while Angela rides her face. Eva looks positively proud of herself for getting Samantha to squirt, and she should be proud! Happy birthday indeed, Eva!
Up next, May's GOTM Kristen Scott gets a taste of (one of my personal faves) Elsa Jean, who is so cute you can take her home to mother, then fuck her dirty right after. In this scene, Elsa plays Kristen's girlfriend; and though I'll never understand how someone could ever cheat on Elsa, the answer is right in your face: Ana Foxxx. Elsa catches Kristen checking out her roommate, played by the insanely gorgeous Ana, and rather than get mad, she makes sure Kristen knows what she has. You know what they say, makeup sex is the best sex. And it's proven by how much Kristen moans and writhes underneath Elsa's delicate touch. Highlights include Kristen eating Elsa out from behind, and Elsa's cute little pink panties in the shot the whole time!
Still in the same scenario, the next scene sees Kristen and Ana again — only this time, they're taking it to the bedroom, much to my Elsa-Jean-loving dismay. But, all things considered, the scene is probably the sexiest in the bunch and Ana is a standout, for reals. The dark color of her skin is fucking gorgeous. It is a sight to see while she grinds on top of Kristen's silky smooth, pale skin. Ana is a phenomenal muff muncher, and it shows when Kristen can hardly contain her yells of ecstasy. Kristen is amazing with her hands, but the real excitement is whether or not Elsa will catch her girlfriend in the arms of her roommate … (No spoilers!)
To close out the show, Girlsway gets a little scary … June's GOTM, AJ Applegate (another fave of mine), brings in some light BDSM chains and a creepy dude with tights over his head. The scene starts with AJ and Stella Cox hooking up after tennis practice and a shower. The scene is a sweet start, with lots of pussy eating and some scissoring (yum!). Things go south when a dude in the background shows up wearing pantyhose over his head, and the girls have no idea. The girls later wake up chained next to Ashley Fires, who has been there for weeks. (Ahh!!) The duo's tennis coach reveals himself to be the culprit, and he's kidnapped Ashley because she looks so much like AJ. (I'd kidnap an AJ lookalike for myself too!) After the tennis coach takes Stella away, it's up to AJ to comfort a hysterical Ashley … and woah, is the mashup hot hot hot. The girls play with each other, use the chains and enjoy each other as much as they can, before you know … they're probably murdered. Even though my heart's still racing from that capture scenario, it was sexy!
I'm looking forward to the next chapter in the Dream Pairings series; it's always great to get a little insight into a star's personality! Keep 'em coming, Girlsway!
Synopsis:
All Dream Pairings are written and cast by Girlsway's Girls of the Month, and tell stories of their most intimate lesbian fantasies. Angela White eats the birthday cake off her girlfriend Eva Lovia's bare ass before Samantha Rone comes over for a threesome. Kristen Scott is seduced by her roommate Ana Foxxx minutes after fucking her girlfriend Elsa Jean to make up for ogling Ana in the shower. Caught in a dire situation after fucking her girlfriend Stella Cox, shackled AJ Applegate has sex with stranger Ashley Fires believing it's her last chance.