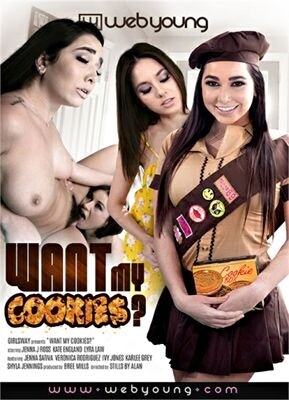 Put your hand in this cookie jar — because Stills by Alan's latest offering is positively tasty!
First up, Kate England and Jenna J. Ross get down and dirty in a hotel room. The scene features copious amounts of sexy panty sniffing, eating out and finger fucking. Kate and Jenna play cutesy classmates stuck sharing a room on a class trip with brunette babe Jenna taking the role of uppity, posh rich girl with a vast collection of lingerie. Kate, on the other hand, is the socially awkward (unbelievable because, well, she's a total babe!) loser who creepily sticks her nose in Jenna's stash of undies. After catching her red-handed (nose-handed), Jenna yells a little bit before Kate convinces her to model a ruby red set of lace panties, followed by a purple pair. The girls fuck holding a bunch o' panties in their hands, while simultaneously being gagged by them too.
The next scene places Lyra Law with newcomer Ivy Jones. These two blonde beauties look fabulous together, and the scene — despite a crazy beginning — is romantic to boot. After putting her dad to sleep with a spiked drink of some sort, she calls her girlfriend Lyra to come spend the night. Their banter is witty and sweet. "No bra this time?" Ivy questions, peeling Lyra's shirt off. "Don't need a bra with girls like you living in the neighborhood." The encounter is raw and real; both girls look genuinely into each other and deliver, probably, the best performance in the title. Ms. Law is easily climbing up the ladder into my top 10 stars.
Up next, we get a servin' of brunette on brunette when Jenna Sativa ravishes Veronica Rodriguez. The scene starts off with Jenna calling over her good friend Veronica to try out her new stripper pole and teach her some tricks. Veronica looks downright sexy grinding up and down the pole — and Jenna definitely agrees because it's not long before they're backed up onto a couch and getting randy. Jenna proves she deserves to wear the crown as this year's XBIZ Girl/Girl Performer of the Year; her pussy eating skills are top notch and Veronica's squealing is a testament to that! The girls scissor, 69 and even get a little ass eating in! Yum.
The last scene has a surprise Keisha Grey cameo, playing Karlee Grey's little sister. After Keisha reveals she's sick, she asks Karlee for help selling her Girl Scout Cookies. Karlee reluctantly agrees and ends up on pervy Shyla Jenning's door. Shyla invites Karlee in and promises to buy a box of cookies for every article of clothing. Though unwilling at first, Shyla offers a few kisses first and Karlee eventually submits. Shyla is a powerhouse pussy eater, as exhibited by Karlee's moaning. The girls take turn riding each other's faces and end with a big, big O.
All in all, Stills by Alan offers four cute short stories packed with hot sex. Even if we only get one girl out of the eight in Girl Scout uniforms, the others eat the cookie with unbridled enthusiasm. Give him a badge, for sure!
Synopsis:
Teen Jenna J Ross shares her suitcase full of panties with her quiet classmate Kate England when they bunk together on a school trip. Ivy Jones defies her strict father after he grounds her for making out with her girlfriend Lyra Law. When Jenna Sativa discovers pole dancing is harder than it looks, Veronica Rodriguez comes over to teach her some sexy moves. Karlee Grey and Shyla Jennings devour each other instead of the cookies.