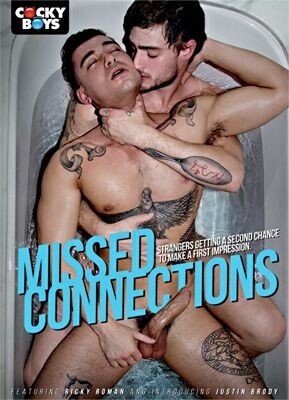 Four sensual vignettes spiced, as usual from CockyBoys, with romantic longing as handsome young New York dudes fantasize about and recall the missed connections of the title, as well as how they made up for lost time.
Teagan Zayne is trim and furred with dark, puppyish eyes made for gazing into the middle distance. Max Holt is a wolfish beauty, slim and smooth with high cheekbones. He and Zayne cavort in the snow and then slip away to a hotel room to make love. Holt, a newcomer, is still a bit shy onscreen and takes awhile to warm up to Zayne's passionate ministrations. They are a beauteous pair.
Another comely duo includes blue-eyed, extra-hung Jack Hunter with young, strikingly handsome Alessandro Haddad. Hunter jacks, fingers himself and watches his reflection in a mirror over the bed in an ornate hotel room as he fantasizes. The men kiss with slow passion, Haddad strips off and Hunter is rock-hard with appreciation as they proceed to lovemaking and steal quick glances at each other in various mirrors throughout the room.
Elsewhere, young Danny Montero, also slim and smooth with a strong nose and profile, cruises handsome African-American Jay Mercer in the gym. The latter is a strong topman and he plows Montero, a very eager and pliable bottom, with smooth confidence.
Ricky Roman submits to Justin Brody in a very strong matchup. Both boast slim, athletic and inked-up physiques. The pair of young bucks share seemingly authentic chemistry as delicious foreplay, including assplay, sets the stage for a sizzling fuck session all over their hotel room. Brody's cumshot is a delicious capper to the scene.
Marquee Cockyboys star Levi Karter is paired for a terrific flip-fuck with boy-next-door cutie Taylor Reign. As with the Roman/Brody throwdown, the assplay and oral action allows the two young men to more fully explore each other's bodies as the intensity builds. Both are vocally appreciative as they take turns stuffing each other with cock, ending in wet, sticky pop shots.
Synopsis:
In the digital age, it`s hard to remember the days of good ol` fashion flirting. You could be anywhere at any time and suddenly the perfect guy casually walks into your life. You lock eyes and you can tell he`s feeling it too. If you`re feeling bold, you`ll strike up a conversation. But if you`re modest, you`ll hope he`s the one to make the move. And then sometimes nothing happens at all. There is excitement, seduction, frustration, and mystery... a missed connection. This anthology series explores five stories of gay men making connections at the right place but the wrong time.