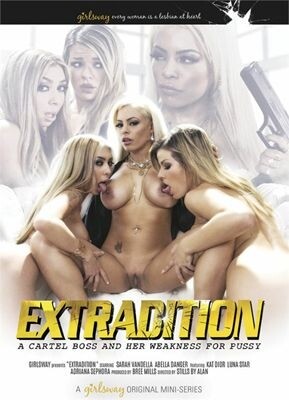 Lesbian lust in the Mexican drug cartel is the theme of this ambitious Bree Mills-Stills by Alan feature. The daughter of an American senator has been kidnapped in Mexico and an elite extradition force is dispatched to rescue her.
Sarah Vandella plays the tough-as-nails DEA force leader. Instead of the American girl they find a terrified Mexican, Kat Dior. Sarah grills her about cartel leader La Luna, who is known to be a lesbian, and Kat tells the backstory. Luns Star, with blondined hair, squeezes the tits of captives Kat and Adriana Sephora, telling them she had hers done in Miami. She thoroughly dominates them in a threeway sex scene.
Next we see American hostage Abella Danger, who pleads with Luna to let her go. Luna makes Abella go down on her and works hard with her fingers to make the "dirty white girl" come. And come she does, squirting majorly. Very strong scene.
Kat begs Sarah to free her, promising to give her the best orgasm of her life. Sarah can't resist and she and Kat get all orgasmic with each other.
Luna is an impressive dom and Abella a believably pathetic victim, but I personally found Sarah a bit too over the top as the federal agent. A lot of Spanish is spoken, with subtitles.
Synopsis:
Hostage Kat Dior escapes from Mexican cartel boss La Luna Star after partaking in a lesbian threesome with prostitute Adriana Sephora Senator's kidnapped daughter Abella Danger tries to fuck her way out of a hostage situation when Mexican cartel boss Luna Starr reveals her weakness for pussy. Special Agent Sarah Vandella helps Mexican hostage Kat Dior out of her predicament in exchange for a reenactment of her sexcapades with La Luna.