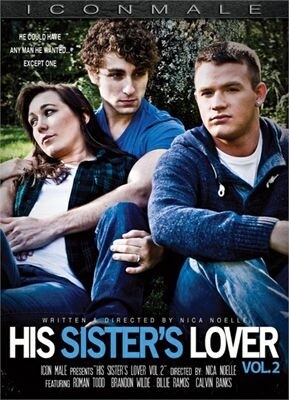 A strong showcase for charismatic Brandon Wilde, who appears three times as a dude with eyes for his sister's closeted boyfriend, rising star Calvin Banks.
Banks, slender with a swimmer's build and brown curls, appears in a flashback as a one-night hookup of Billie Ramos, another slender pup who shares a sensual connection with Banks. The kissing and assplay are pleasurable, but the fucking is awkwardly staged. Nevertheless, Ramos jacks himself to a satisfying climax as Banks plugs him.
Ramos turns up again in the follow-up scene with Brandon Wilde, a skilled and passionate sexualist who confidently leads the less-experienced newcomer through the paces. Wilde pays attention to detail with such grace notes as nipple play as well as an energetic bout of 69 action. He briefly fucks Ramos with an appealing intensity before flip-fucking with Ramos, who dumps a load onto Wilde's face and tongue.
For the second of his three scenes, Wilde appears in a vignette unrelated to the storyline opposite Roman Todd when they are accidentally locked inside an office with time on their hands. Todd, with his brooding good looks, sculpted physique and gold chain around his neck, plays quite nicely opposite a live-wire like the smaller, compact Wilde. They share a quiet intensity as they explore each other's bodies; it's an appealing matchup and Wilde pulls a big load onto his own chest.
In the final scene, Banks finally gives in to erotic temptation and attacks Wilde. The two younger men appear to really enjoy each other. The kissing and 69 oral-and-assplay is especially playful. Wilde breaks out his power-bottom skills and really seems to impress and surprise Banks.
Written and directed by Nica Noelle, the sexpic is a strong showcase for Wilde and Banks. Todd is a handsome newcomer to watch. However, in one scene, a character is referred to by his own name and by his character name. Poor sound recording mars other dialogue scenes and some of the sexplay is underlit.
Synopsis:
Hot blue eyed blonde Brandon Wilde is excited to meet his older sister's new boy toy (Calvin Banks). But when they meet up for drinks at Brandon's place, Brandon's hot boyfriend (Billie Ramos) instantly recognizes Calvin as a former one night stand. When Billie goes out of town to see his family, Brandon rents Calvin a room in his house, behind Billie's back. As sexual tension grows between sexy, hung Calvin and his girlfriend's brother, Billie comes home early and things get real. Forbidden lust runs amok in this sexy, intense film starring some of today's hottest adult film stars. Starring Calvin Banks, Brandon Wilde, Roman Todd, Billie Ramos (and Sinn Sage as Brandon's sister). Written and directed by Nica Noelle.