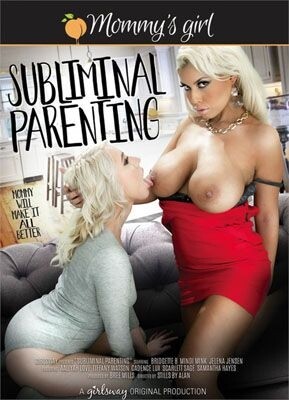 Aaliyah Love's stepmom is Tiffany Watson, the same age as she is. She blames her for the death of her celebrity dad and loses it when she finds she's been cut out of his will. Tiffany tries to seduce her to smooth things over. Aaliyah is at first offended but then extremely aroused.
When Samantha Hayes acts bratty, stepmom Mindi Mink tries to bring her in line with subliminal messaging via her smartphone. Sam gets friendly real fast with a foot massage and a toe suck. Mindi is horrified, then really turned on.
Bridgette B. is a friend of Cadence Lux's mom who tells her she wants to "show her support." Cadence is reluctant but Bridgette persists and soon finds she loves to suck on those big gazongas and pussy-bump with the hot MILF.
Scarlett Sage pops in a lesbian porn DVD and starts masturbating. Stepmom Jelena Jensen shows up and appears shocked. She wonders if she's ever been with a woman and starts to slyly seduce her. Scarlett likes it when Jelena reveals her big natural tits, and they both go nuts.
Finally, we return to Aaliyah, who is serving stepmom Tiffany and giving her pussy-licking service as well. Little does Tiff realize she's being set up for a fall, as a cute twist ending makes clear.
Synopsis:
When grieving daughter Aaliyah Love finds out her late father wrote her out of his will, step mother Tiffany Watson offers to support her in exchange for lesbian sex. When hypnotherapist Mindi Mink tries subliminal therapy on difficult step daughter Samantha Hayes, the teen turns the tables and s Mindi with her tribbing. When MILF Bridgette B comes over to help teen Cadence Lux practice for her dance competition, she teaches the lesbian virgin how to rock her hips when they trib. When step mom Jelena Jensen catches teen Scarlett Sage furiously masturbating to Mommy's Girl porn, the horny MILF succumbs to her step daughter's wild lesbian fantasy. Aaliyah Love makes sure stepmother Tiffany Watson gets her comeuppance for exploiting her late father and making her a sex toy, but not before she gives it to her good.