Joe Gage Sex Files Vol. 22: Diary of a Prison Doctor
Dragon Media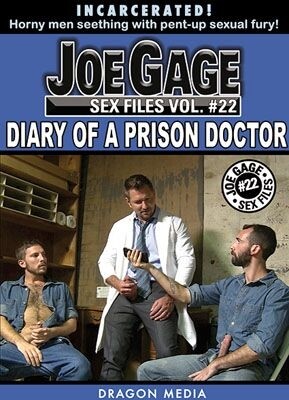 Prison doctors, horny prisoners and one pervy padre populate the latest no-frills installment in the legendary director's long-running series. Andrew Justice is the MVP.
Myles Landon wastes no time getting to know Hugo Diaz, the new prison doctor. He quickly strips down to display a brawny, muscular physique and a cock thick as a rope, which Diaz squeezes and strokes. The men explore each other's bodies and Landon stuffs his cock into Diaz for a solid plow until Diaz jacks out a load onto his furry chest, then drops to his knees to suck off Landon until he cums and then licks his cock clean.
Fellow doc Andrew Justice, handsomely rugged as ever, catches furry otters Stephen Harte and Franco Hart checking out "pussy porn" on a contraband cell phone and orders them to jack off while he participates. It may be an unusual method of imposing order, but it works. Justice fucks both men and they close out the sexplay by jacking wet loads onto his face and tongue.
Elsewhere, Landon returns and introduces the chaplain — played by older, mustachioed silver fox Scott Reynolds — to a fellow inmate Harte. Nearby, prison guard Chris Harder watches without comment or complaint. Reynolds wastes no time getting to work on two cocks at once. Harte groans pleasurably as he's stuffed with Landon's imposingly thick salami. As the men work their way to climax inside the cell, Harder pulls out his own cock and works up an orgasm of his own to complete the scene.
The final scene has Justice and Diaz returning to induct newcomer Rex Dakota on the prison rules. The two more experienced men essentially eat him alive. In the film's final minutes, Diaz briefly fucks Justice until he blasts out a splattery load.
Fans of Gage's low-key, slow burning aesthetic ought to find enough to enjoy here. It's always a pleasure to savor Chris Harder in action, even though he is underutilized here, and there is an intriguing still-waters-run-deep quality to Hugo Diaz.
Incidentally, Gage has announced he plans to end the "Sex Files" series with number 24.
Synopsis:
Horny men seething with pent-up sexual fury!