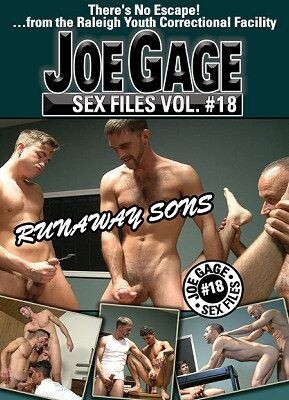 One of the finest entries in this long-running series, "Runaway Sons" plans us in a secluded youth correctional facility where bad boys have been sent by their parents in the hopes of setting them straight. But with all of these hung and horny security guards and doctors around, it becomes impossible. David Anthony and Justin Beal feed cock-crazed J.D. Ryder, the two studs wrapping their arms around each other (a great visual) as Ryder takes turns sucking them. Anthony plows the hung bottom, who then squirts on Anthony's massive cock while Beal is sucking on it (super hot). Ryder also gets examined by clinical psychologist Joe Parker, who drips a big strand of precum as he sucks the youth before dildoing and fucking him.
Tony Dazzle teaches son Mike Chambers a lesson — and uses Beal to help him in a hot threesome highlighted by Beal showing off his amazing bod and cock to tempt the youth. But the centerpiece is the group scene, led by the great connection between Parker and Leo Sweetwood, whose eyes and cocks are magnetic (they are joined by daddy Gianni Purelli); and the huge cock of Josh Kole — which stretches Chambers' mouth wide, and stays stiff as Kole gets fucked by Sweetwood (who excitedly plays with it as he fucks him). Fantastic from start to finish, and filled with vastly underrated talent.
Synopsis:
There is no escape from the Raleigh Correctional Facility.