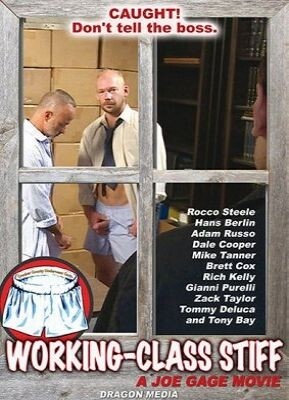 Sit back and enjoy the shenanigans at the Crocker County Underwear Corp. in Lincoln, Nebraska, where some on-the-job lust explodes as bluecollar buds take advantage of their products. A big and very talented cast (each of the five scenes featuring three performers) puts on quite a show, none more heated than the opener with Rocco Steele and Adam Russo intently staring at each other as they stroke, their boners jutting out of their underwear holes. They are soon joined by Tony Bay for some stroking before Adam bends over. Steele's presence makes any film an instant must-own, and combined with director Joe Gage, it's a match made in heaven. He also has particularly great chemistry with Russo, another top-notch performer who always sells the scenarios he's given.
Steele also fucks Hans Berlin in the finale after smooth Brett Cox sucks them. Cox also strokes out a load as he watches silver fox Gianni Purelli suck and fuck Mike Tanner. Bike messenger Zack Taylor gets himself into trouble twice — once with Berlin and hung Tommy Deluca in the office; and then in the woods with fellow cruisers Dale Cooper and Rick Kelly, whose makes an impression with his big cock and even bigger beard — which gets doused with cum in a great climax. Gage and the performers utilize the dialog and subtle facial expressions to perfection.
Synopsis:
Caught! Don't tell the boss! Meet the men at the Crocker County underwear factory.