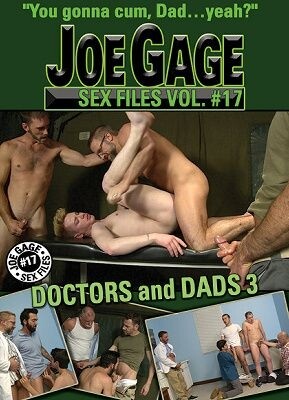 "That's it… show your dad how you can suck." Oh Joe Gage…you dirty, dirty director you! A big taboo — and lots of big dicks — take center stage in this four-scene entry that throws doctor, military, generation gap and incest fetishes in a blender. Doc Dirk Caber gives an exam to Tom Nero, helping to massage his butt with assistant Mike Chambers after administering a shot (the oldest trick in the medical book!). The tension mounts in typical Gage fashion, Caber's leaking cock soon brushing against Nero's boner in some poke play before the sucking and fucking takes over (ending with cum all over bottom Chambers' goateed face).
Joe Parker inserts his beautiful cock into two group scenes, helping dad Caber fuck son Kyler Ash as Gianni Purelli watches, stroking his rock-hard sausage. It starts with the three older mil buds jacking off to a picture of Ash as Caber dirty talks about his son: "Tight little ass…you'd lose yourself in there." Parker also returns to administer shots to tattooed Austin Ryan and super hung Devin Moss (jawbreaker alert!), getting assistance from twink Chambers and beefy Sailor Blue. Silver daddy doc Scott Reynolds also gets into trouble with sons Nero and Bryan Slater — whose big, gorgeous slab looks awfully hot inside his sibling's mustached mouth ("Geez, bro!"), and when it's shooting a load over dad's face.
Synopsis:
Drop trou, gents! The doc needs a sperm sample, and he wants all you can give him!