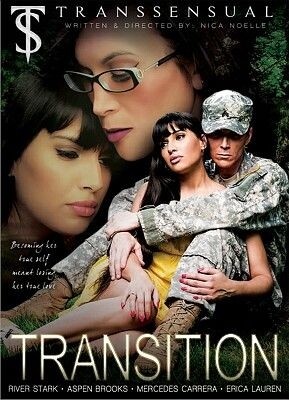 Angie (Mercedes Carrera) is overjoyed that husband James (River Stark) is returning from what she thinks was a tour of duty in the Armed Forces. But instead of combat medals he comes back sporting a nice new pair of tits. Writer-director Nica Noelle, for her Transsensual imprint, brings grit and humanity to the situation, showing the hurdles of sexual transition as real and relatable.
Angie can't cope with her hubby as a trans so James runs to a former girlfriend, played by veteran MILF Erica Lauren, who is delighted that he's becomes a she — with a working dick. Angie meanwhile, trying to learn about the trans community, books a date with an online service ("I have a vagina," she explains) and get booked with TS escort Aspen Brooks, who is about to be fucked by her boyfriend Roman Todd.
Aspen shows Mercedes just how a trans woman fucks, and Angie realizes she likes it. So when River, in full femme attire, turns up to talk about the divorce papers she's filed, she has a change of heart and a big romantic — and very sexy — coupling ensues. Mercedes, somewhat de-glammed but still smoking hot, delivers a moving and believable performance, as does TS newcomer Stark.
Synopsis:
When handsome James (River Stark) goes off to war, beautiful, devoted Angie (Mercedes Carrera) spends her days awaiting his return. But when James is unexpectedly discharged, Angie finds that the person who comes home to her is not the same man who left. In an emotional exchange, Angie discovers James has begun gender reassignment surgery, and her world is turned upside down. As their marriage implodes, Angie tries to open her mind to sex with a TS woman (Aspen Brooks), while James finds solace in the arms of an ex (Erica Lauren). Can their love survive the Transition?