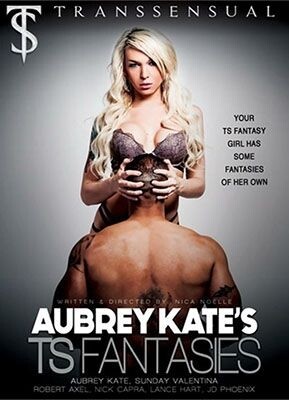 Girlish Aubrey Kate, lithe and blonde, stars in three vignettes lightly spiced with themes of domination and romance from writer/director Nica Noelle; a fourth scene is a torrid, if unrelated, scene starring sultry brunette beauty Sunday Valentina.
A brief prelude features a kittenish Kate laying out her erotic fantasy involving a counselor (this framing device is subsequently abandoned). Stalwart performer Robert Axel is bald, broad-shouldered and brawny, but he's known for a tender, sensual side that is on full display as he makes love to Kate on his office couch. She clearly enjoys submitting to the larger man. Later, she quarrels with her prom date, adorably exasperated (and horny) JD Phoenix, and then enjoys a wedding night interlude with Nick Capra, never removing her bridal veil as she submits to her masculine, hairy-chested beau (Capra is as magnetically intense as ever). All three men are dialed-in and attentive to their kittenish, submissive partner.
Valentina turns up in an unrelated vignette as a stranded motorist who seduces handsome Lance Hart without much effort. Hart appears to be having the time of his life as they tangle in the sheets and as he climbs onto his knees for a vigorous plow. Valentina hardly speaks other than to express her appreciation as she jacks Hart to a splattery climax.
Synopsis:
Beautiful blonde Aubrey Kate is every man's fantasy - but the hot TS beauty has some kinky fantasies of her own! Let Aubrey Kate take you on a wild ride as she explores all the many facets of her sexuality and the men she wants to dominate - and be dominated by.