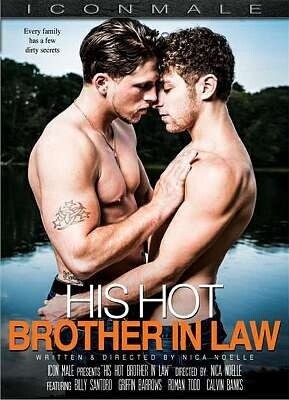 Adorably horny brother-in-law Calvin Banks turns up at his sister's house and immediately beds down with her handsome best friend and her hunky new husband. Acting is awkward but Banks, Griffin Barrows and Billy Santoro share sizzling chemistry.
Barrows and Santoro generate potent sexual heat as they make out with passion and explore each other's bodies. Santoro strips him down for a vigorous blowjob and preps his bubble butt for a fuck session. Barrows, handsome and scruffy, moans and groans as if he's genuinely having a great time. Theirs is the best sex of the film.
Santoro's sexplay with Banks is another winner. He is tall, tanned and muscular while Banks is slender with curly hair, pale skin and pierced eyebrow and nipples as well as a long, gorgeous, slender cock. He and Santoro kiss passionately up against the doorframe and tumble into bed, where Banks slides his cock into Santoro for another frenzied fuck session.
Blonde, brawny Roman Todd has sex with Barrows and later with Banks. The first hook-up begins with an erotic tease as he and Barrows move deliberately with a hand on the knee, then a tentative kiss and Todd is first to finally suck cock. It's serviceable and a quick vignette overall and Barrows takes the lead as a bottom; same for Banks, who works hard to keep Todd, stoic and subdued, properly motivated. Banks is a new terrific performer and well worth seeking out. Victoria Skye is the unsuspecting sister.
Synopsis:
When reformed bad boy Johnny (Roman Todd) settles down with caring new wife Charlotte (Victoria Skye) he vows to stay on the straight and narrow. But when Charlotte's younger brother Jayden (Calvin Banks) comes to visit, horny Johnny can't help but notice his teenage brother-in-law is hung like a horse. As sexual tension builds between Johnny and Calvin, Charlotte's gorgeous friends Eric (Billy Santoro) and Paul (Griffin Barrows) take the opportunity to hit on the hot new brothers. Written and directed by Nica Noelle.