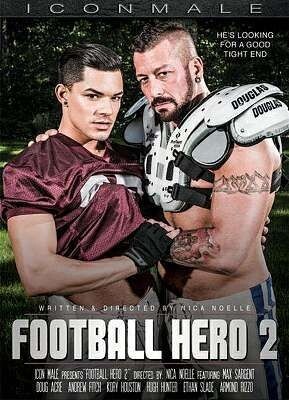 Hugh Hunter has been hired to coach a local football team but can't resist the young tight ends bulging out of their uniforms. He pays particular attention to Ethan Slade and you can't really blame him. Strong older dude/younger stud sexplay, but no particular exploration of sports uniforms or equipment.
Kory Houston, lean and adorably babyfaced, and taller, brawny Andrew Fitch are out for a shirtless jog in their uniform pants (puzzlingly set to strains of classical music). That's it for the costume play. But Houston is a passionate, sensual lover and really comes vocally alive when Fitch is pounding him missionary-style.
Elsewhere, Armond Rizzo is unconvinced that Hunter, his boyfriend, won't succumb to temptation (spoiler alert: he's right). He decides to give Hunter a spirited bout of morning sex. Rizzo is compact with an alluring bubble butt and much smaller than the brawny, muscular, inked and bearded Hunter. It's an appealing pairing of physical opposites. Rizzo melts completely as Hunter eats him out and preps his hole for a vigorous pounding, chuckling with pleasure the entire time.
Max Sargent shares an interlude with younger lover Doug Acre. Like the previous scene, there are no uniforms or equipment or even a jock strap. However, it's another physical-opposites match with the rugged, bearded Sargent and the younger, smooth Acre. After they get through some awkward dialogue, they appear to share real erotic chemistry and their sexplay has a carefully paced, sensual vibe (although it is seriously underlit).
The final vignette has Hunter putting Ethan Slade through his paces. The young jock boasts a trim, defined and lightly furry physique and appears quite willing to submit to special training from his older coach. As he did with Rizzo, Hunter carefully preps Slade with passionate, sensual foreplay and fucking that builds in intensity to climax. It's hot sex but actual use of football costumes and paraphernalia would have amped the sizzle factor.
Synopsis:
Retired professional football star Hugh Hanson (Hugh Hunter) has agreed to coach a local football team, but as his own former coach (Max Sargent) tells young lover (Doug Acre), that's like putting a wolf in charge of the hen house! Hugh's jealous, power bottom boyfriend (Armond Rizzo) suspects that Hugh won't be able to resist the hot, young football players, and he's proven right when Hugh seduces gorgeous young athlete Ethan Slade. Meanwhile, team players Kory Houston and Andrew Austin decide to take a break from summer training for some sexual playtime of their own.