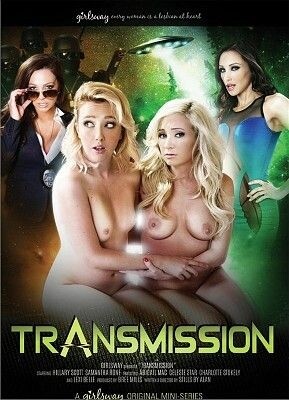 Hillary Scott, a fan favorite from a decade ago, makes a triumphant return to porn in the leading role of this offbeat and ambitious lesbian science-fiction from the innovative team of producer Bree Mills and writer-director Stills By Alan.
Hillary plays an amateur astronomer who somehow makes contact with alien forces on her laptop. Girlfriend Samantha Rone is baffled and disbelieving but still supportive when Hillary tells her, "This is important. This could change the world."
But, the government wants that laptop and sends a tough, no-nonsense NSA agent (Abigail Mac in a scene-stealing performance) to retrieve it. After browbeating the blondes and then having sex with them she orders a bunch of combat-ready MPs to whisk Samantha off to a CIA black site.
Hillary is devastated but encouraged when a beautiful stranger shows up, in the person of super-sexy Celeste Star. She offers to help, telling her she is "computer intelligence manifested in a human body." Then the two of them go at it full-bore.
The movie — which ends with a question mark, literally — is one of the very few pornos that references Carl Sagan, Stephen Hawking and Einstein and still offers super-hot girl-girl action.
Synopsis:
In this sexy spy action compilation featuring sci-fi, seduction and subterfuge, blond bombshells Hillary Scott and Samantha Rone are lesbian lovers on the run from the government, in a race to uncover the secrets behind an alien transmission intercepted from deep space. Caught in a plot against national security, the girls must probe their innocence, removing every bit of doubt and clothing, as passions run wild during a dangerous field ops mission. From the interrogation room to the bedroom, plunged into a daring world of lesbian sex and espionage, as the SETI girls cum up against the undercover field agents of the NSA, and leave no pussy unlicked in the quest to expose the truth.