Little Red: A Lesbian Fairy Tale
Girlsway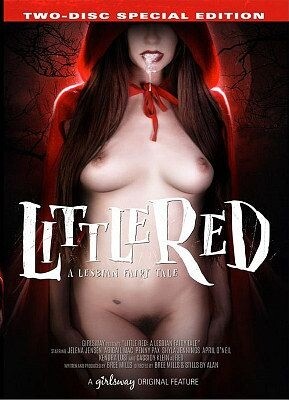 This well-made episodic production isn't a parody of the Little Red Riding Hood tale, but is a new lesbian-oriented take on it. Red, played by Cassidy Klein, is first presented as a "feral girl," a wild child who grew up on her own.
Just past her 18th birthday she is found by social worker April O'Neil, who is attacked by this strange girl in a red hood who gobbles her mightily.
In the next episode, Red is kidnapped by the sexy Wolf (Abigail Mac) and taken to gang leader Penny Pax, a nutty gal who gorges on fried chicken. Cassidy and fellow kidnap victim Shyla Jennings have sex, then try to "have fun" with Penny. They basically fuck her unconscious.
Shyla tells Red "you've gotta get to your grandmother's house now. She needs you." Wolf pretends to be Little Red and visits "grandmother" — busty Kendra Lust — and seduces her. Wolf masquerades as Grandma to seduce Red. They have a fight, then fuck.
In the final episode, social worker April gets a call for help from Grandma. Red and Wolf are still fighting. Red and Grandma subdue Wolf. April joins in and they try to make her come in some very hot four-girl action.
Synopsis:
This is a tale of transformation; Of predators and their prey. Of little girls who obeyed their mothers; But got lost along the way.
Girlsway, the award-winning all-girl studio, is back with their highly anticipated new feature series, one that will introduce audiences to a brand new genre in porn the first ever reimagined lesbian fairy tale!
From Directors Bree Mils and Stills by Alan, Little Red: A Lesbian Fairy Tale features an all-star cast, breathtaking cinematography, intense lesbian sex, and Girlsway's signature sense of humor. And fans of the studio's unique approach to storytelling will not be disappointed in their creative interpretation of this literary classic.
Little Red: A Lesbian Fairy Tale is a must-see feature for all fans of lesbian porn, erotic fantasy, and the Girlsway universe!