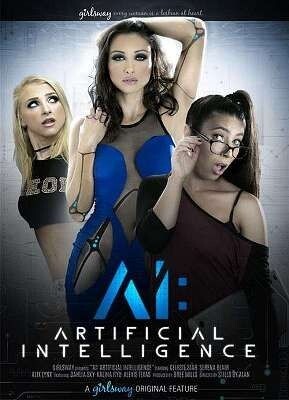 Lesbian sex for computer nerds is the core of this well-acted and directed Girlsway feature. Serena Blair plays a coding genius "who doesn't play well with others." Her BFF Alix Lynx finds computer stuff "just a bunch of gibberish."
Serena's a lonely girl until Celeste, a creature she programmed, shows up to change her life. She first appears as a smiley face on a computer screen, and then as a leggy, flesh and blood, organic human being.
Celeste turns out to be quite the skillful sex machine, giving Serena all the pussy-licking love she's been lacking. And Celeste Star demonstrates that she is still one of the hottest girl-girl performers of all time.
Celeste seduces her bisexual buddy Alix. She and the big-busted blonde have a very sexy encounter under a table. Serena tells Alex, "Celeste is my thesis project... I made an AI that could think and learn" — and eat pussy like a champ. Alix proposes they have a threeway — very hot — and then Celeste drives off to some new AI adventures.
As a bonus there's an unrelated "extra scene" with Kalina Ryu and Dahlia Sky as a lesbian couple who decide to "hotwife" with Alexis Texas.
Synopsis:
Have you ever hoped and wished that all your dreams could come true in the blink of an eye? Have you ever dreamed that you could meet the woman you've always dreamed of? Have you ever been so in love with your best friend that you would do anything to make sure that you got a slice? Well, Serena Blair's future is nothing like she imagined. She's a high tech computer whiz, but what happens next is beyond any dream she could ever have imagined, beyond any dream woman, and beyond any little crush. When her computer Celeste comes to life, downloading her Artificial Intelligence into a real live woman, Serena's life takes a turn she never expected. Her bank account is filled with cash, hoards of new furniture and new clothes show up at her house, and Celeste even brokers a ripe lesbian relationship for her creator, as if she knows everything the world has to offer in the blink of an eye.