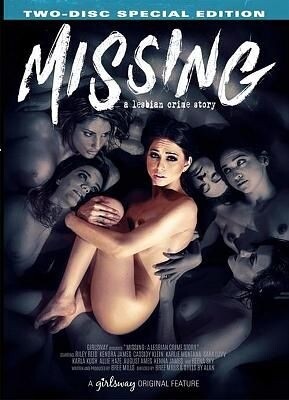 Continuing with the strange saga of a society in which lesbianism is forbidden after a plague hits the U.S., wherein women start turning into lady lovers faster than bullshit spills from politicians' lips, "Missing" is a two-disc girl-girl feature, complete with excellent videography, sharp editing, an ominous soundtrack and even impressive acting. But what really excels here is the cunt-to-cunt action, seeing as "Missing" is filled with a truckload of sexy bitches that quite obviously enjoy sucking pussy.
A big draw, of course, is Riley Reid, who not only, as usual, looks terrific, but is a pretty good little actress, playing a blacklisted journalist named Laura Bradford, hired by Anita Sharpe (a take-off on moralist Anita Bryant no doubt), the head of a powerful anti-feminist organization called AWAL, to find out why a slew of girls are suddenly (you got it) missing, which leads to plenty of sizzling girl-to-girl action during the course of closet-lesbo Laura's 'investigation.'
Reid is in four of the six included lezzie scenes, and they're all scorchers. First, she burns up the screen with Karla Kush; dig how the famished mouths of those ladies just clamp onto vagina. There's also a wild roll on a couch with Reid and out-of-her-mind-for-the-taste-o'-snapper Reena Sky, whose voluptuous body is a nice contrast next to spinner Reid.
Another awesome Reid scene is her twat tryst with the always-welcome Allie Haze, who still looks as fuckable as ever. And the fourth Reid slit soiree is the movie's fiery finale: namely, a full-blown, sweat-drenched lady-on-lady orgy featuring such tasty tacos as August Ames, Karlie Montana, Sara Luvv and Kenna James. Whoa!
Other smokin' sequences? There's a torrid threesome with Ames and both Kenna and Kendra James (no relation… at least that we're aware of), with the latter playing a nasty (in more ways than one) dominatrix type; and an arousing outdoor muff-to-muff rendezvous 'tween Montana and Luvv. Even though the plot's logic frays in the movie's last scene, "Missing" is an all-around impressive, horny girl-girl feature that's (we just had to say it) not to be missed.
Synopsis:
Girlsway's directors Bree Mills and Stills by Alan return with their most ambitions feature to date: Missing: A Lesbian Crime Story. Featuring an all-star cast, breathtaking visuals, exquisite locations, over-the-top lesbian sex, and Girlsway's twisted sense of humor, this six part epic will take girl-girl fans further down the rabbit hole of lesbian melodrama than any studio has ever dared to go!
It has not been a good year since the Turning epidemic swept America. Despite the bipartisan introduction of the Normalcy Act, sweeping reforms in public and health policy, and the rise in power of AWAL (The Association of Women against Lesbians)... society still lives in fear. Lesbians continue to exist in the shadows. Blooming Tea is still available on the black market and for the last six months, an alarming number of women have mysteriously gone missing! The question on everyone's mind is... who is taking them and who is next?
Featuring Riley Reid in a groundbreaking performance as Lara Bradford, the investigative reporter who will stop at nothing to uncover the truth, and an all-star ensemble cast including Kendra James, Cassidy Klein, Karlie Montana, Sara Luvv, Karla Kush, Allie Haze, August Ames, Kenna James, Reena Sky, and cameo performances from some of Girlsway's most beloved character. Missing: A Lesbian Crime Story is a must-see feature for all fans of the Girlsway universe!