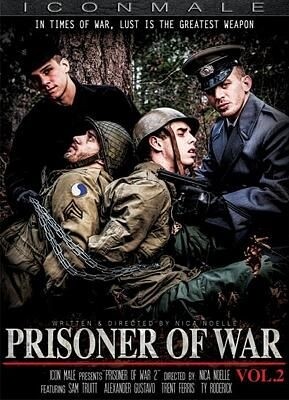 Alexander Gustavo steals the show in writer-director Nica Noelle's second installment in this popular series. He plays a charismatic, undeniably sexy Nazi officer and successfully maintains a German accent throughout, even during sexplay.
All of the hookups have passion and energy, particularly from Trent Ferris, whose focused, intense oral skills are admirable and quite a turn-on. Noelle makes good use of a limited budget and snowy locations to set the tone (the costume details aren't period accurate, but it works well enough).
Given the character Gustavo plays, it's a pleasant surprise to see him flip-fuck with Sam Truitt. The square-jawed hunk really comes alive when he plows the younger pup in an aggressive, highly verbal encounter.
Ferris and Truitt return in the final two vignettes opposite Ty Roderick. He throws an intense fuck into Ferris but he appeared to share a real passionate connection with Truitt in the final scene (before their characters effect an escape). There is a fair amount of kissing and connection that amps the sexual heat and their characters are set up for a sequel.
Synopsis:
Hot, hung American soldiers John (Ty Roderick) and Charlie (Sam Truitt) are captured by sadistic German officers Dieter (Alexander Gustavo) and Heinrich (Trent Ferris). But when the sexy US comrades won't give up army intelligence, the sinister Nazis decide to make use of the helpless studs for their own pleasure. But have the careless Germans played into the young American's hands? All is fair in lust and war in volume 2 of Icon Male's explosive period piece series. Written and directed by Nica Noelle.