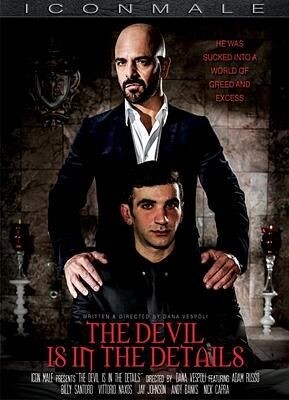 Adorable Andy Banks is sucked into a mysterious world of sexual excess in this erotic spin on "The Devil's Advocate," written and directed by Dana Vespoli in her debut effort for Icon Male. Adam Russo, as the devilish seducer, and virile stud Nick Capra are the standout performers.
Banks is lured from small-town Tennessee to a posh Los Angeles law firm headed up by suave, smooth Russo. Despite being overworked, he enjoys the expensive suits and high-class digs and finds himself drifting away from his puzzled wife. The all-male office overflowing with testosterone is another enticement that gets under his skin.
The newbie spies on Russo's intense fuck session with Billy Santoro, who looks great in his form-fitting suit and even better when his ripped physique is on naked display. Santoro quickly deep-throats Russo and slathers his cock with spit; Russo clearly enjoys the four-star servicing and expertly dominates his very accommodating employee, who moans and groans throughout slavish assplay and a rough, pile-driving fuck.
An erotic dream of Banks features Capra gleefully reciting the firm's amoral philosophy and then devouring Banks with a kiss that nearly knocks him out of his chair. The furry, muscular Capra is in complete control as he pulls out his thick cock and feeds it to Banks, who is soon completely nude atop the conference table and having his tight hole vigorously eaten out. Capra grunts and growls as he talks Banks through a solid ass-fucking and the latter is putty when he's finally bent over the conference table.
Newcomers Vittorio Naxos and Jay Johnson are a pair of fallen angels whose passionate coupling in front of a fireplace are used by Russo to close on Banks' transition to the dark side. Naxos sports a trim beard, dark brows and furry bum while Johnson is post-twink cute and proves himself an able topman.
Russo cements his seduction of Banks in fine fashion. As he did with Capra, the pup submits eagerly to the older stud's fiery erotic intensity. Russo growls with delight as he strips Banks out of his clothes and feasts with abandon on his pretty cock, smooth jock body and round butt. The assplay is particularly noisy and erotic.
Vespoli has crafted a fine showcase for Russo, a suave, intense sexual performer who delivers a lot of dialogue with conviction. The virile Capra, as usual, chews the scenery and walks off with his scene. Tech credits are solid with a couple moments of special-effects enhancement, including an amusing bit with nonsex player Chad Diamond. (Starlet Penny Pax is the puzzled, quickly abandoned wife.)
Synopsis:
Dana Vespoli is proud to present her first gay feature for Icon Male. In this story, Andrew, a naive young attorney and his wife Penny move to Los Angeles from a small town in Tennessee. Andy has just been recruited by an enigmatic head partner at a leading entertainment firm, and acts as young Andrew's mentor. It isn't long before Andrew becomes sucked into a world of greed and excess, and Penny finds herself shunned for the glitz, glamour and fiendish delights of the sinister, sexy attorneys in Beverly Hills. Starring Adam Russo, Andy Banks, Billy Santoro, Nick Capra and newcomers Jay Johnson, and Vittorio Naxos. Special guest star Penny Pax.
close
E-mail this to a friend
The Devil Is In the Details
Email sent. If you wish to send to another person, click here.