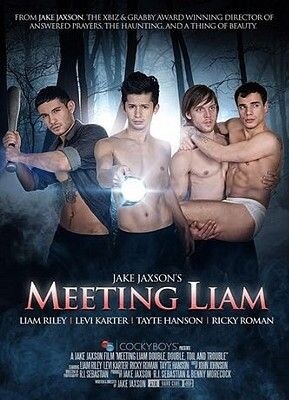 Gay porn meets "The Blair Witch Project" in this ambitious, amusing and genuinely creepy web series from CockyBoys' XBIZ Award-winning director Jake Jaxson, featuring a quartet of today's top skin stars (and one promising newcomer).
The complete DVD set (which includes a brief behind-the-scenes featurette) of "Meeting Liam" is perhaps overlong — four hours and change on two discs — but it's worth a relaxed session of binge-watching. Jaxson's creative ambition is commendable as it combines found footage (shot by the performers), multiple points of view and passionate sexplay to tell the story of a very strange weekend punctuated by a disappearing dog, creepy noises in the dark, a Ouija board (naturally), a closet that opens into the past (or does it…?) and murder.
Young Liam Riley is the studpup with his name in the title. Giggly, slender and smooth, he ruts all of his pals at various points, the highlight being a tryst on a moonlit porch with the shy, handsome Michael Milano. Much is made of the chemistry between all of the CockyBoys and that connection is apparent as Riley trades blowjobs with Levi Karter and engages in a moodily lit, intense quasi-threesome with Ricky Roman and Tayte Hanson.
"Meeting Liam" is a true showcase for Hanson, who can deliver one-liners with aplomb as well as believably enact fear and terror. He's all business in bed, a passionate and focused sexual performer, and it's a pleasure to watch him in his element, whether he's deep-dicking Roman as a piledriving topman or groaning with intense pleasure as he submits to a double-penetration. If you're unfamiliar with Hanson (apparently he's also a good cook), you'll be a convert after "Meeting Liam."
Synopsis:
From the award-winning director, Jake Jaxson (The Haunting, A Thing of Beauty, Answered Prayers) comes a highly sexualized supernatural thriller featuring Liam Riley, one of the newest young men in the CockyBoys stable. Meeting Liam portrays a hectic Halloween weekend that spans several decades and an intricate narrative.