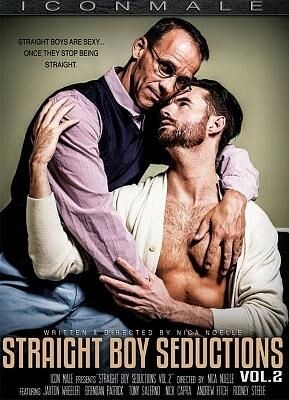 Apparently straight guys (they are mostly grown men, not younger dudes as the title suggests) discover they enjoy exploring same-sex facets of their sexuality in the latest from Icon Male and writer-director Nica Noelle. Scene-stealer Nick Capra and a tender Jaxton Wheeler-Brendan Patrick pairing are highlights.
Therapist Rodney Steele has an unorthodox modality of therapy for Brendan Patrick, who has been caught spanking his meat to gay porn. They fuck in several positions on his couch; Steele takes his own good time as he drills Patrick and dumps a load of cum on his patient's chest.
Patrick is paired elsewhere with Jaxton Wheeler, whose burly, bearded biker persona disguises a passionate side that meshes superbly with Patrick's low-key charisma. His tender seduction of a sleeping Patrick and their subsequent makeout session is quite erotic and a sizzling start to passionate sexplay. The look on Patrick's face as he begins to make love to Wheeler says it all.
Elsewhere, sexually aggressive stud Nick Capra has no problem getting into bed with either Andrew Fitch (as a bottom) or Tony Salerno (as a top). Capra completely devours Fitch, who is completely in his thrall, while hangdog Salerno is similarly entranced by Capra, who takes complete control as they kiss and proceed to fucking. Capra fingers Salerno, gives him a aggressive, pile-driving screw and then fingers him again to climax.
Synopsis:
In this emotional and passionate volume of Straight Boy Seductions, muscle hunk Nick Capra secretly meets up with long time friend Tony Salerno to explore their sexual attraction. Meanwhile, sensitive Brendan Patrick is slyly seduced by the tough yet gorgeous Jaxton Wheeler. Nick Capra returns to seduce sexy handyman Andrew Fitch, and Brendan returns for a session with cunning psychotherapist Rodney Steele. Written and directed by Nica Noelle.