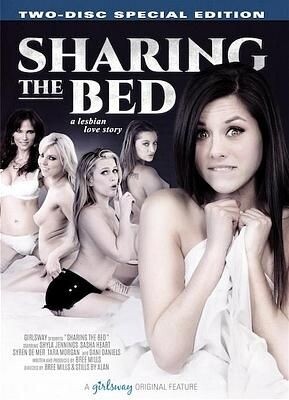 Here's a two-disc girl/girl feature from Girlsway/Girlfriends Films that's a simple story about a non-lesbian (Shyla Jennings), who gets turned into a full-blown lip-lapping woman lover thanks to some passionate encouragement. All five female stars look great, by the way, while they're all totally into the sex, which itself is well-shot. So, hey, what's not to love here?
In terms of the storyline… after joining a platonic girlfriend on a trip to Vegas, Shyla winds up falling for hardcore lesbo Sasha Heart, and our "lesbian love story" starts to get underway. Sasha, who's done her fair share of boy-girl movies, really knows how to lick pussy for the camera. And that luscious body of hers still looks magnificent.
Next, playing a psychotherapist who'll, supposedly, assist Shyla in breaking down her cunt-on-cunt inhibitions, Dani Daniels is in a brace of scenes with our main character, Jennings, and it's always a pleasure seeing Dani's big butt, and curious tongue, in action.
My favorite scene, though, is between Sasha and her evil on-screen stepmother, superbly played by Syren De Mer, who looks terrific, and really knows how to chow down on pussy for the camera. Syren, of course, is a little older but, once again, looks fine, and appears like she revels in every bit of the twat-to-twat action here, with the equally horny Sasha thoroughly similarly getting into the muff-estivities.
And before we have our final "love" scene between Shyla and Sasha, the latter winds up getting it on with her stepsister, played by the other hardcore lady luster here, Tara Morgan, who's a hot little blonde number. By the end of this slippery-when-wet tale, you'll look back fondly on "Sharing the Bed" as an engaging lesbian flick with loads of fiery action. Definitely worth checking out.
Synopsis:
From Directors Bree Mills and Stills by Alan, the team behind the critically acclaimed series THE BUSINESS OF WOMEN and THE TURNING, comes a bold new look at love and the challenges facing young lesbian couples today. Starring all-girl superstars Shyla Jennings, and Sasha Heart, SHARING THE BED is a rollercoaster ride of emotionm struggle, passion, and lust that features some of the most intimate lesbian sex ever filmed for Girlsway.
When good Christian girl Shyla (Shyla Jennings) and proud lesbian Sasha (Sasha Heart) unexpectedly meet in Vegas, they share an intense experience that changes them forever. But sometimes love is not enough to manage self-doubt! While Shyla begins to see a therapist (Dani Daniels) to help her come to terms wit her sexuality, Sasha returns to her family home to confront the women (Syren De Mer, Tara Morgan) who she has been secretly hiding from her whole life. In the end, the two lovers must embark on a journey of self-discovery that will hopefully lead them back to each other's arms.
Filmed with intense, emotional performances from some of the most beautiful women in the business. SHARING THE BED is a new landmark in lesbian adult filmmaking and a must-have for any girl-girl fan!