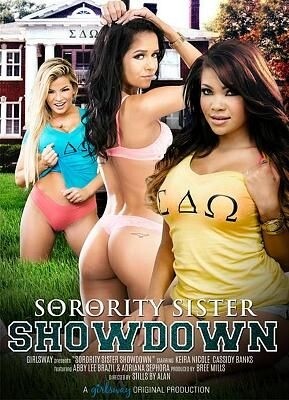 I'm pleased to report that some directors out there are actually reading our porn reviews. I've been whining for years that way too many lesbo flicks don't get the camera in there to capture the twat-licking. But — hooray! — there's plenty of close, close shots of the girl-girl action in this Girlsway/Girlfriends Films production, featuring some of the downright juiciest Latinas you'll ever want in a cunt-to-cunt cabaret.
The story concerns the woes of a fraternity pledge (Puerto Rican-American Cassidy Banks) as she's forced to do one dreadful chore after another per the orders of one dastardly sorority sis (straight-from-Brazil Abby Lee Brazil), with our poor gal getting a little succor and solace from cute Caucasian sis (German-Irish-English Keira Nicole). Miss Banks has an amazingly luscious body, including big boobies and succulent butt cheeks, with Keira really going to town on Cassidy's accommodating butthole and dripping twat. Banks happily, hornily returns the flavor.
Next, Keira tries to convince head (no kiddin'!) sorority sister Adriana Sephoria (another fleshy Brazilian babe… and a blonde one, no less!) via some muff munching… that maybe she should look into (oh yeah!) meanie Abby. And check out the mouthwateringly tasty big ass on Adriana, which Keira gets to really suck deep on. Lucky!
Mean Abby then meats up with Banks, really making Cassidy get down on her knees to pleasure the demanding antagonist, and it's a joy to behold, seeing as Brazilian Brazil (as in Abby Lee Brazil) is dying to have curvy babe Banks service her — and Abby similarly knows how to get her nose in the fish stew.
Finally, dastardly Abby gets her just desserts when the ever-juicy Adriana punishes her with a heavy lesbo tongue-to-twat-and-poo-pit lashing, which she demands from Brazil, too. Great ending.
Even though we only have four ladies in this girl-girl title, it works because they all look and perform superbly — and it's all expertly shot! The scintillating DVD cover photo does not do the three featured Latina lust bunnies justice… they must be seen to be believed!
Synopsis:
What was your first week at college like? I don't know about you but, dogfood and mustard slip and slides have nothing on what these tender young college babes are about to go through. We all wish we could have been initiated the way these beauties are. The sorority's new pledges, hot fresh young ladies with big boobs and tender wet pussies are in for a serious treat! Returning members are excited too, because they know that it's finally their turn to show the pledges what it'll be like living among some of the hottest lesbians they've ever met. How will these freshly initiated lesbian pledges feel when they learn the older babes are eager to guide them through a whole year's worth of sister on sister love and hot lesbian encounters behind every wall in their new house? I'd be quivering with excitement!