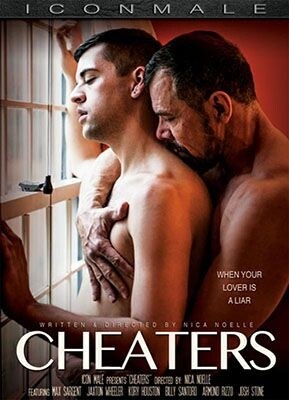 The standout scene in this new series from writer/director Nica Noelle and Icon Male is the final, sensual bedroom sexplay between pup Josh Stone and handsome, bearded older-by-several-decades Max Sargent. The pair whispers to each other as they make love, with Sargent quietly offering instruction to Josh as he slides down the older man's cock. It's unusually intimate. They are both featured on the DVD cover.
Their vignette is unrelated to the other three scenes, which center around hotbod Billy Santoro's tumultuous relationship with his jealous lover Jaxton Wheeler, who is burly, bearded and authentically menacing as he confronts the much smaller, more submissive Armond Rizzo over an assignation with Santoro. Rizzo's smooth, flawless physique, full lips and bubble-butt are the stuff of erotic fantasy. Wheeler doesn't have to do much convincing to extract payback. The light domination that spices this scene is enjoyable.
Santoro clearly enjoyed his time with Rizzo (who memorably pouts, "I'm stuck as the side-bitch"). It's a passionate scene that runs 30 minutes and change. They roll around the sheets, making out and rubbing their gorgeously worked bodies together. Rizzo's perfectly round ass invites plunging and Santoro takes full advantage. He also entices sexual healing elsewhere in the film from adorable puppy dog Kory Houston (who probably has a visit from an annoyed-but-horny Wheeler in his future), riding him aggressively and completely dominating the younger stud in the sack.
Synopsis:
In this bold new series from Icon Male, we peek in on four couples who are cheating on their sexy partners in the quest for even more hot sex! Billy Santoro plays the scared, abused spouse to win sympathy sex from young and well hung Armond Rizzo and Kory Houston. But when Billy's boyfriend Jaxton Wheeler finds out, he pays Armond a visit and shows the Latin lover the meaning of fear. We also peek in on a scandalous relationship between fatherly Max Sargent and his girlfriend's son, Josh Stone. Who will the gorgeous older man choose - his fiancee or his future step son?