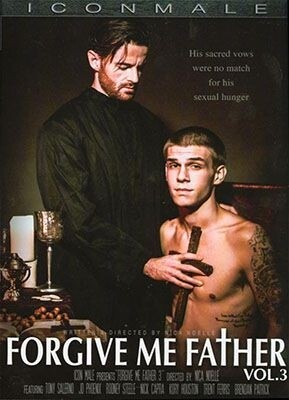 Current and former priests cannot resist the siren call of the flesh as they scheme and plot to satisfy their man-on-man desires. Nick Capra and Brendan Patrick are standouts.
Father Tony Salerno, tall, swarthy and scruffy, ruts with adorably clean-cut Kory Houston, who wears Fruit of the Loom boxer briefs under his altar boy cassock. Houston appears to quite enjoy kissing and sucking off his older partner and moans pleasurably when they maneuver into a 69 so Father Tony can prep his bubble butt for fucking. Their sexplay in this position is fine but the heat level rises considerably — and Houston's upwards-curving boner is rock-hard — when they flip-fuck. Father Tony cums as the younger man is pounding his ass.
Salerno returns in the final scene to counsel JD Phoenix in a hotel room ("We aren't punished for having secrets, we're punished for being sloppy about it"), far from the prying eyes of judgmental parishioners. Phoenix, part of writer/director Nica Noelle's repertory company, could tempt anyone with his puppy-dog eyes, auburn locks and smooth, pale skin. Inevitably, his confession leads to slow-and-tender blowjobs, kissing and a 69 before Father Tony fucks him vigorously. They jack off together to close out the film.
In the interim, cover hunk Brendan Patrick, a former priest, is visited by a remorseful former student (preppy-cute Trent Ferris) who seeks absolution for prior misdeeds. A lingering hug leads to a passionate makeout session. Both men are quietly intense and their sexplay is tender and sensual. Nick Capra (another Noelle regular) is apparently catnip to Rodney Steele, who can't seem to believe his luck. He deep-throats Capra's thick, alluring boner and eagerly submits to his larger, muscular partner's patented tough-but-tender balls-deep fucking. Sloppy camerawork unfortunately obscures much of the action, but their chemistry is obvious.
Synopsis:
After Father Patrick 'Brendan Patrick' leaves the church in disgrace he is paid a visit from a remorseful student 'Trent Ferris', who hopes to make more than amends with the troubled priest. Meanwhile former priest Rodney Steele counsels Patrick on enjoying life after the church, and practices what he preaches with sexy lover Nick Capra. In a second storyline, alter boy Kory Houston helps secret, older lover Tony Salerno indulge his proclivities with a twisted plan for sexual satisfaction.
close
E-mail this to a friend
Forgive Me Father Vol. 3
Email sent. If you wish to send to another person, click here.