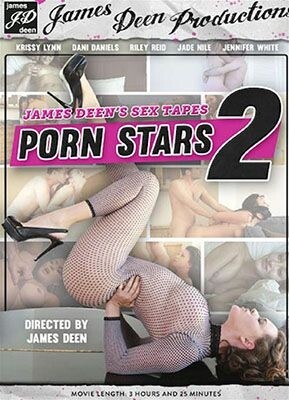 James Deen directs this film like a home movie, with an amateur sort of vibe (lots o' static POV angles and shaky cam) that works best in the ultra-horny scenes with Krissy Lynn and Jennifer White, both of whom are always worth a watch.
The hot-to-trot Lynn looks great bent over or riding a cock cowgirl style, her big butt muffins undulating all over the place, and she's a superb cocksucker, too! Of course, the sizzling Jennifer White similarly shines, getting down to business and shows off her marvelously sculpted physique. She really burns Jimbo's bone to ashes in her scorcher of a scene!
I wasn't such a huge fan of the other homegrown POV scenes, because I wish the Dani Daniels one was longer and that the two sequences with Riley Reid and Jade Nile utilized them better. Even if the static and/or wobbly camera work isn't your shtick, this DVD's worth a watch, if only to bask in the showstopping performances of Lynn and White. Their onscreen charisma simply cannot be Deen-ied!
Synopsis:
What could be better than a candid view of James Deen's exploits with porn stars? James Deen's Sex Tapes: Pornstars 2! Uninhibited without a crew and distraction, James fucks five gorgeous starlets every which way in this dizzying collection. The passion couldn't be more intense when James nails Dani Daniels in her hotel room. Jennifer White gets her ass firmly fucked at James' House. Riley Reid is so horny she can't even wait until they shoot a real scene, bending over behind set offering up her pussy for a hard pounding. James can hardly get the camera on before Krissy Lynn gets naked, and Jade Nile shows no less than a feverish need to suck James' cock. This is the adult superstar's most stripped-down and intimate moments yet, and all with some of the hottest stars.