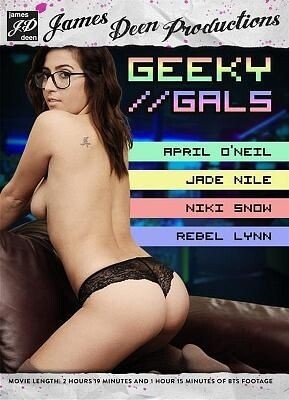 Young girls get well boned by James Deen and pals. April O'Neil, in glasses, no makeup and plaid shirt, does indeed look geeky — but cute, with nice tits. Deen tears off her clothes and fucks her hard in his usual strong man way. He comes in her mouth and tells her not to swallow it —he likes the way his semen looks on her tongue.
Niki Snow, 20, has long ash-blonde hair and says she wants to start her own clothing line. She also likes to suck her own toes. James fucks her fiercely and she squeals and screams. He shoots his wad into her pussy, a kind of semi-creampie.
Rebel Lynn, 19, likes stories about vampires and writes them too. She says she left home to be a "crazy little whore." James interviews her but lets Tommy Pistol fuck her. He slaps her butt in cowgirl and shoots right into her mouth. Cute Jade Nile actually talks about quantum mechanics, validating her geek cred. What she really wants is Prince Yahshua and his big black dick. He pounds her really hard in mish as she screams and rubs her clit. She seems to like being overpowered.
Synopsis:
Deep down we all know that the geekiest girls are usually the freakiest girls too. in the newest James Deen Productions film, Geeky Gals, these four ladies prove that to be true. Starring Niki Snow, April ONeil, Jade Nile and Rebel Lynn, Geeky Gals truly gives you the experience of how nerdy girls get down and dirty. Watch as these ladies get filthy with their scene partners Prince Yahshua, Tommy Pistol and the one and only James Deen! Let these four hot ass nerds show you exactly what geeky gals desire.