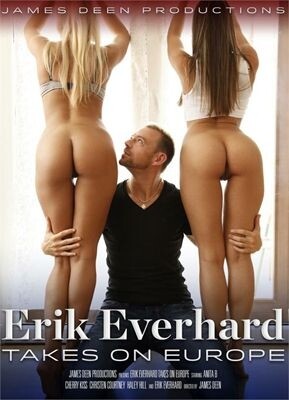 Erik gapes 'em all in these scenes shot by James Deen. Four East European hotties submit to the ass-pounding that made Mr. Everhard synonymous with the powerfuck. Haley Hill has fat lips, pretty tits and a big tattoo on her midriff. She responds orgasmically to Erik's enthusiastic pussy eating and overdrive butt-fucking. She goes ass to mouth with glee, and he shoots all over those puffy lips.
Anita B, who's something of a Europorn star, teases expertly and screams mightily as he does the anal while cradling her in reverse cowgirl. He leaves her with an anal creampie, telling her to push out his big load.
Blonde Christen Courtney has a great ass and Erik eats her from behind. He opens up her butthole with his fingers and then starts slammin'. He gapes her really wide — a bottomless pit — then comes in her mouth. Fucker and fuckee are evenly matched in what is probably the strongest scene.
Cute Cherry Kiss tells him she'll give him all her holes and he takes her up on that. He mouthfucks her, eats her pussy and shoves it into her ass. He really pounds her hard, with his fingers in her mouth.
Synopsis:
James Deen Productions teams up with the man, the myth, and the porn legend, Erik Everhard, to bring you the best hardcore sex that Europe has to offer! Everhard has moved across the Atlantic, and is working his way through every babe on the continent with his huge, wedge-shaped penis. Watch the Hungarian anal enthusiast, Haley Hill, gives Everhard a morning blowjob in exchange for stretching her butthole open wide. See the petite brunette, Anita B, spread her holes, take a cock deep in her ass, and finishes with an anal creampie. Check out the blonde, all-natural whore, Christen Courtney, as she gets fucked over the kitchen counter, and takes cock from her ass to her mouth, and swallows all the cum she can. Finally, set your eyes on the blonde, ultra-babe Cherry Kiss, as she reminisces the 'honeymoon' period of her relationship with Everhard, when he'd use his cock to fill up every one of her holes. Then see how she brings the past back to life by jerking his cock into her asshole. Erik Everhard Takes on Europe brings you one of the best male performers to have ever lived, and teams up with the hottest Euro sluts. Don't miss out! Watch this fuck fest now!