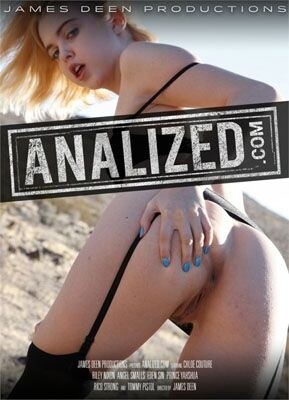 From Girlfriends Films and director James Deen, this gonzo delivers four white babes getting scintillatingly cornholed, leading up to a volcanic DP of ultra-cutie Angel Smalls.
We first see buzzed/punk-haired Canadian starlet Riley Nixon gyrating against a high-rise window (an homage to "Tokyo Decadence"), before getting her vadge thoroughly ravaged and, then, her shitter seriously splintered a la Tommy Pistol's barrel. He does a fine job o' wreckin' Riley's rectum and she's a grand ATMer (no cheating), gaper and anus eater, even. I also adore those sizeable all-natural titties, as(s) well as her occasionally winking anus, which, in fact, suck-seeds in 'eating up' the goo when Pistol blasts jizz onto her craphole during doggie. A memorable moment, indeed.
Next up is rising starlet Eden Sin getting slammed anally by Prince ("that's what I'm talkin' 'bout") Yahshua, in a truly arousing display of Sin-ful savagery. An exotic-looking brunette with passionate panache, Eden first gets her mouth ramrodded before her fineass is pillaged. At one point during backside doggie, the Prince plants a pillow over Eden's face and then one of his ever-booted feet on said pillow. A hopeless romantic, that Yahshua.
We next have 19-year-old Pennsylvanian Chloe Couture walking on a seemingly hot day with minimal clothing in some lonesome wasteland with lotsa shrubs (probably somewhere near Highway 118 in the Valley), when robust Tommy Pistol (a good foot shorter than Chloe) appears outta nowhere and fucks, literally, the shit outta her. There's lots of saliva during her deepthroating; Pistol at one point hornily goes back and forth with his uncut centipede 'tween her pussy and anus; and when a parked truck magically appears, he starts banging her tail on the tailgate. What a nice big, meaty ass on that lass! And, after what seems like an endless meat-beating session by Pistol, our man Tommy excellently blows his load inside her pussy. Choice!
A stellar highlight comes next, as 23-year-old spinner Angel Smalls gets double-penetrated (all five delectable feet of her!) by the scowling (and anal scouring!) fellas Prince Yahshua and Rico Strong. As the dreamy-eyed Angel chokes on both puds way up above the ground in a neat (not for long!) hotel room, you can glimpse the Vegas Strip through the window, including Caesar's Palace, as the scene goes from afternoon, to dusk, to dark; with Angel's mouth, cunt and anus getting systematically more and more passionately pummeled as the night approaches. I love how her ass is all greasy when Rico cornholes her doggie. Dig Angel's sweet yelps of ecstasy!
You get nonstop fornicating freakishness in "Analized.com," with all four featured ladies putting in delightfully slutty sucking/fucking/buttfucking performances — especially Eden Sins and the amazing Angel Smalls.
Synopsis:
Welcome to the new era of anal pornography. ANALIZED.COM is where the most hardcore anal sluts gather to show off how much their assholes can take! All natural babe, Riley Nixon, spreads her butt for cock, gapes like a pro, and takes a full shot of cum straight into her ass. Beautiful brunette, Eden Sin, has a yearning for big black cock in her throat and up her ass. She gets manhandled hard and takes a hot load down the throat and on her chin. Natural blonde slut, Chloe Couture, wanders into the desert to fulfill her ass fucking fantasy. Sure enough, a handsome stranger shows up to deliver her some rough anal punishment. Finally, petite ass whore, Angel Smalls, takes the double penetration challenge by shoving two black cocks inside her at once. Her ass and pussy are demolished and her face covered with cum. She's a happy anal slut, and wants everyone to know it. So don't miss out on the next frontier of anal fucking-sex. ANALIZED.COM is the future. Be the first to see it!