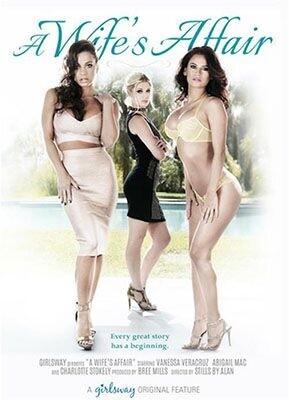 A three-hour lesbian movie with only three girls would seem to be a tough job to pull off, yet Girlsway does it with passion and style. The women in question are real beauties and experienced girl-girl performers. The settings and props are luxurious and trendy, and everything is beautifully shot. The story is divided into five episodes, but each one is really all about sex. When Abigail Mac's hubby leaves her alone she gets busy with fuckbuddy Vanessa. It's pure lust between them, animal passion.
Part 2 is from Vanessa's POV. Her friend Charlotte Stokely invites her over to another fabulous house she shares with India Summer, who is always referred to, somewhat sinisterly, as Miss Summer, but never seen. Charlotte plays a seduction game. Vanessa doesn't want to cheat on Abby, but soon falls under the spell of the beautiful blonde. There's lots of passionate kissing and pussy-eating by the swimming pool. In the last episode, the story rears its head. But tangled plot developments soon dissolve into a smoking threeway with gorgeous Vanessa as its centerpiece. There's a twist at the end. The sex is terrifically well-performed. Props to producer Bree Mills and director Stills By Alan.
Synopsis:
Ever wondered how a villain becomes a villain? From the minds of Bree Mills and Stills By Alan, Girlsway presents its first original origin story: A Wife's Affair. Leading up to the events of the blockbuster The Business Of Women, this five part prequel tells the story behind some of Girlsway's most popular characters. Featuring cheating wives, beautiful cinematography, intense girl-on-girl action, and a narrative that promises to be one of the most emotionally gripping lesbian sex films you've ever seen!
When a lonely housewife (Vanessa Veracruz) begins an affair with her beautiful, rich neighbor (Abigail Mac), she has no idea the extent to which the infidelity will change her life. As the two women fall further in love with each other and their new lifestyle, a mysterious lesbian sex club (run by Charlotte Stokely) welcomes them in and ultimately plots to take control of their relationship.
A highly erotic film starring three of the most acclaimed performers in lesbian porn today. A Wife's Affair is a must have for any collector.