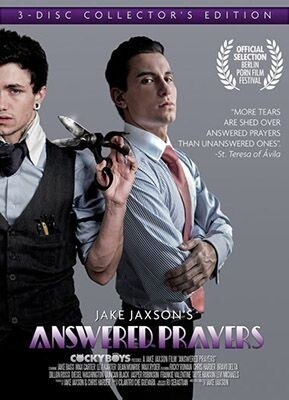 This epic effort from Jake Jaxson is an instant classic, a labor of love (and ache) that plays out like a movie first, with the sex flowing from the story. Filled with gorgeous photography and visuals, this seven-scene, four-hour, three-disc opus stems from two difficult situations from Jaxson's real life (as he explains in the bonus features on Disc 3, which also includes behind-the-scenes clips and bonus footage, including a great cut scene featuring Saxon West). The dream-like (or is that nightmare-like?) story is grand in scope, with the Great Balance of our world at stake as guardians are appointed to protect the Tree of Knowledge. It is an effort filled with symbolism and commentary on religion, politics and so much more, all wrapped up in its own mythology. Dean Monroe serves as the mentor (and provides soothing narration) to charges like Max Ryder, Max Carter and Levi Karter.
Highlights include Chris Harder getting both of his holes stuffed as his body is plastic-wrapped to a table ("This is the best cock I've ever had," he gasps as spit slides down the big cock of alpha Bravo Delta, who replies "Shut up and take it!"); Max Ryder turning the tables on bully Jasper Robinson in a heated stroke-off; Tayte Hanson's delicious transformation as a dominator of Levi Michaels; and any second with Monroe's dashing presence. A must-own.
Synopsis:
Your prayers have been answered! From acclaimed director Jake Jaxson, Answered Prayers is a profoundly layered seven-part morality play that goes where no other film in the adult industry has gone before - The Banker; The Healer; The Bully; The Ascension of the Lamb; The Assumption of the Lamb; The Redeemer; and The Actor. This special 3-disc edition contains bonus scenes, a "Making-of" segment, bloopers, multiple character trading cards, four character peel-off stickers and a full-color 12-page booklet with liner notes. Featuring knockout performances by a 15-man ensemble cast of the hottest CockyBoys, this exquisite work simply must be seen to be believed.