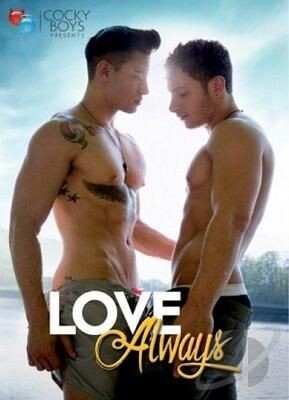 With shades of "A Thing of Beauty," "Love Always" hits romantic notes as it catches up with couples who share their stories and sex. Tattooed stud Ricky Roman and boyfriend Michael tell us how they had an instant spark after meeting at a club ("He gives me fucking butterflies," shares Roman), taking us through their relationship as scenes of them enjoying the great outdoors (and each other) unfold. The two share a nice verbal rapport as they play, and Roman's hot cock leaks precum as he gets fucked doggie style — a big strand dripping from his uncut cock to the ground. Michael strokes out a big load from the bottom, taking a lick of it before kissing him.
Anthony Romero and Austin Wilde aren't afraid to talk about their arguments, their different personalities (and gorgeous smiles) coming to life. The best moment is at the end — Romero is sucking the top, two big strands of spit connected to his mouth as he comes up for air. His hand strokes Wilde's massive dick, the top's defined abs tightening as he comes. Kennedy Carter and Ivan film each other as they play — and dear lord Ivan's cock is huge (how can this be his only scene?!). Smooth and shaggy-haired twinks Lukas Grande and Jack Rayder flip fuck, as do Angel Cruz and Allen King (with some subtitled dirty talk).
Synopsis:
Having someone you could rely on through tough times, through happy times and every time in between is not to be taken lightly. It's even harder for a performer to find that special person to share those moments with. That is why we're celebrating our porn star couples. They've been able to merge their on-camera life with their private ones and the results are spectacularly beautiful.