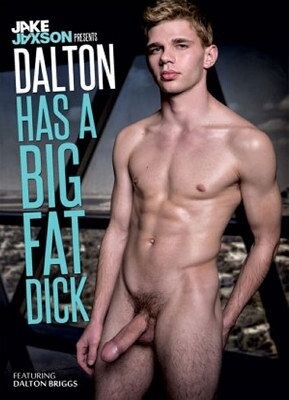 On the main menu, CockyBoys loops a segment from the Dalton Briggs/Dillon Rossi scene. Blond Briggs stands tall with his big dick caught in a beautiful profile shot. Rossi worships it, the loud sounds of his slurps filling the room. "See how far you can take it," whispers Briggs. "More…" It's one of the hottest segments of the five scenes here. Briggs and Rossi put on a great show, and the lead in — with Briggs' big dick practically bursting out of his briefs ("Get it nice and wet and I'll let you taste it") — will torture viewers. Rossi gets some big spit strands going as he slurps, the verbal Briggs encouraging him: "You like getting face fucked? Lick my balls. Can you put both of 'em in?" Briggs returns the favor, wrapping his luscious lips around Rossi's equally big rod before fucking him — and the guys go at it another round, another set of squirts ending this extended scorcher.
Jacob Ladder and Tayte Hanson flip fuck each other, the hottest moment when Ladder sits down on Hanson—the bottom's big boner making "thwacking" sounds as it slams up against his own abs. Gabriel Clark fucks Marco Gagnon, but the hottest part is watching him suck the bottom's massive cock. Caleb King rams Brandon Jones, while Pierre Fitch and Angel Cruz flip fuck each other.
Synopsis:
Those who know Dalton Briggs would tell you that he`s a sweet southern boy. But his scene partners would have only word to describe this hung Adonis: Ouch! Dalton and the other hot topis in this DVD all love to stretch their bottoms` tight holes to achieve maximum pleasure. Dillon Rossi, Pierre Fitch, Tayte Hanson and Caleb King round out the cast of big-dicked performers on a mission to plow through our stable!